I can still hear Richard Dawson saying, "survey says!" on Family Feud, one of my favorite TV shows, along with CHiPs, Dukes of Hazzard and Night Rider. Ooops, just dated myself there, ha ha.
Thanks to everyone who filled out the survey. You had a lot of good ideas and a lot of kind comments. I wanted to respond to each individual comment, but the survey is anonymous. So later in this long post, I responded to things that seemed to come up frequently in your comments. But first…
A lot of you said this: "I need to practice more."
The big question:
How can I help my in-person and online students to practice consistently? How can I make the process fun, engaging and productive so that you'll do it every day? It's almost mystical. Some people seem to naturally just do it while some struggle to get to the point of regular practice.
If you're struggling to practice, I really want to find out why so I can help. And if you have established a good regular practice, I really want to find out what you are doing that's working.
So I want to ask for your help.
Please do me a big favor and fill in the 5-question survey below to help me understand how you practice. 
I know, I know. You're thinking, "I just filled out a dang survey!" But this is IMPORTANT. The only purpose of this is to help me teach you better. Just imagine that Richard Dawson is asking the questions.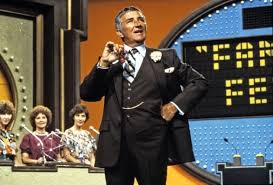 ---
New features
In a nutshell, the last survey indicated that a lot of you are not aware of a lot of the various features on FiddleHed.
First of all, you gave me a good idea: better integrate the newer features into the main course. That way you don't have to hunt around for things. Or, if you miss an email you'll still find out about key content just by working through the course.
---
Online workbooks
This was interesting! Some of you were not all interested in using this. But quite a few of you mentioned that you like the overall idea but that you preferred to use pen and paper. Some of you said that you use the workbooks as a guide for tracking your practice, while some of you use your own system. If you have any tips that might help others, then please share on the Forum.
And then quite a few of you were not aware of this feature. I think it's because the workbooks are hidden away in the module summary pages (at the end of the modules). I realized that a better place for the workbook is at the beginning of a module. Duh! I just set it up for Module 1.4:
You'll notice that there is a link to the workbook near the top under "Lessons and Practice". The workbook is also embedded at the bottom of the page: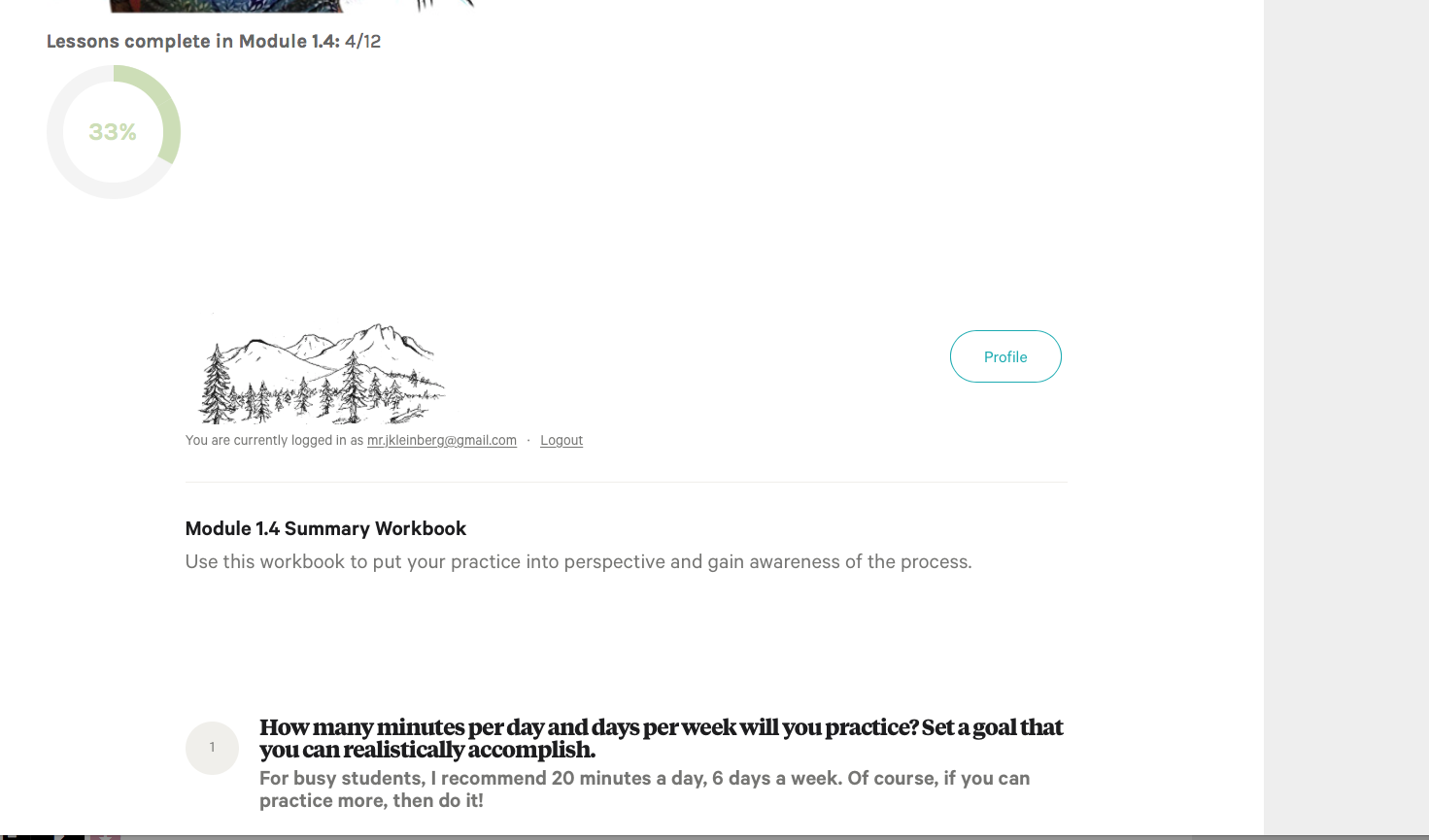 I will update the other module workbooks this weekend when I'm sitting in the van on tour with Diego's Umbrella (Lake Tahoe, Brisbane, Cave Junction Oregon –  where we'll be staying in treehouses!)
---
Progress tracking
Most people who have used the course tracking buttons and progress wheel said they found it to be very useful:
One person suggested that there be a summary chart. I think they want one page that simply lists all lessons they've completed. I put out a request to the company that created the tracking software. In the meantime, I re-configured the All Tunes page so that it also shows lessons that you've taken. Hope that helps.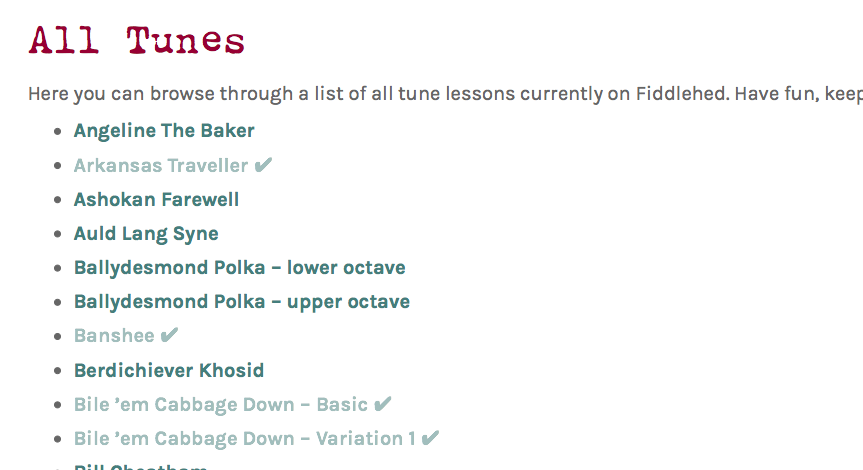 ---
Practice Central
The things people use the most are:
I was happy to see that the practice routines was helpful. It's a new idea that I want to develop and do more of.
Some other things you might want to consider trying:
Tunes listed by root note

This a VERY FUN way to review a lot of different tunes you know.

Read about how it works here.

Tuning exercises

These are "call-and-response" exercises designed to help you play better in tune as well as

learn to listen as you play.

Like a lot of the exercises on FiddleHed, if you practice with these and get the idea of how they work, you can make up your own call-and-response exercises to practice

anything.

Again, my goal is for you to learn

how

to practice in a fun and productive way so you can learn what you want on your own.
---
How to play in tune course
This was surprising. Almost everyone who tried this found it to be very helpful. Yet a lot of you have not tried it. There are four main things this teaches:
Click here to go to the tuning course.
---
Sheet music snippets
Strong response here. Over 80% of you said this was very helpful. I'm now working hard to get snippets up on all tunes as well as exercises.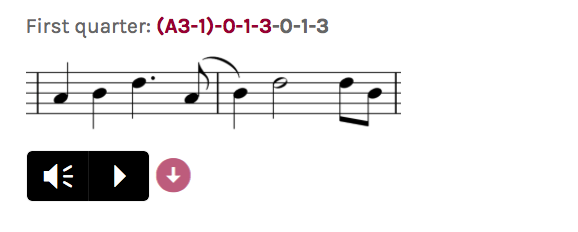 Some of you mentioned that it's harder to view all the tabs at once now that the snippets are there. Maybe there's a way that these can be hidden from view if you choose not to see them. I'll do some research and keep you posted.
The next logical step will be a note-reading course. I hope to have that up by the end of the year.
---
How can FiddleHed be improved?
Lots of good ideas as well as generous comments. I'm going to list a few common things below with some ideas on how we can get there.
"My problem is staying focused", "I need to learn to be more organized," "I find it hard to navigate sometimes," "I get confused by the plethora of opportunities and just don't know where to start."

Following a practice routine might help.

Keeping a simple journal of your practice might also help.

Follow the course!

I could set up the course so that lessons are "dripped" which means that more advanced content is not shown until you've completed more beginner content. The problem with this is that different people learn in different ways and at different speeds. Some people like to jump around more.

So I mainly encourage people to work through the course at a slow pace, but I leave open the option to do it in your own way. The only thing that seems close to being a universal law is that you simply have to play every day. Of course, your practice needs to be focused and intentional and fun. I figure that if you play every day, you will naturally learn how to practice better.

To sum up, I would like to find a way to simplify the course flow, while leaving options open for people who want to explore it in their own way.

More variation lessons

I'm about to launch the Irish Fiddle variation course. I will show how to do various variations and give you specific exercises to practice them.

Improvisation lessons

This is high on my list of next projects. I'm thinking I'll start this after the music-reading course. And I might create it in a more collaborative way, releasing exclusive lessons on FiddleHed, getting your feedback as the course is created.

More bowing instruction

This has been on my radar for some time. Stay tuned!

More tips for the intermediate player so I can "sound more like you."

Keep in mind the fact that I've been playing about forty years ?. That said, my students progress much faster than I did because they are learning practice techniques that I learned much, much later in the game: looping, drone practice, audiation, etc. I floundered for quite a while, sort of randomly discovering things to help my music practice. At a certain point, I realized how important the process of practice was and began to more actively seek out some of the strategies I teach. Though you're learning fiddle tunes you love, what I really, really hope you learn is

how to practice in a fun and productive way.

"That bar about the website using cookies gets in the way".

Sorry! I now need to have this because of the new data protection laws in Europe. The law seems good because it's designed to protect the data of individuals. Though the cookie bar is clunky, you can click to make it go away.

Offer video-chat lessons

This request keeps coming up. With my current workload, I just can't see this being a realistic possibility. But I've been thinking of training another fiddler who could offer feedback on your playing. Let me know your thoughts in the comments below.

"I wish there was a way to have student groups where we could set goals and help each other stay on track."

This is a great idea.

This could be very helpful. It would help with "accountability." It's kind of a dry term (and it reminds me of accounting…ugh), but it's actually a powerful strategy to keep you practicing. If you make a public commitment to do something, study after study shows that you are more likely to do it. Even if it's a commitment to one other person.

The practice buddy/group could also be a nice way to connect with new people and make the online learning experience more fun.

Let me know how I can help you to find online practice buddies and create groups. I subscribed to this thread, so I'll be receiving emails and will take a more active role in this subject than I have so far.

I want to use Interval Central but the links are broken.

Somebody wanted tunes listed by key.
---
OK folks. Thanks for reading this lengthy post. If you haven't already done this, please take a minute to fill out this short survey on how you practice so that I can become a better teacher.
Let's close out with one more photo of Richard Dawson…