The Fun Way to Learn the Fiddle
Take FREE LESSONS now when you sign-up for a trial membership.
Jason, you are a fine friendly face among so many on line teacher folk. I will be returning often.
— James Dexter
Best tutorial! Haven't picked up a violin or cello in 30 years but you made it ridiculously easy to learn to play this. Other videos people made were so much harder to follow. Keep it up! I can't wait to learn more!
— Deneen Kozielski
Thank you for another excellent lesson! I appreciate your clarity, attention to
detail, patience and kindness.
— Cathy Egelston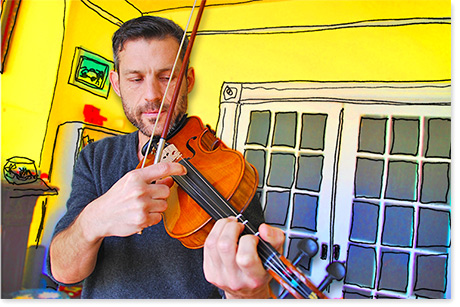 FiddleHed is an online fiddle course designed with the beginner in mind.
FiddleHed makes learning fun and productive so that you will naturally want to play every day.

Good practice habits are taught which help you to overcome the physical, emotional and practice challenges that arise.

Jason has been teaching fiddle lessons for over twenty-three years and has posted over seven hundred free video lessons to Youtube.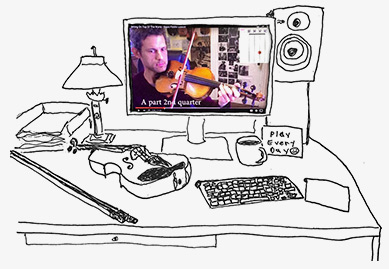 In-video diagrams show you how to do the left-hand fingering: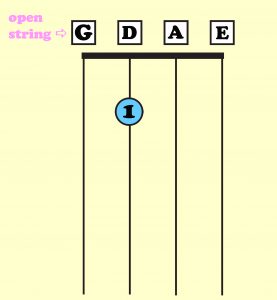 Learning chunks
Tunes and techniques are broken down and taught in a simple manner with "Learning Chunks." In this way, you learn in a step-by-step manner so that you are sure to succeed.
Take a look at how the first quarter of Kerry Polka is carefully broken down:
Intervals
D0-1
A1-D0
⬇
A part, first bar: A1-D0-1-0
⬇
First quarter: A1-D0-1-0-A1-D0-1-0


Since the first and second bars are the same, you just need to practice the play-along track for the first bar 🙂
---
As you learn each little piece, you gain confidence and forward momentum on your fiddle journey.
This helps you to practice difficult sections. It also teaches you how to practice more effectively as well as how to learn tunes on your own.
---
Another innovation tool taught in the course is drone practice. A drone is a hypnotic, repeating tone which helps you to:
Play better in tune

Add variation to tunes

Improvise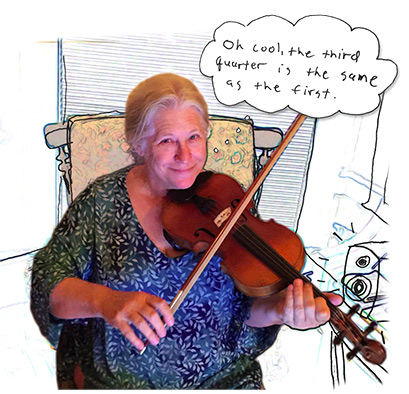 Color-coded tabs
The tabs tell you where to place your left hand fingers. They are color-coded so you can you recognize repeating patterns. This helps you to learn tunes more easily and quickly.

Sheet music
There is sheet music for students who already know how to read. And if you are interested in note-reading, the learning chunks system is an innovative way to learn.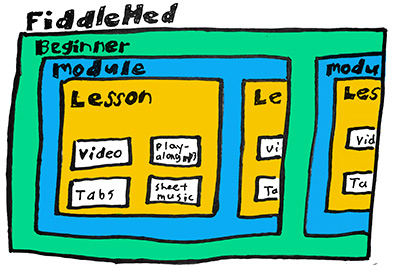 Step-by-step Course
When you learn new techniques, you will also learn tunes specifically picked to help you practice that particular technique.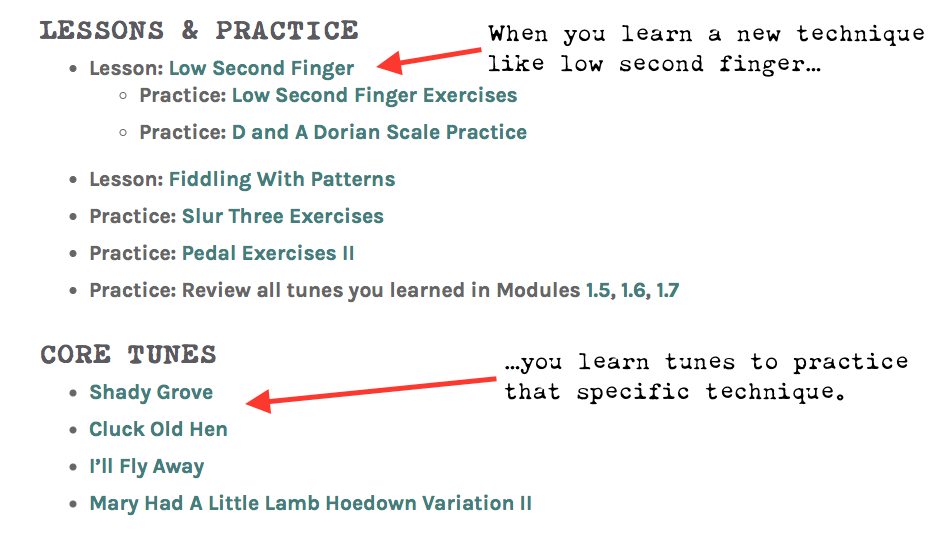 Techniques are practiced and reviewed in successive modules with progressively more challenging exercises. In this way, you continue to build on basic skills.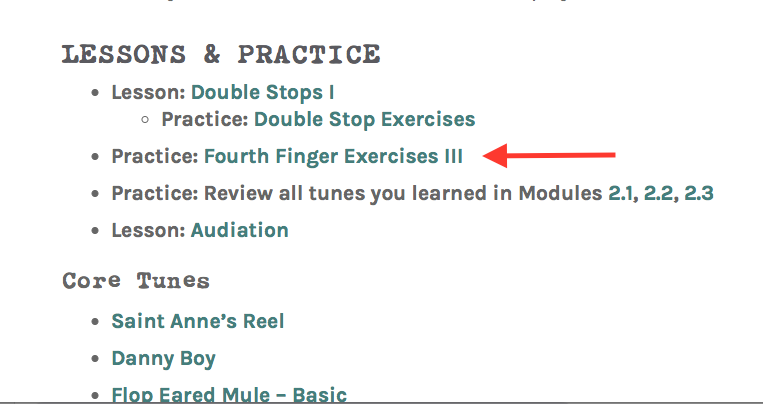 Practice tips and strategies are integrated with lessons in a friendly way. This "Fiddlosophy" gives you a mental framework for your practice:
Repeat 1000x
Earl Scruggs wrote a banjo book and in it, he teaches an exercise and then says, "Repeat a thousand times." It may sound excessive or funny (and it is) but it's true. You may think you know something, but you can always go further. You may think you've practiced something enough and are ready for the next thing, but you may need to practice it another 982 times.