How to Use FiddleHed
Hey there 👋, I will gradually be updating this page with short instructional videos on how to use FiddleHed (small steps, small wins 😀). Is there something you don't understand about the site? If so, just email me. Cheers!
---
New tutorials on how to use the site
FiddleHed Site Tour
Here's a video tutorial to help you navigate the site. I'll talk through the main elements of the home page as well as the menus.
Where should I start in the course?
Good question!
If you're an absolute beginner, then just start with Start Fiddling Now (Module 1.1).
In the text below, I'll give you a rough breakdown of the skills and techniques learned in each part of the course. If you've already started to learn, you may have to do a little trial-and-error to find the best starting point.
I suggest erring on the side of starting with more "beginner" lessons. The word "beginner" is in quotes because you can always approach learning as a beginner.
In each module, I've selected tunes that help you practice the skill you just learned.
---
Modules 1.1 through 1.5.
At each step of the way you'll learn tunes that help you practice the specific techniques you're working on:
The first, second and third left-hand finger positions for the G, D, A, and E strings.
How to play in tune using drones.
Ear training with call-and-response exercises
Tone-building exercises
Intervals
Transposing tunes to other strings
Pentatonic Scales
How to practice

Maybe the most important thing you'll learn from FiddleHed
---
Modules 1.6 through 1.10:
The slur

This is bowing more than one note per bow. You'll practice different slur patterns in each module: slur two, slur three, slur four, slur two-separate two.

Singing and playing
Pedal exercises

This is a progressive series of left-hand exercises.

Low second finger
D, E and A Dorian scales
The upper octave of the G Major scale and C Major scale
Transposing tunes to other octaves
Triads
---
Modules 2.1 through 2.4
Moving on to the Intermediate course. These are the big things you'll learn:
Fourth finger (pinky)
Advanced fingering and string crossing
Double stops (playing two strings at once)
Simple chords
Low first finger
F Major scale
---
Modules 2.5 through 2.9:
Low fourth finger
B flat Major, Upper Octave
Chord progressions and comping
Double stop scales
Minor triads
Raised Third Finger
A Major Scale, Lower Octave
Chromatic Scale
Syncopation
How to Build Chords
---
For a more detailed breakdown, view the Beginner and the Intermediate course pages. And for an even more detailed breakdown, view the individual module pages. For example, on the 1.2 Lingering with Fingering page, you'll see a listing of core lessons and practice. This can help you to figure out if you need to take these lessons.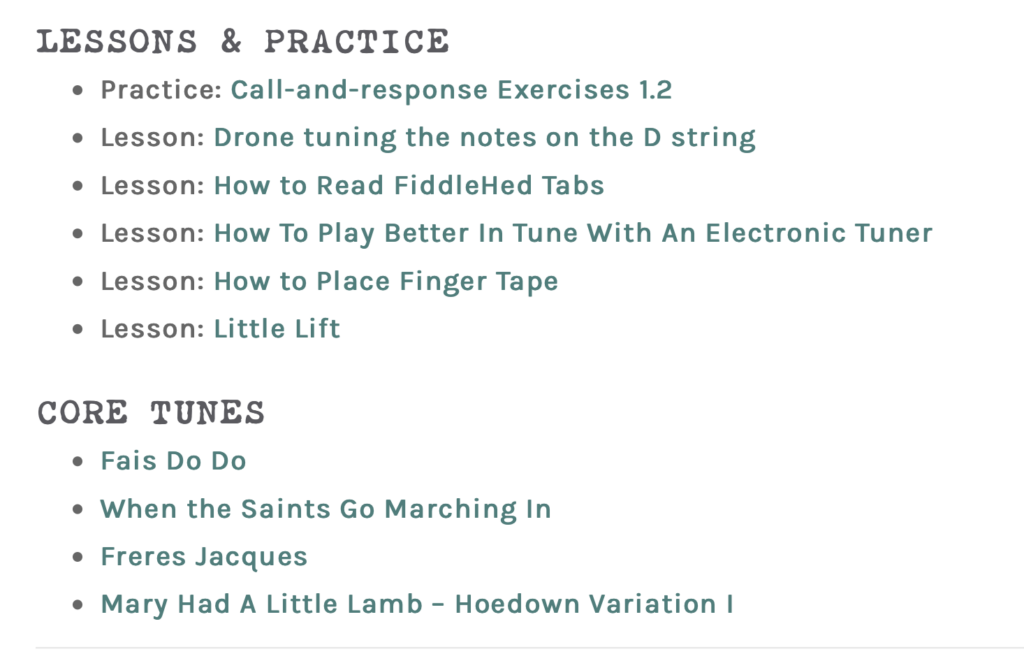 ---
Still unsure?
If you're still unsure where to start, just email me. I'll do my best to find a good starting place for you in the course.
What's the difference between core and bonus lessons?
In each module, there are core and bonus lessons.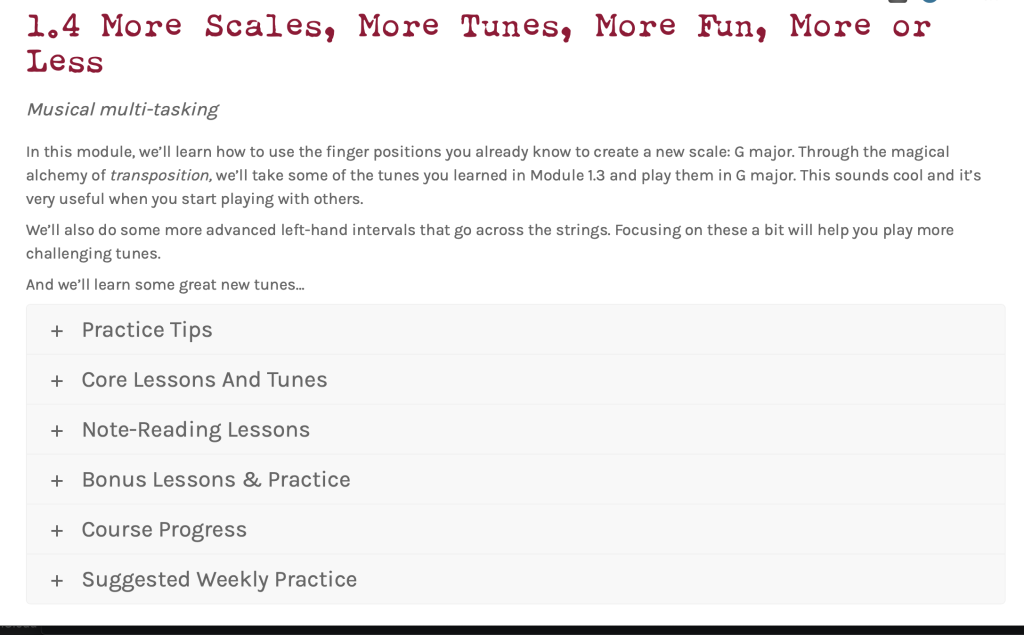 The core lessons are what I consider to be the essential things to help you learn the fiddle. These tune and technique lessons reappear throughout the site. There are usually 3-4 core tunes per module and 5-8 core technique lessons.
The bonus lessons are a way to supplement the core lessons. For example, in Module 1.4 (the image above) students learn the G major scale. Once you've worked through all the core lessons, you can further practice that scale by learning one of the bonus tunes (like I Saw The Light). Or, you can simply move on to the next module and do those core lessons.
I also consider the note-reading lessons to be bonus lessons. The course is designed in such a way that you can learn everything without knowing how to read sheet music. But some folks want to learn reading, and so they can do it in a progressive manner as they learn the other tunes and techniques in each module. Another way to approach the note-reading lessons is to take them all in a sequence using the 
Note-reading for Fiddlers
 course page.
Let me know if you have more questions, because someone else has probably had the same question at some point.
How do I find tune lessons?
There are four ways that you can find tune lessons.
The Main Search Bar
TuneFinder
Tune Index
Course Modules
---
Main Search Bar
You can use the search bar at the upper right hand corner to find ANY PAGE on the site.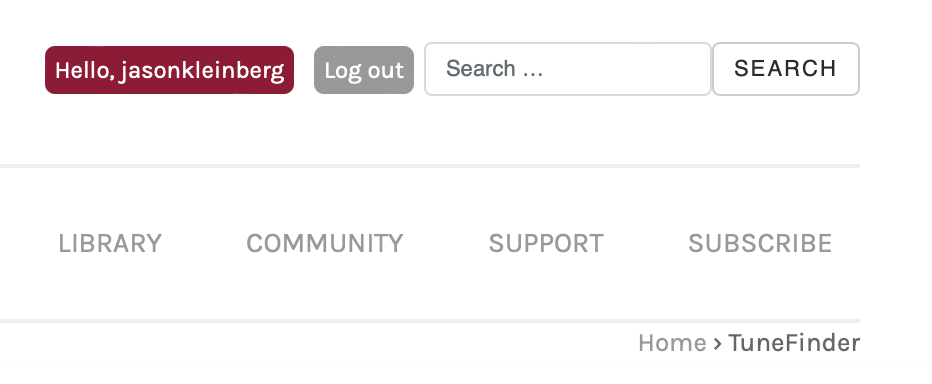 ---
TuneFinder
The TuneFinder is an interactive database to help you find tune lessons. Find it from the main menu by clicking Library > Tunes: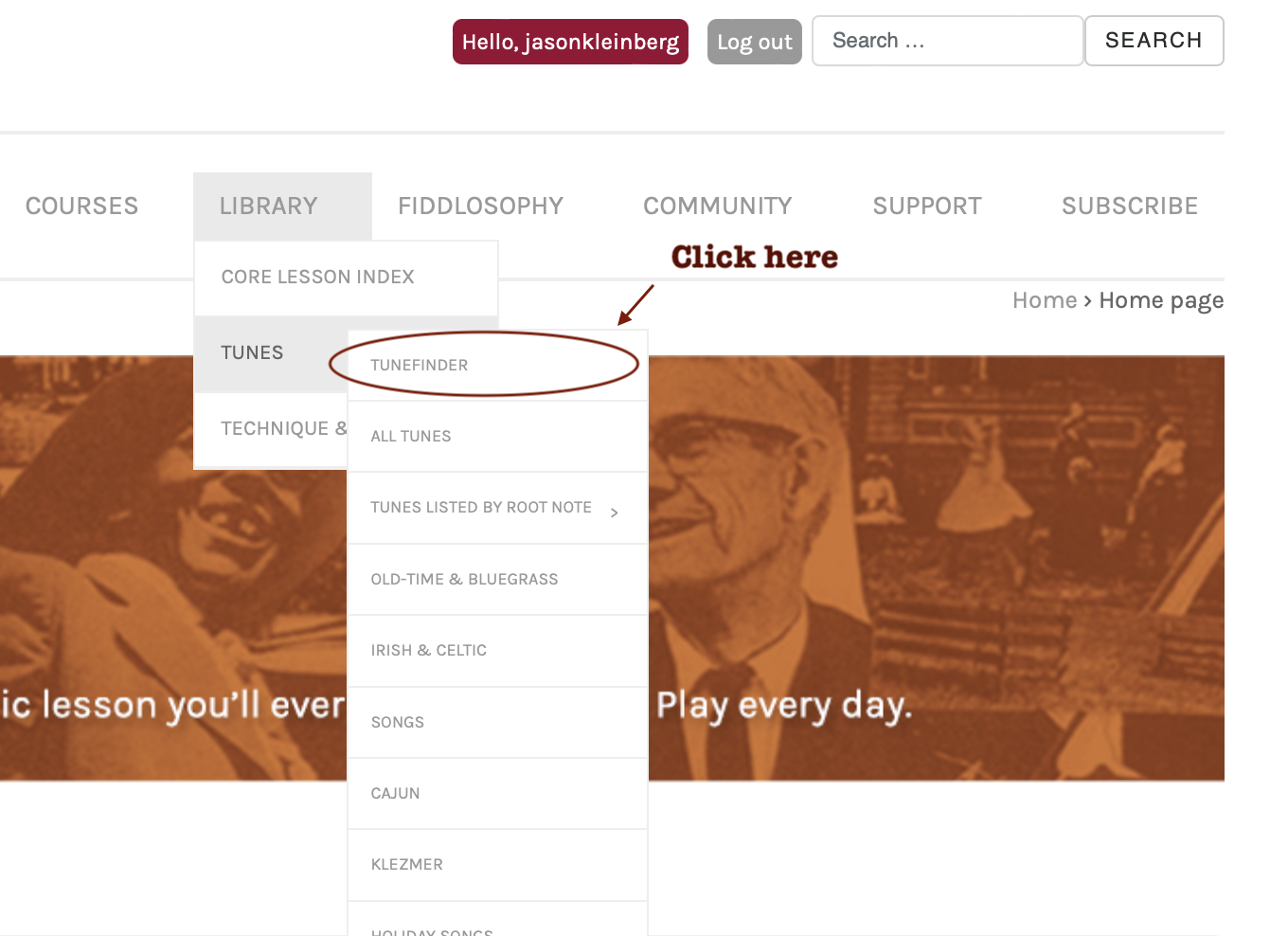 You can search by title, genre, form, scale or skill level. There's also tab and sheet music snippets as well as full tune audio.

This is a good way to preview tunes you want to learn, or review tunes you've already learned. You can almost use this as a flashcard system. See if you can remember the whole tune from the first quarter snippet.
I made a short video to show how this works.
---
Tune Index
The Tune Index is another way for you to find tune lessons that interest you. You'll find lists of tunes by genre as well as root note (so you can play the Dronopoly Game).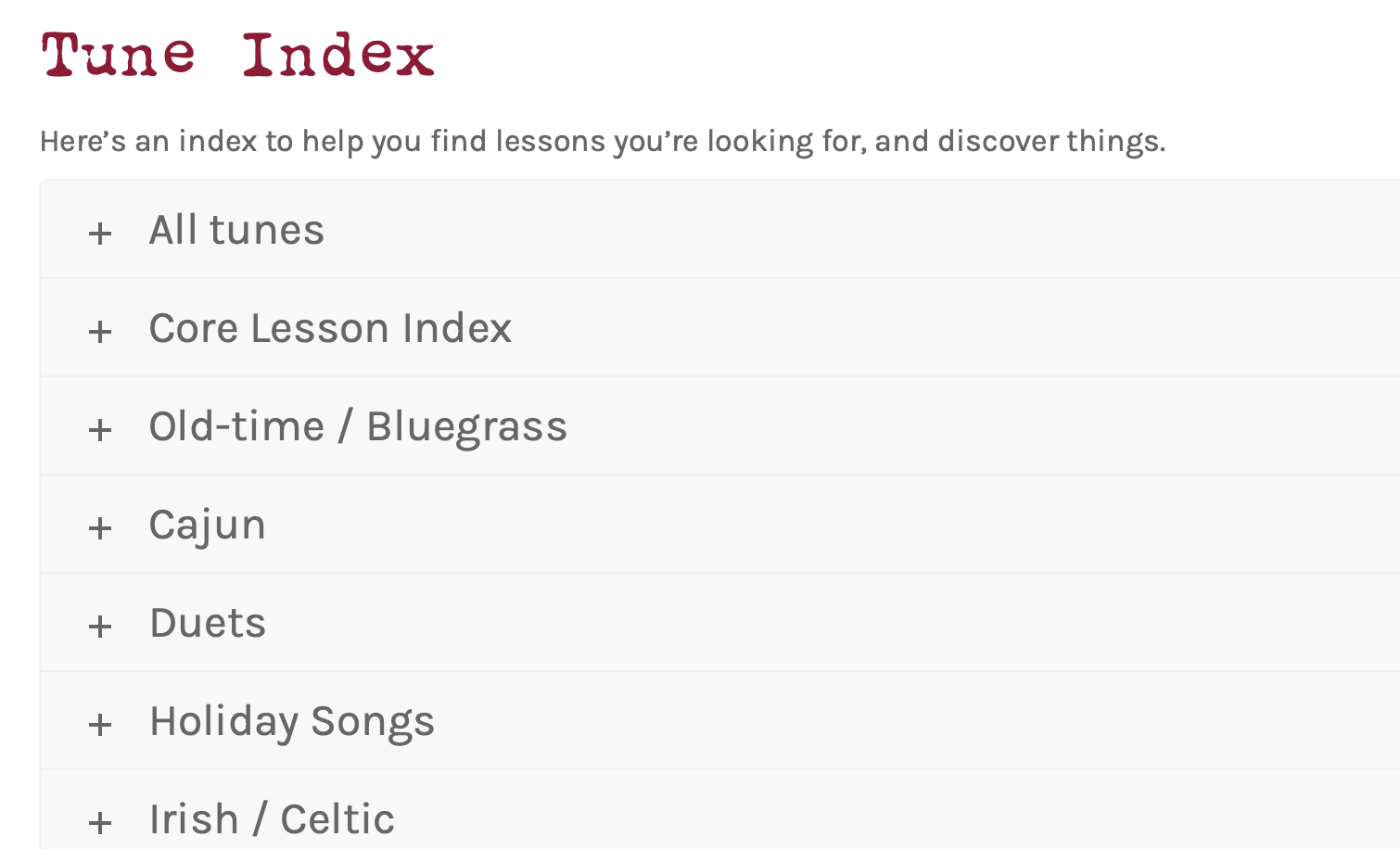 Both the Tune Index and TuneFinder can be found by hovering over Library under the Tunes header:

---
Course Modules
If you simply work through the course, you'll encounter lessons listed in each module. Here's an example from Module 1.6.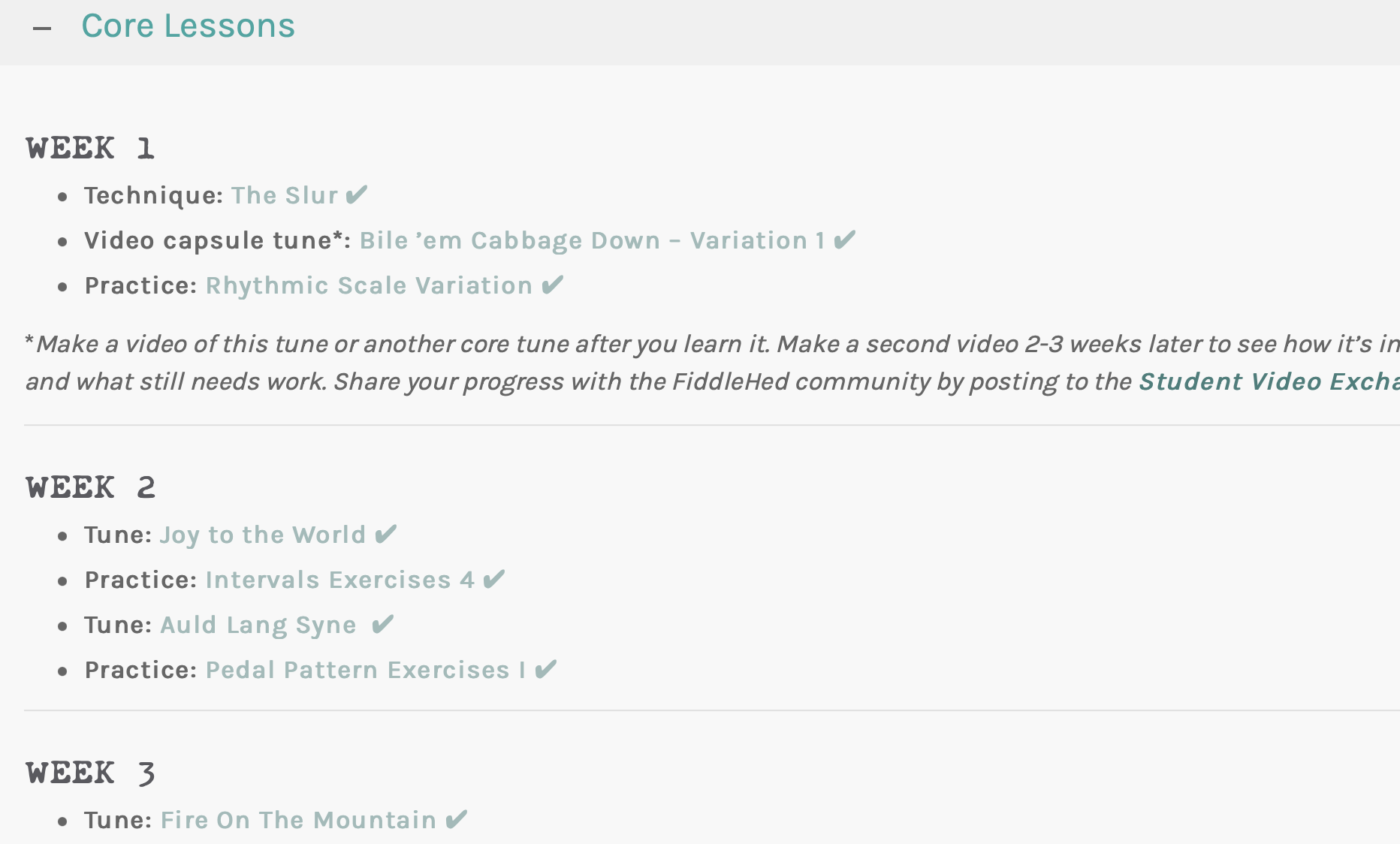 If you want to steadily build your FUNdamentals, then I recommend working through the course. Even if you're an intermediate player, you might find that you benefit from the progressive design of the courses.
How fast should I move through the course? Is it self-paced?
The FiddleHed course is designed to be self-paced. 
Some folks are absolute beginners and need more time. Others who have previous experience learning music may find they need less time.
Generally speaking, most students tend to rush, both in how fast they play new tunes as well as how fast they move through the course. I wrote an article about this: The Ultimate Beginner Pitfall.
That said, I suggest you spend about three weeks learning and practicing the lessons in each module. There are nineteen modules in the main course (Beginner: 1.1-1.9, Intermediate 2.1-2.9). Here's a suggested weekly practice plan from module 1.3: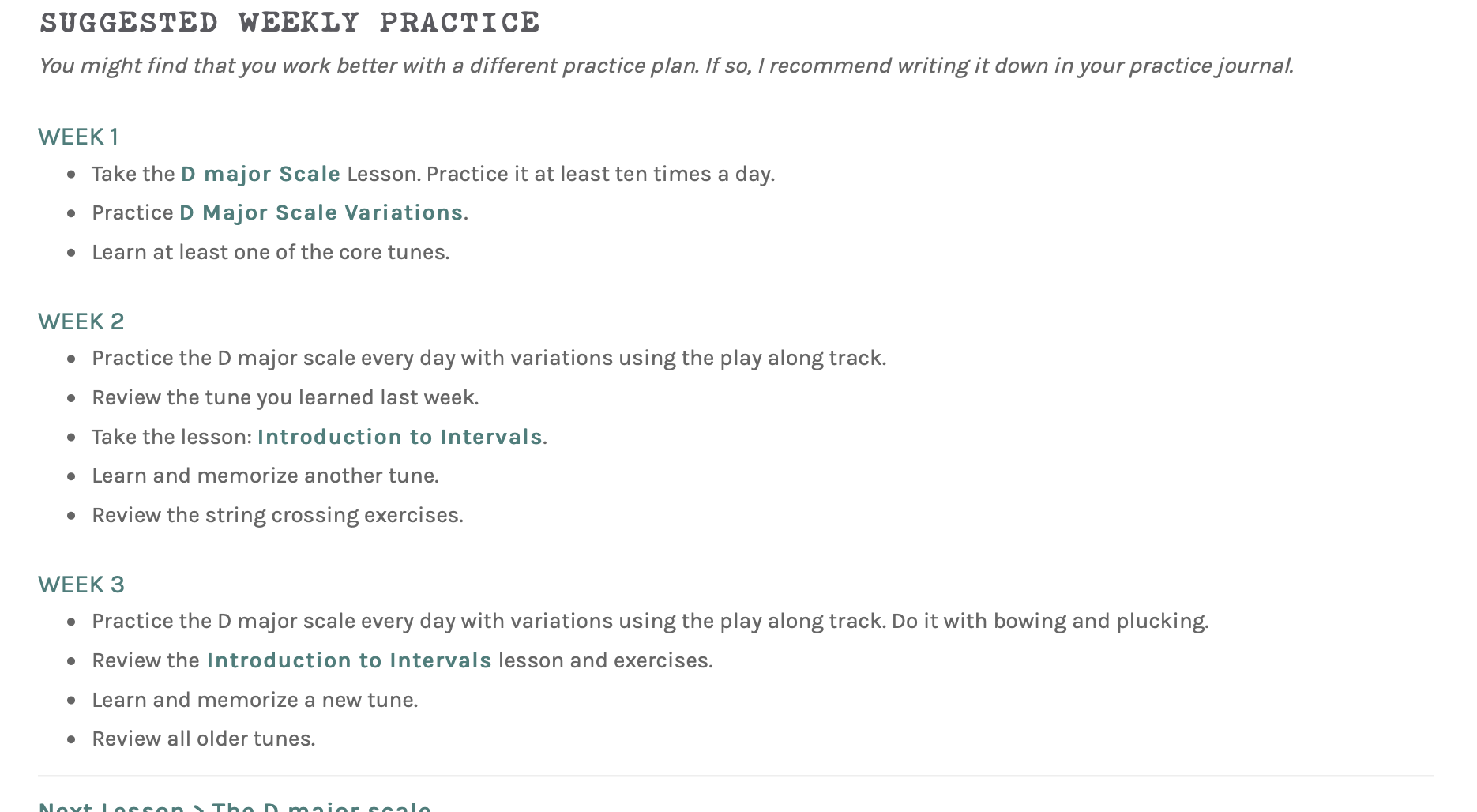 The idea is not to hold you back but to help you get established in good practice and the technique fundamentals. If you do this, then you ultimately will be able to learn more quickly and will enjoy your fiddle journey more.
How do I track my progress through the course?
You can track your progress by marking core lessons as complete. Here's a video tutorial:
You can mark lessons as complete on the lesson pages using this button: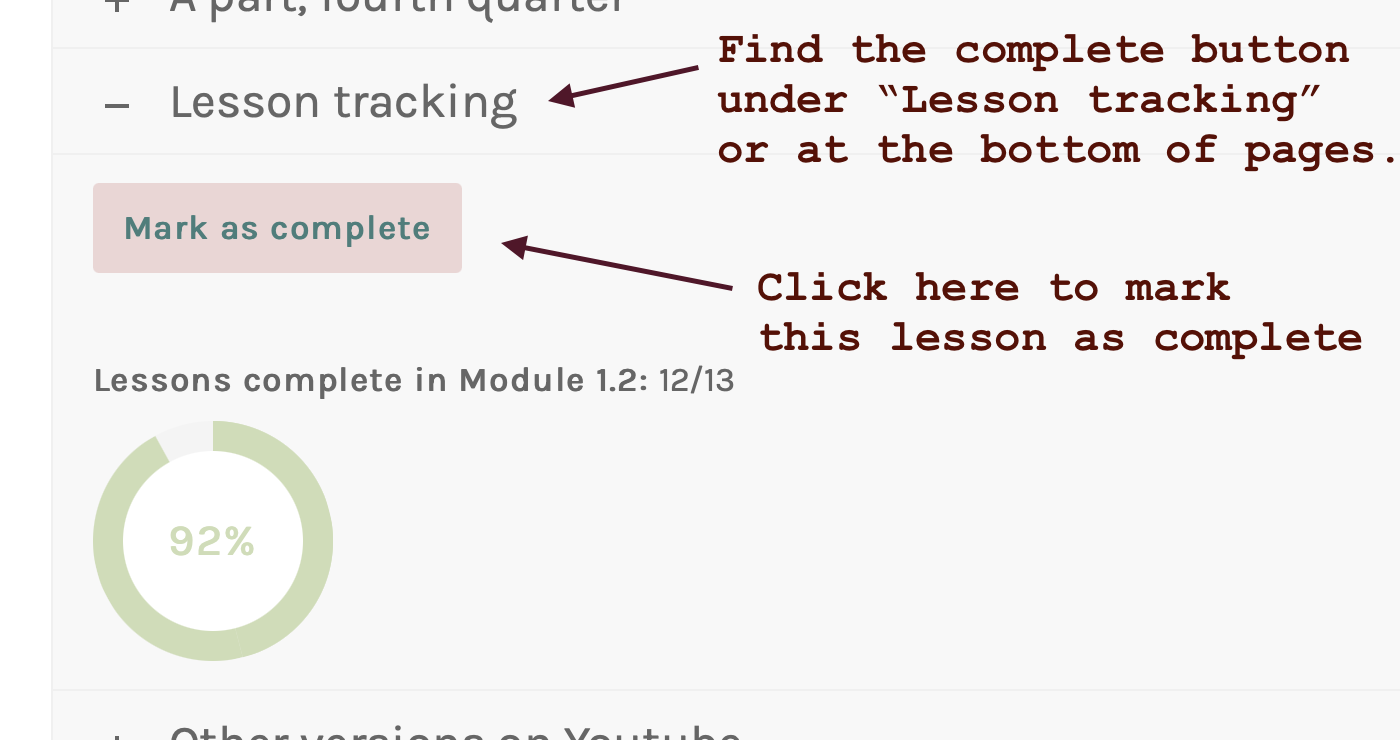 You may want to hit the "mark as complete" button when you first start a lesson. That way it's easier to find the next time you practice. Here's a short tutorial explaining this:
---
See your total course progress near the top of each module page or on the Home Page.

---
See which lesson you've finished in each module. This can be found in the Core Lesson Index, the Home Page and at the bottom of most lessons in the "Practice Toolkit."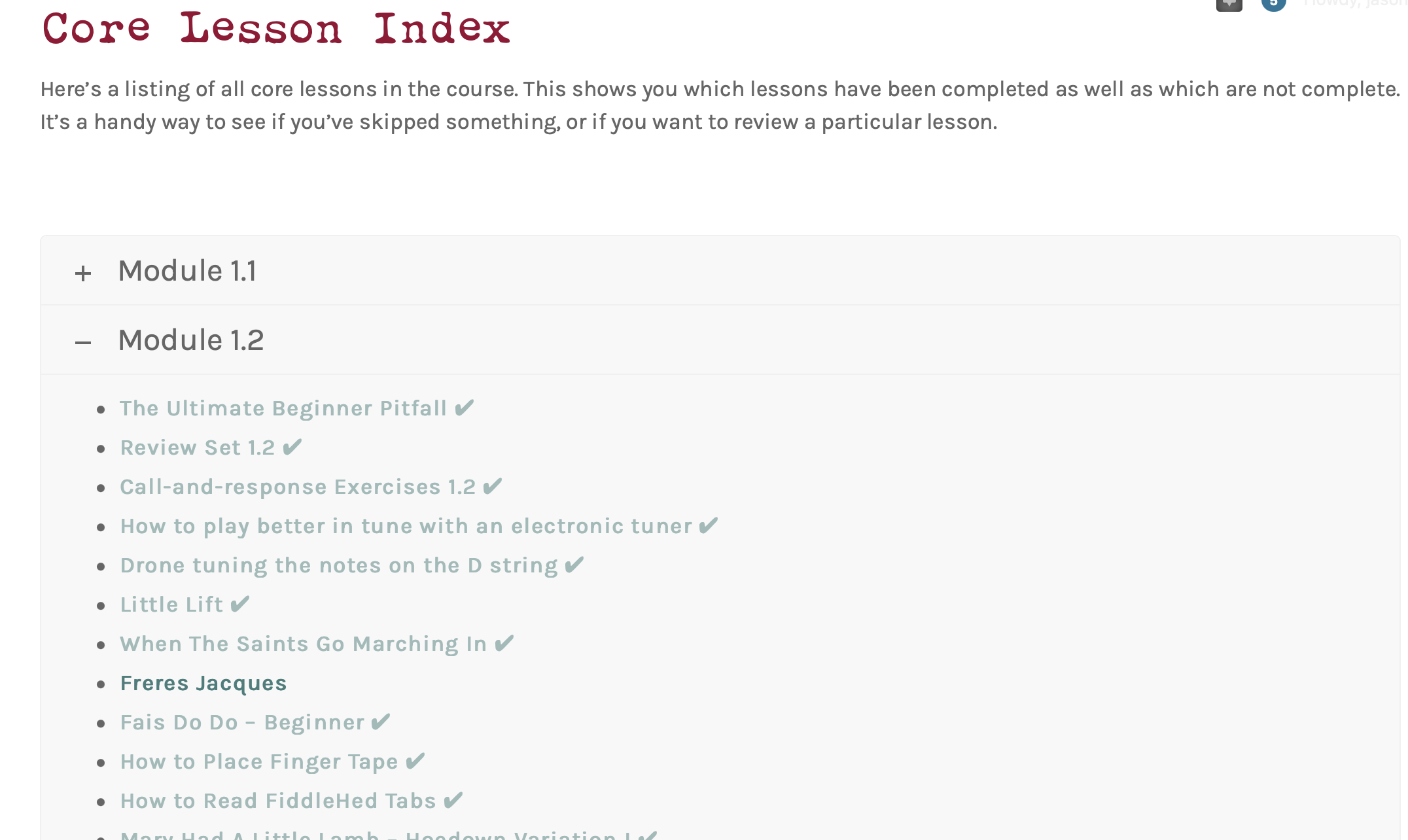 ---
Some students us
How To Use Your Practice Journal
Here's a tutorial on how to use Your Practice Journal. This is something new to the site: a way to track what you practice.
---
---

---
Key Take-aways 🗝
Find Your Practice Journal at the bottom of any lesson page (including this one), or the Home Page
Click the orange ⊕ icon to create an entry.
You can tag entries as "Daily Practice" or "Weekly Review"
Take short notes to help you remember things as you practice
You can add links to external sites (like Youtube, Spotify, etc.) using the link button
Use the 🔎 icon (top right hand corner) to your previous entries
Let the journaling process to be interesting and fun – don't see it as a chore 🕺🏾
---
Add links to lessons
You can add links to lessons to your practice journal. FiddleHed Deb asked about this, so I made a quick tutorial.
---
Things you might want to take notes on:
⏰ Time (when you practiced, how long, how many days)
🎶 Tunes
🪜 Techniques (Scales, bowing, ear-training, etc.)
🏆 What went well
📈 What could use improvement
🧠 What you learned
📆 What you'll do next (tomorrow or next week)
---
Let me know if you have suggestions or ideas to improve this. Leave a comment or email me.
How to mark lesson pages as favorites or things to review
Fiddlehed Carolyn asked if there's a way to keep a list of lessons to review, or favorite lessons. We have the practice tracking feature which allows you to mark lessons as started. But there's no way to flag particular lessons you may want to return to later.
A simple old-school method is to simply note these lessons in a practice journal.
There's also a workaround using bookmarks and bookmark folders in your browser. I made a tutorial on this below.
The basic steps:
Go the bookmarks folder in your browser (I use Safari)
Create a "FiddleHed Lessons to Review" folder (or whatever you want to title it)
Go a lesson page that you want to return to soon, add a bookmark to the folder you just created
How do I download content?
You may want to download content if you are going to go somewhere without internet access. Or you might want to download audio to your phone so you can easily listen in the car.
Watch this instructional video and/or read text instructions below.
---
---
Download audio
To download audio, R
Right-click on the red arrow to the left of any audio track. It will turn green when the cursor hovers over it.
You should see a pop-up menu. Click on "Download linked file".
The audio will be found in your downloads folder.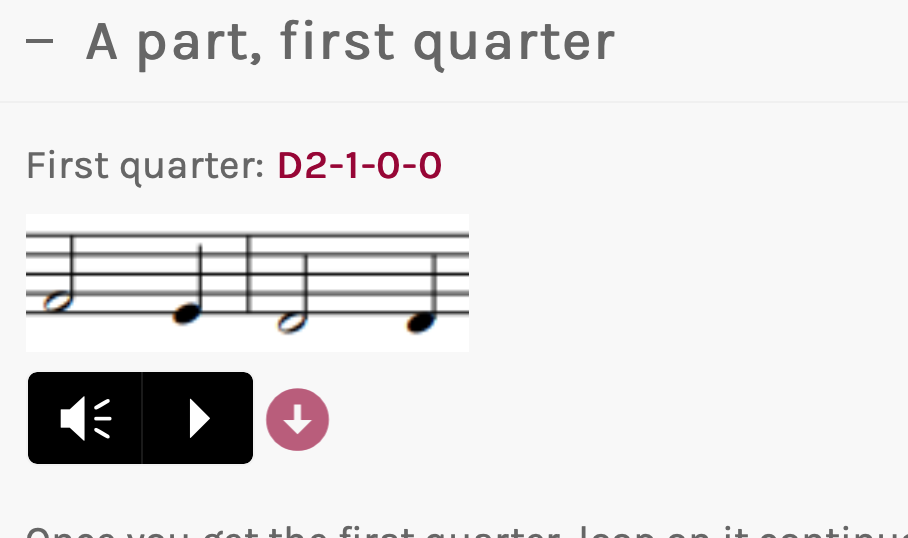 ---
Download sheet music
To download sheet music:
Scroll down the page until you see the full sheet music.
Click the PDF link below that.
Select the download button to the right.
Find the downloaded sheet music in your downloads folder.
Return to fiddling!
---
Download videos
Right now, only newer videos have a download link.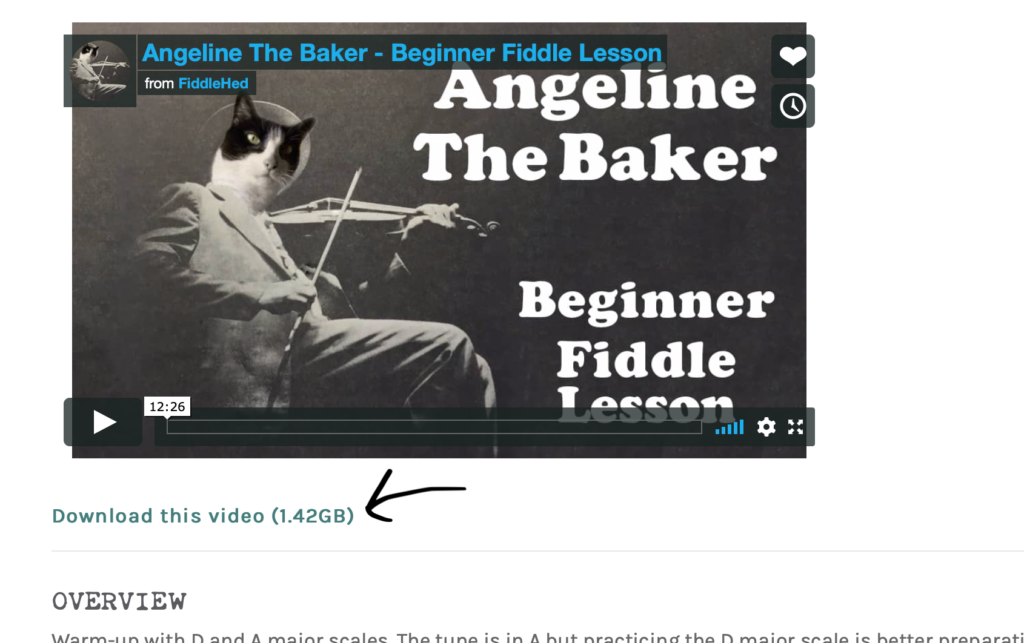 How to change the speed of a video?
Did you know that you can change the speed of videos?
Here's how.
Hover the cursor over the settings wheel.
You'll see a popup window.
Click Playback speed.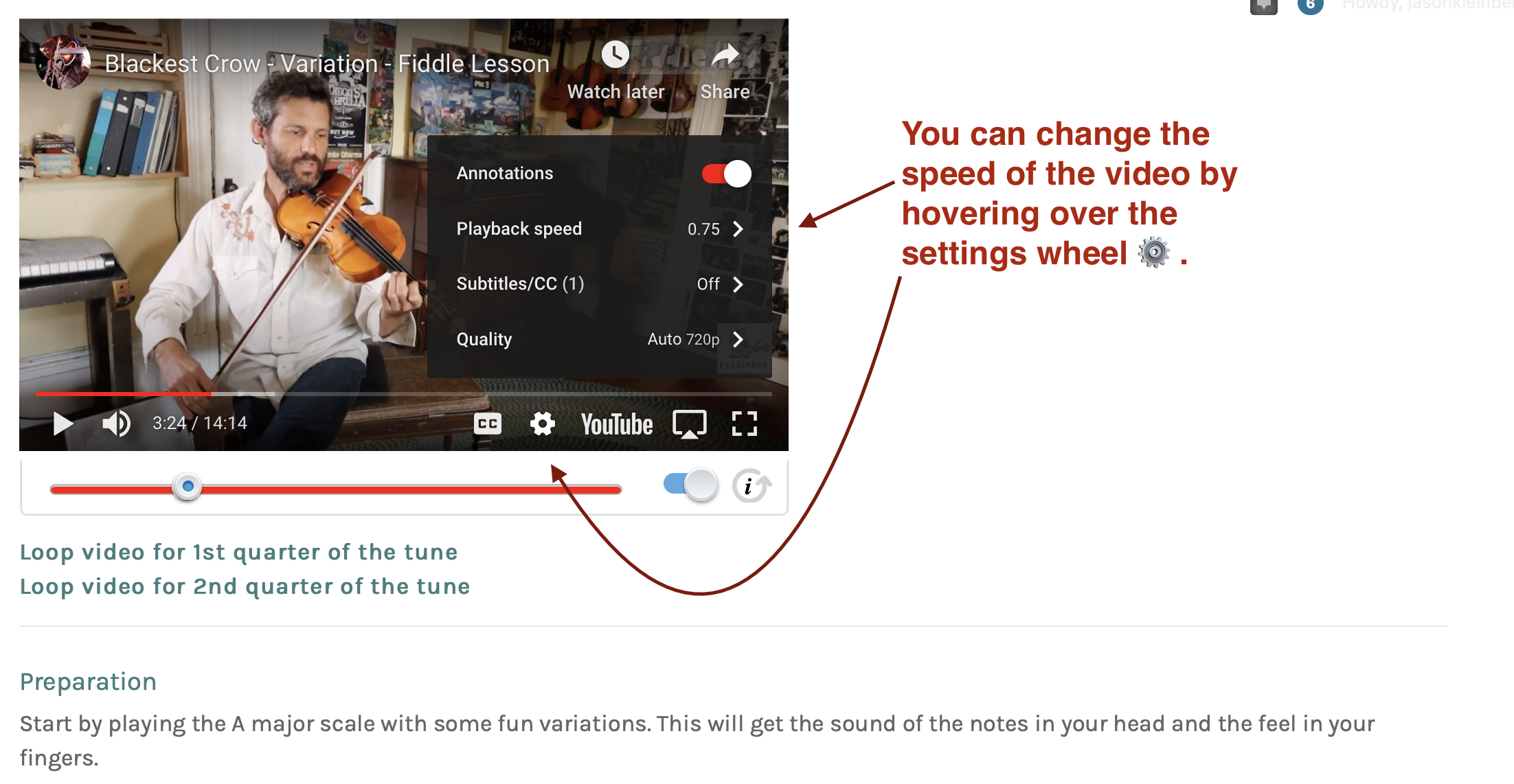 You can choose a pre-set speed. I recommend starting with 0.75 for learning parts of fiddle tunes.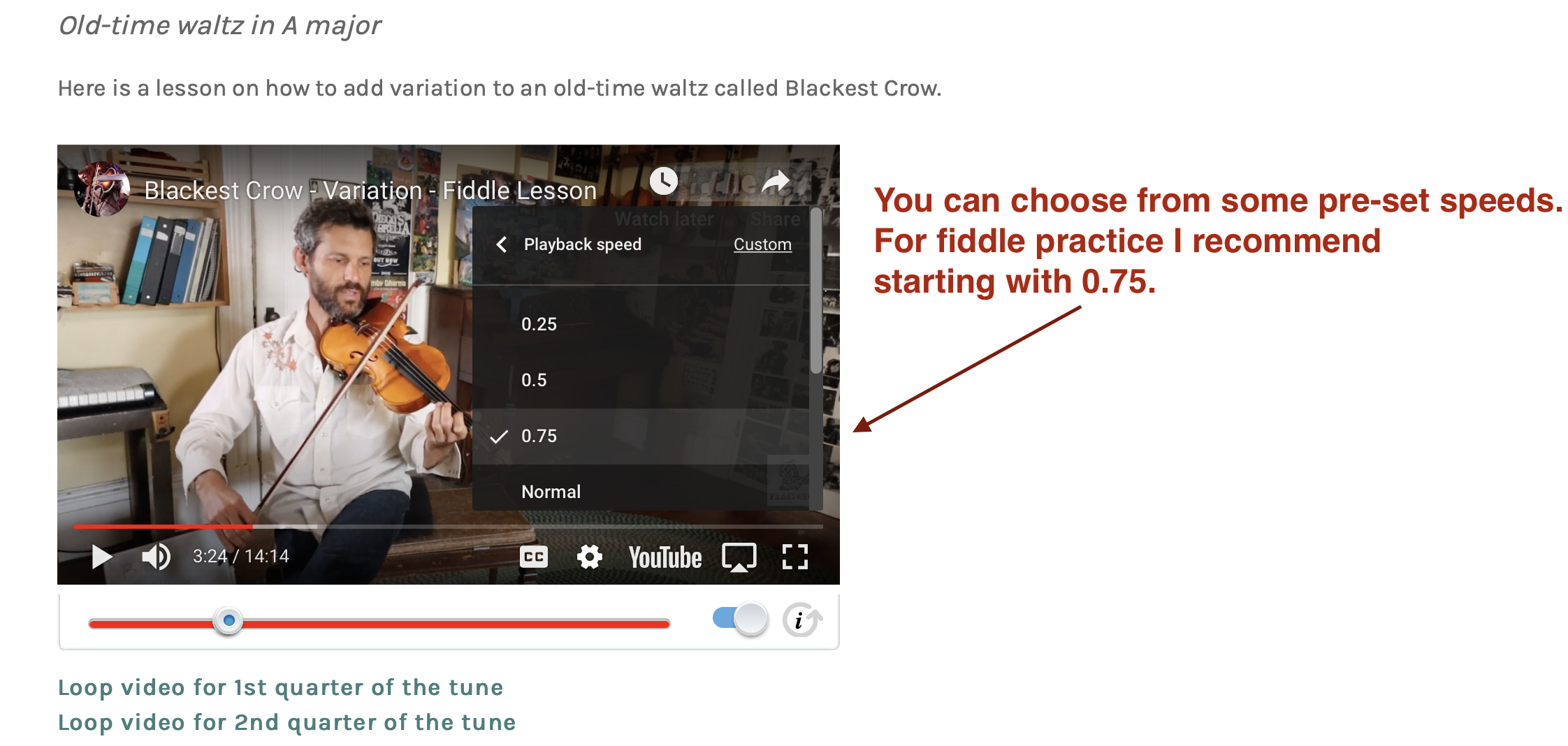 By clicking custom in the top right corner, you can play back the video or loop at the tempo which is most helpful to you in your practice. Awesome new Youtube update 🥳.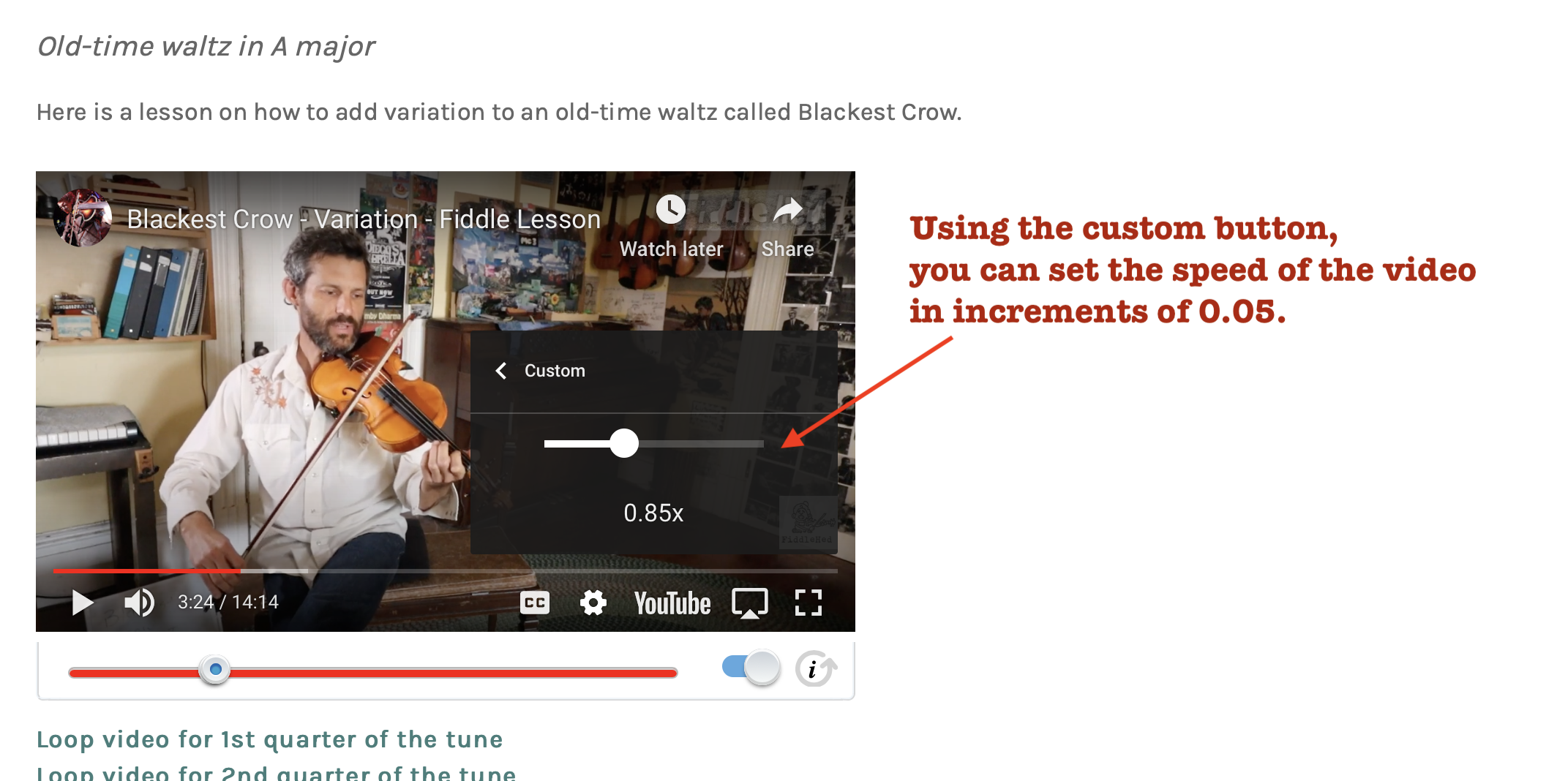 Can the playback speed be changed on any Youtube video?
The answer is…🥁… Yes.
What are good tunes for an intermediate student to learn?
Here's some guidance for you to get rolling with FiddleHed as an intermediate(ish) student. Start by reviewing these tunes from the Beginner course:
If these are hard, then learn more tunes in modules 1.6 – 1.10 (or earlier). If they are easy, then explore these key tunes from the Intermediate course:
If you want to learn more advanced versions of these then check out these modules: 
In these courses, you'll learn how to add variation to these tunes, how to play them in alternate tunings and generally how to approach music in a creative way. 
Also, check out the Art of Fiddling lessons. These teach more advanced variations and techniques. There's a good series called How To Make Scales Fun which shows you how to deepen the practice of scales in an enjoyable way. 
How can I upload a video to the site?
I'm going to show you how to upload video to the website. You'll be able to add video as a comment or to the forum. Here's the basic process:
Upload a video to your own Youtube channel.
Copy the link to a comment on any FiddleHed page.
Why do I want to do this?
Uploading video other people, including me, to support you in your fiddle journey. We can help each other by sharing challenges, asking questions and cheerleading. It's part of my efforts to create a community of fiddle students.
What are the main steps?
In order to upload video, you'll need to do the following main steps. I'll go into more specific detail for each step below.
Create a Youtube channel.
Upload video to Youtube.
Copy the link from Youtube, then paste it to a comment or forum on FiddleHed.
I will do my best to explain this with screen videos and text. But if something does not make sense or work, PLEASE LEAVE A COMMENT BELOW.
---
How to create a Youtube channel
Sign in to YouTube on a computer or using the mobile site.
Try any action that requires a channel, such as uploading a video, posting a comment, or creating a playlist.
If you don't yet have a channel, you'll see a prompt to create a channel.
Check the details (with your Google Account name and photo) and confirm to create your new channel.
---
How to upload a video to Youtube
Sign in to YouTube and your desired channel.
Tap the camera at the top of the home page.
Record a new video or select an existing one to upload.

To record a new video: Tap the video camera icon and begin recording.
To select an existing video: Use the gallery to select your video.

Apply optional enhancements to your video and tap Next.
Adjust your video's title, description, and privacy settings. You can have a title up to 100 characters and a description up to 5,000 characters.
I recommend setting the video to "Unlisted" under the description. If you set it to public than anyone can discover and watch it. Which is fine…just want you to know how it works.
Tap Upload.
---
How to post a YouTube video to FiddleHed
The essential steps:
Go to the video on your Youtube channel.
Click the "share" button, which is below the video on the right.
Click the "Copy link" button all the way to the left.
Paste this to a comment or forum post. This is what the link looks like when you first paste it: https://youtu.be/2kZASM8OX7s. After you hit the "Post comment button" it will look like this: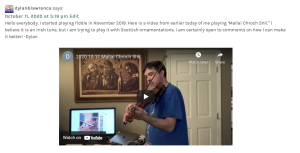 ---
If you get stuck at any point in the process, just email us. Thanks!
How do group lessons work?
How do group lessons work?
Group lessons are held on Zoom. You don't have to sign up for a zoom account to take group lessons.
The teacher (Jason or Jocelyn or a guest teacher) will guide you through the lesson. You won't be audible, except for certain situations. For example, sometimes people choose to demonstrate their question or problem during office hours.
---
What kind of group lessons do you offer?
We currently offer five types of group lesson experiences. More details below.
Practice Journeys & Workshops
Office Hours
Student Hangouts
Monthly Hootenanny
Open Practice Sessions
Find out more detail here: Group Lessons Central
---
Do I have to talk during group lesson sessions?
No. Most folks just listen and use the chat window.
---
What if I don't want people to see me?
Just turn off your video in the lower right hand corner.
---
How can I meet other fiddlers at the session?
Yes. Here's two things you can do to meet other fiddlers:
Leave a message in a comment on the group lesson page. That way, people can reach out to you through the FiddleHed Network. Learn more about that in here: Fun with the FiddleHed Network
When the lesson is over, anybody who wants to stay on the meeting has the opportunity to meet, greet and play with other fiddlers. If there are lots of people who want to do this, then I'll break you into smaller groups.
---
Do I need a Zoom account?
No. You don't need to buy a zoom subscription or sign up for a free account. However, it might a better experience if you do have a zoom account.
---
Do I need a microphone or other gear for Student Hangouts and Private lessons?
It's a good idea use a microphone for student hangouts, but not necessary.
---
Why do these group lessons always start at 12 PM Pacific Time?
This allows people in United States and Canada as well as Europe to attend at a reasonable time of day. I know this is difficult for people in Australia and people in the US who work during the day. As we develop the group lesson experience, I hope to add more times.
---
Can I watch a replay of a live group lesson?
We post a replay for most group lessons within 2-3 days. We add additional content (sheet musi, audio, tabs, etc.) to make for a better learning journey. Find these on the Group Lessons Central page.
On that page you can also see a whole library of archived live lessons.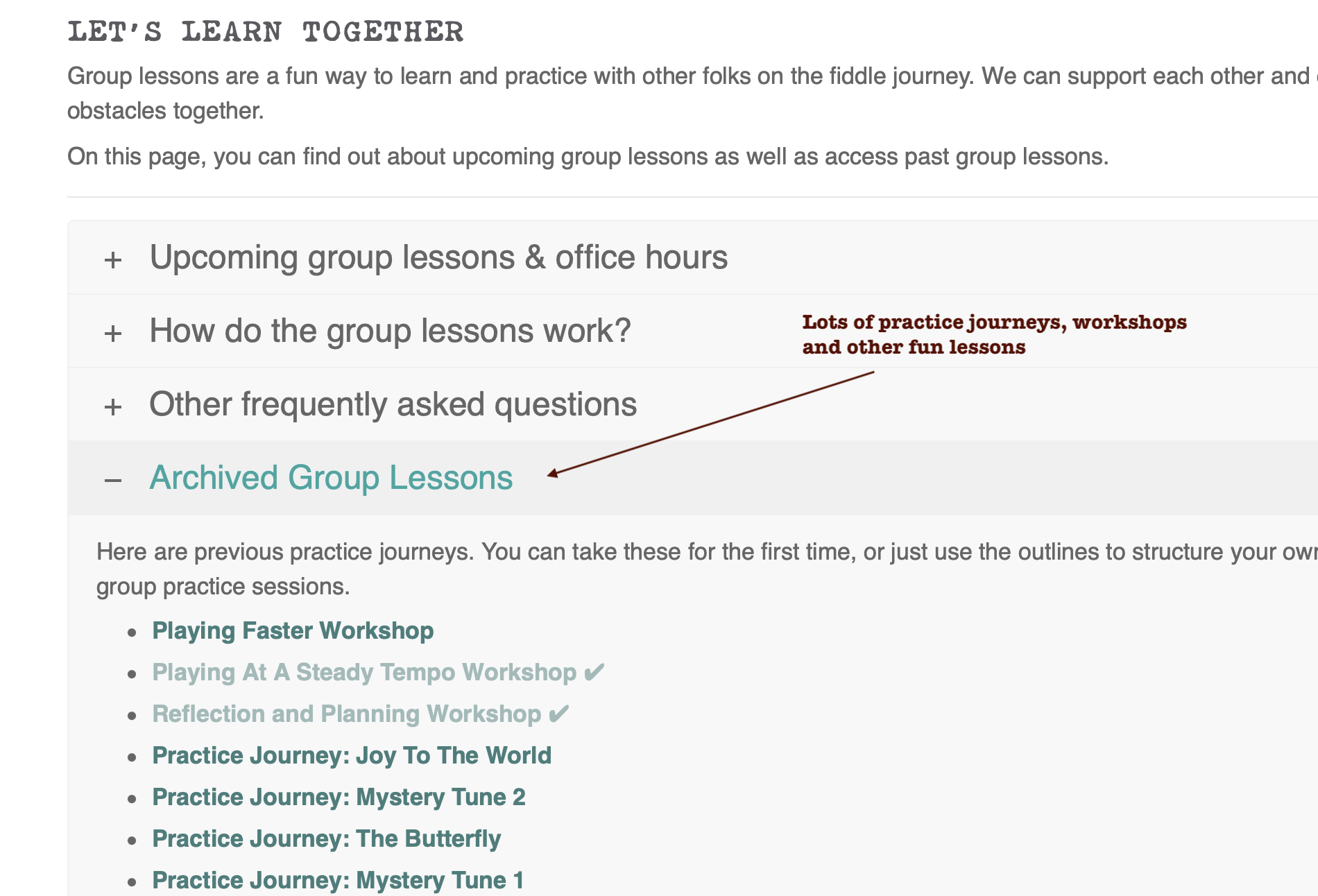 How can I adjust the text size?
This is done with your own device.
For Macs and most PCs, you can click either command & + , or click control & +  to make the font bigger.
For iPad and iPhones:
Go to Settings

⚙️

 > Accessibility > Display & Text Size.
Turn on Larger Accessibility Sizes, then adjust the text size using the Font Size slider.
How to send a private message to other folks in the FiddleHed Network
We have a new feature on the site that creates a social network within Fiddlehed. I made a tutorial video on how it works.
The most important thing to know is how to send a private message to other fiddleheads. This will allow you to support each other, share videos, and form your own practice groups on zoom.
Here's an example of how others have formed their own online practice group: Fiddling with friends online.
---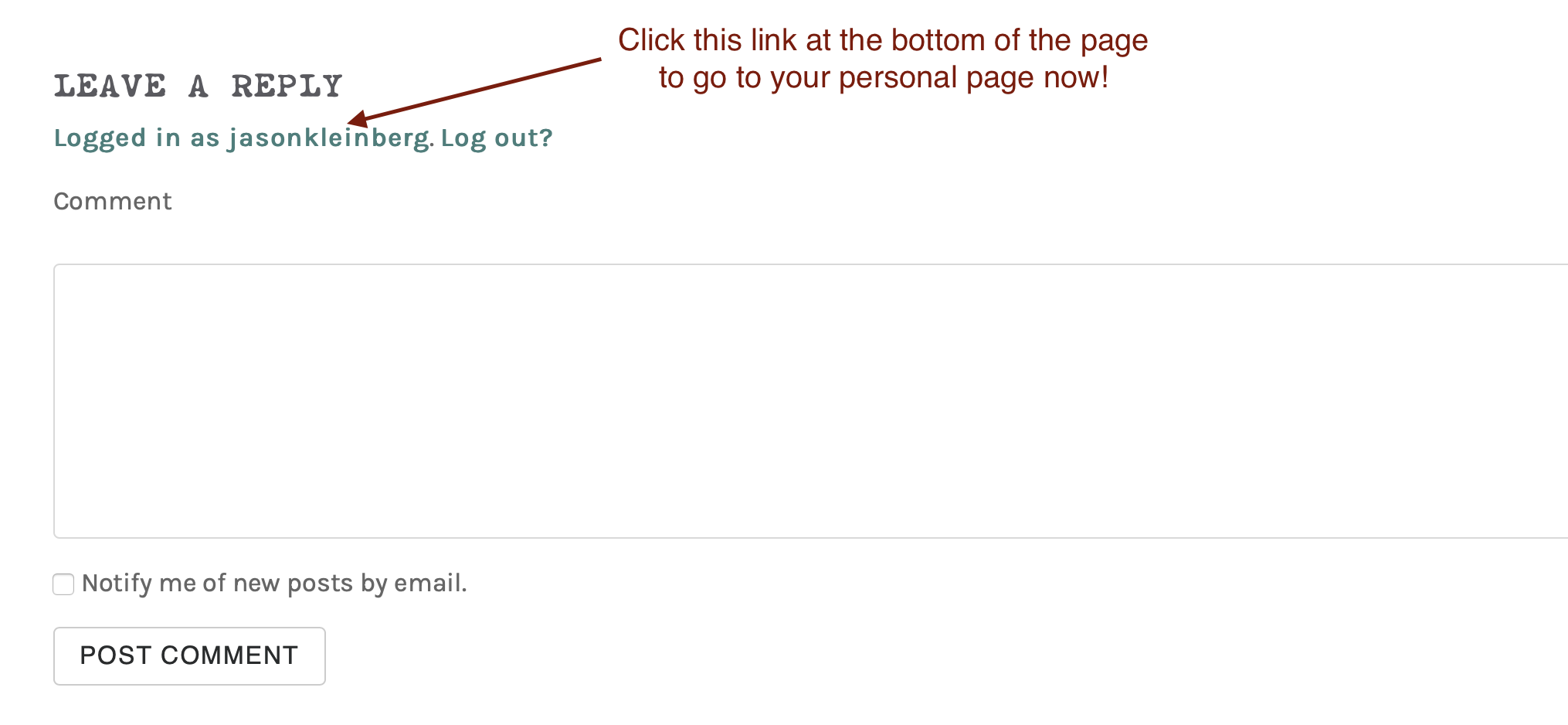 ---
Tired of seeing the weird emoji next to your name?
You can change that on your profile page. I show how to do this in the video above. You can also change your profile background. And similar to Facebook, you can make friend requests to other fiddlehead folks.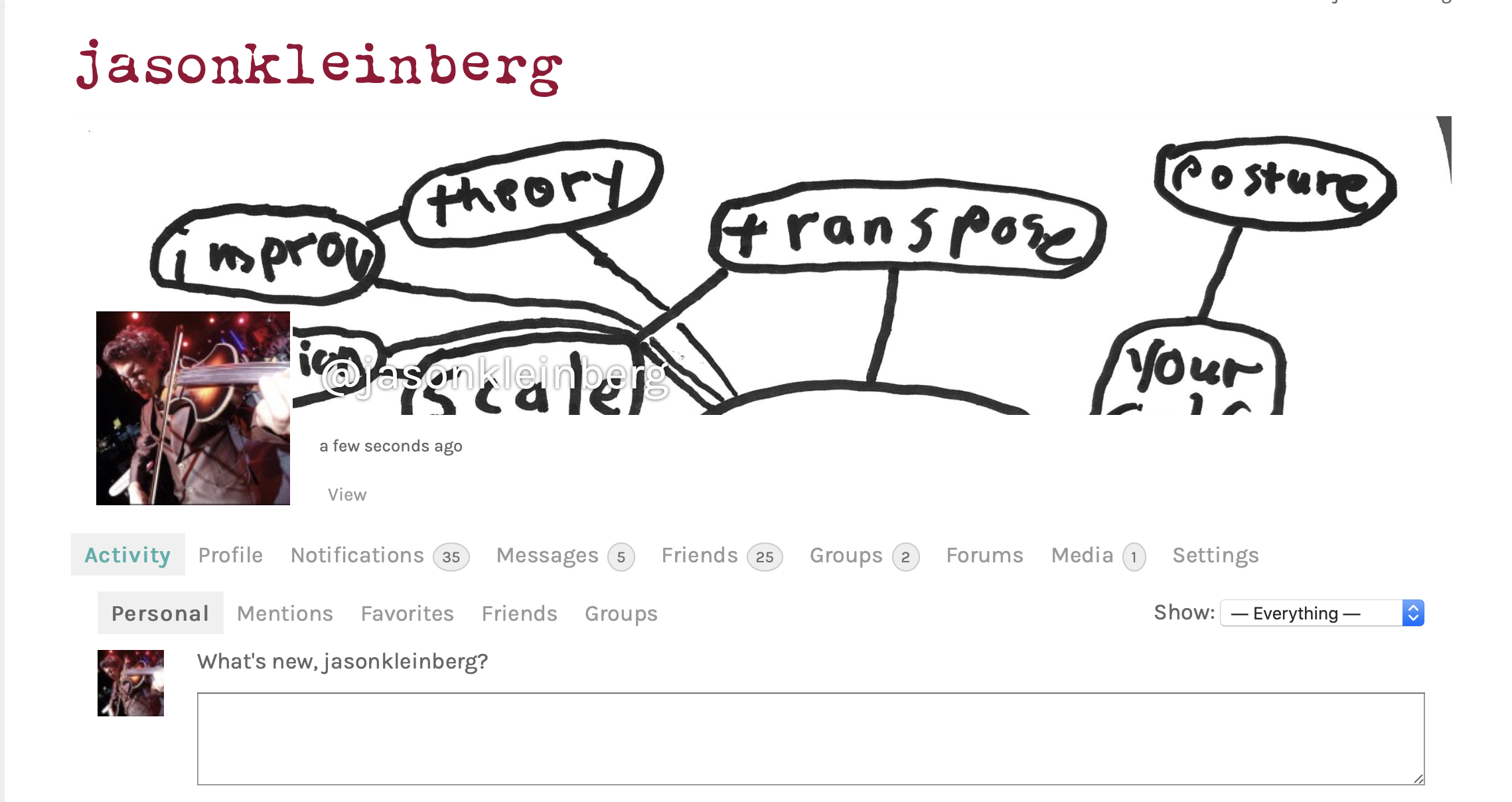 As you can see, there are other similar features as Facebook…but no annoying ads 🤠
How to set up a student group using the FiddleHed network
For those of you who have formed your own groups, you can communicate and form your own forums using this student group feature. You can make your groups private or public. I go a little bit into this in the video below.
How to set up a Facebook chat room
FiddleHed Tom was kind enough to put together this pdf which explains how to do this. This might help you to more easily get together with other fiddlers and form online student groups.
Still have questions? If so, email me.