As you listen to music, take note of tunes that you love and want to learn someday. These tunes will inspire you to keep practicing. In general, I like to focus on the process of playing in the present moment. But having a fun goal can keep you playing and learning.
Start a list called "The Fiddle Tune Bucket List" or maybe "Tunes I Love That I Will Play Someday".
Tunes I Love That I Will Play Someday
Your list can also include styles and techniques that you want to learn.
Styles to learn
Techniques to learn
You can have separate lists by type or one big list.
Big Ol' Fiddle Bucket List
Lonesome Fiddle Blues

Klezmer music

Fingered double stops

Peacock Rag

Chief O'Neill's Favorite

Cajun

Bow bouncing

Texas swing

Singing and playing
Store this in a three-ring binder along with weekly lesson plans, your master tune list and any other written material (tabs, sheet music, inspirational quotes).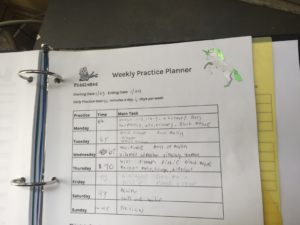 Or you can use an online notebook like Evernote or Google docs. Here's a few examples from my in-person students.
Isobel's wish list: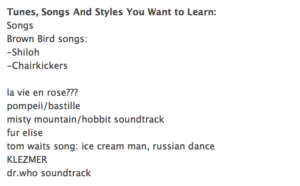 Nik's wish list: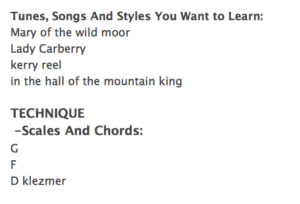 The list is can be fun to make. It's fun to dream. But don't get too attached to the goal. We write lists and set goals to focus on what we are doing in the present moment, to make the today's practice as enjoyable and productive as possible.
There you go. Hope that's helpful. Now go fiddle with it…
---
Lessons complete in Module 1.10: