Support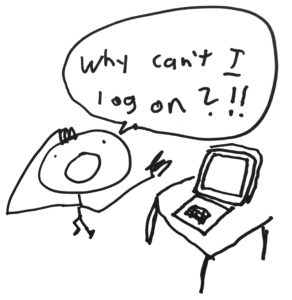 For the fastest response with subscription and site usage questions, see the Frequently Asked Questions section below.
Otherwise, email us here for customer support.
---

For the fastest response with fiddle and practice questions, visit the micro-lessons page. If you don't find an answer there, email Jason. Thanks in advance for your patience.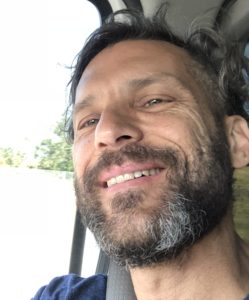 ---
See this page for video tutorials on how to best use the site: How to Use FiddleHed.
Looking to buy a fiddle or accessories? See the Recommended Gear page.
---
Frequently Asked Questions
Subscription questions
Here are some common questions and solutions that will help you to get back to fiddling ASAP.
Which subscription should I buy?
Premium Subscription – monthly
If you are an absolute beginner, and you just want to try out fiddling, I recommend a premium monthly subscription.
This will give you full access to the main course (modules 1.1-2.9).
Sign up for the Premium Monthly Subscription
---
Premium Subscription – yearly
If you're a beginner and sure you want to dive into lessons, this is the best option. It's cheaper than the monthly subscription ($19/mo instead of $25/mo, so about 24% off). It also includes the FiddleHed Tune e-Book: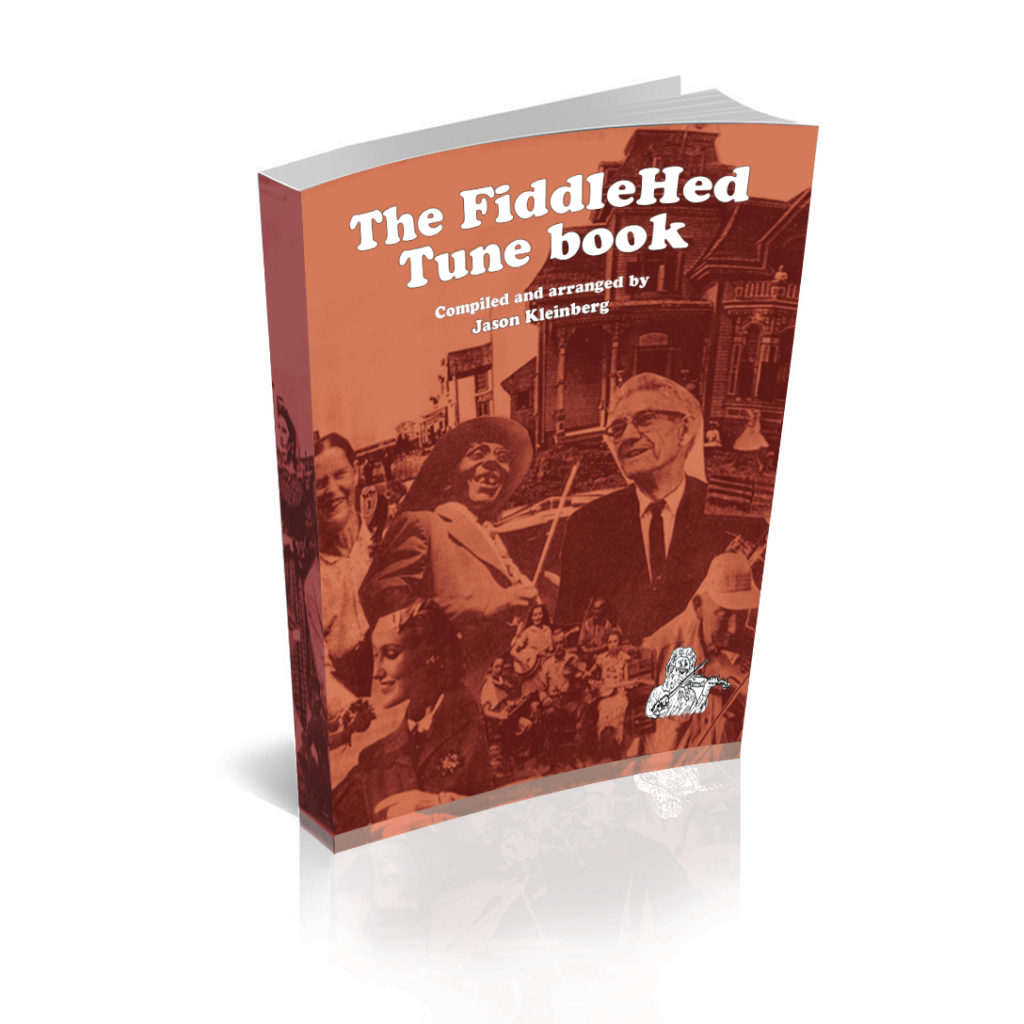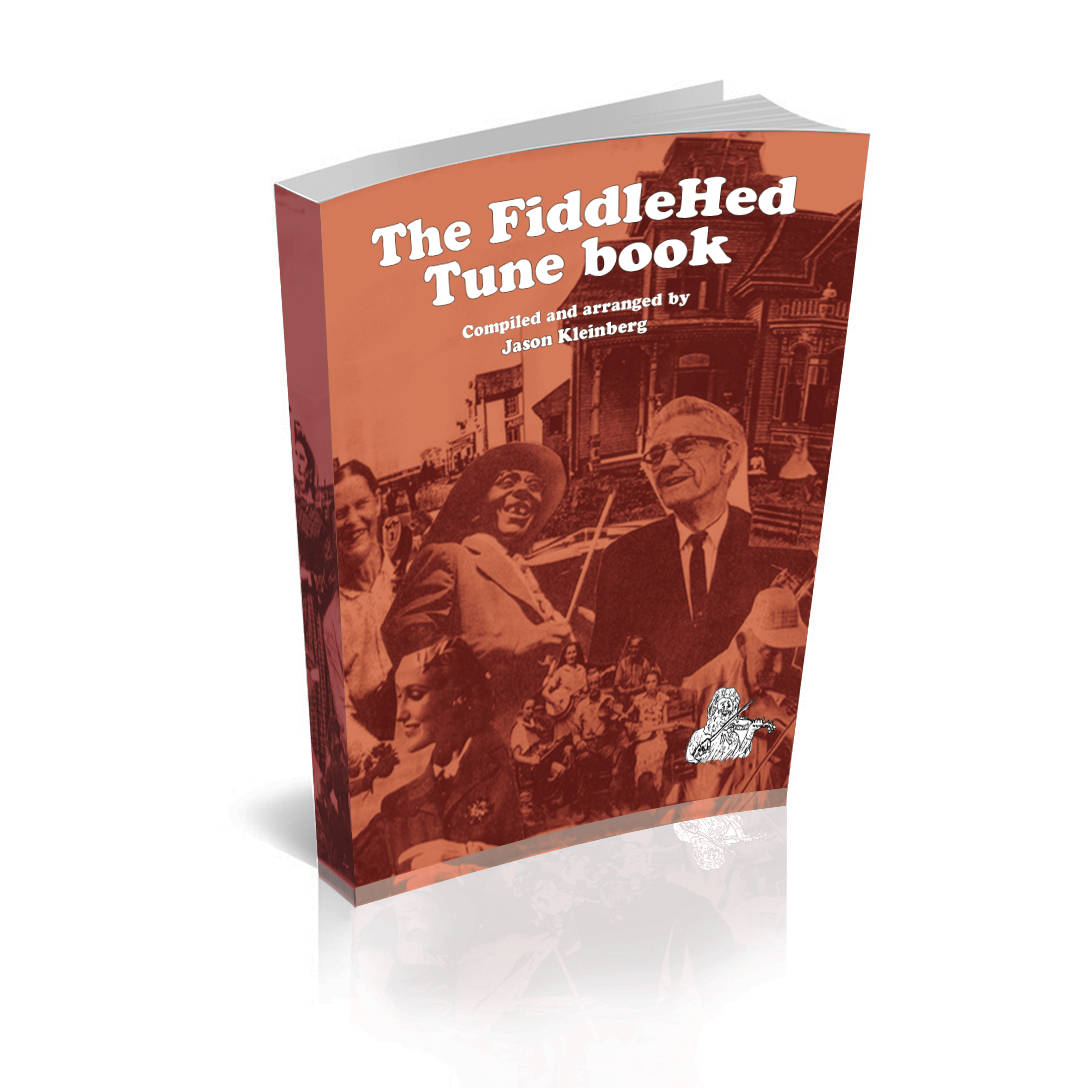 Sign up for the Premium Yearly Subscription
---
Ultimate subscription
This yearly subscription includes everything in the Premium Yearly subscription but also includes access to other lessons and content: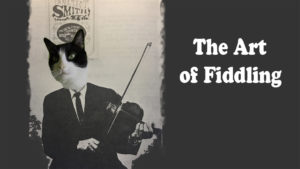 Art of Fiddling

This is a collection of more advanced exercises that prepare students for adding variation, improvising, playing chord backup and playing with others.

Irish Fiddle Journeys
Appalachian Fiddle

Adding variation and feel to Appalachian style fiddling.

Improvisation (coming late September 2020)
This is the best option for continuing fiddlers who want a wide range of lessons on everything from technique, tune lessons in multiple styles and fun practice lessons.
Sign up for the Ultimate Subscription
---
Irish Fiddle Journeys Course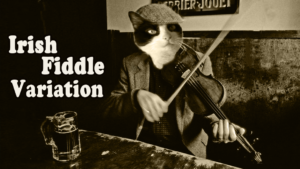 This course is a stand-alone course for people who want to focus on Irish fiddling. It's a deep dive on how to add left-hand and bowing variation to tunes. In addition to learning specific techniques, you learn how to practice creatively, and how to bring expression to your playing.
If you buy this course, you get lifetime access. However, this does not include access to the rest of the course.
If you are an intermediate fiddler and want to learn other things (advanced techniques, other styles like old-time variations, improvisation) then you might just want to get an Ultimate yearly subscription, mentioned above.
Sign up for the Irish Fiddle Variation Course
---
Long-winded answer! Does that make sense? Let me know in a comment below if you have more questions.
How can I get a refund?
If you were charged for a subscription you don't want, or are not satisfied with the FiddleHed course, please email us and we will refund your payment.
Our policy is simple. We don't want anyone to pay for this if they don't want it.
Thanks!
How do I cancel, change or renew my subscription?
Change subscription plan
If you'd like to change your subscription, here are the steps you take:
Go to the Subscriptions page.
On the right-hand column, select "Change Plan".
Select the plan you want.
When taken to that page, click the "Select Plan" button. You'll be taken to a page where you can purchase that subscription.
Cancel subscription
If you'd like to cancel your subscription, here are the steps you take:
Go to the Subscriptions page.
On the right-hand column, select "Change Plan".
Select "Trial Membership".
When taken to that page, click the "Select Plan" button.
If you have questions or problems, email me any time and I'll find a way to resolve the issue. If you ever pay for something you don't want, I'll refund the money, no questions asked.
How do I update my credit card info?
Click the red button with your username to go to your account page.
Click the "Subscriptions" tab.
Find the row for your current paid subscription. On the left-hand side, click "Update."
You will be sent to a page where you can update your credit card info.
How do I change my password?
Click the red button with your username to go to your account page.
Scroll down the page and click "Change password."
Please don't hesitate to email us with the form above if you don't see your question answered.
---

Site usage questions
Here are some common questions about how the site works. You can also consult this tutorial: How to Use FiddleHed
How fast should I move through the course? Is it self-paced?
The FiddleHed course is designed to be self-paced. 
Some folks are absolute beginners and need more time. Others who have previous experience learning music may find they need less time. Generally speaking, most students tend to rush, both in how fast they play new tunes as well as how fast they move through the course. I wrote an article about this: The Ultimate Beginner Pitfall.
That said, I suggest you spend about three weeks learning and practicing the lessons in each module. There are nineteen modules in the main course (Beginner: 1.1-1.9, Intermediate 2.1-2.9). Here's a suggested weekly practice plan from module 1.3: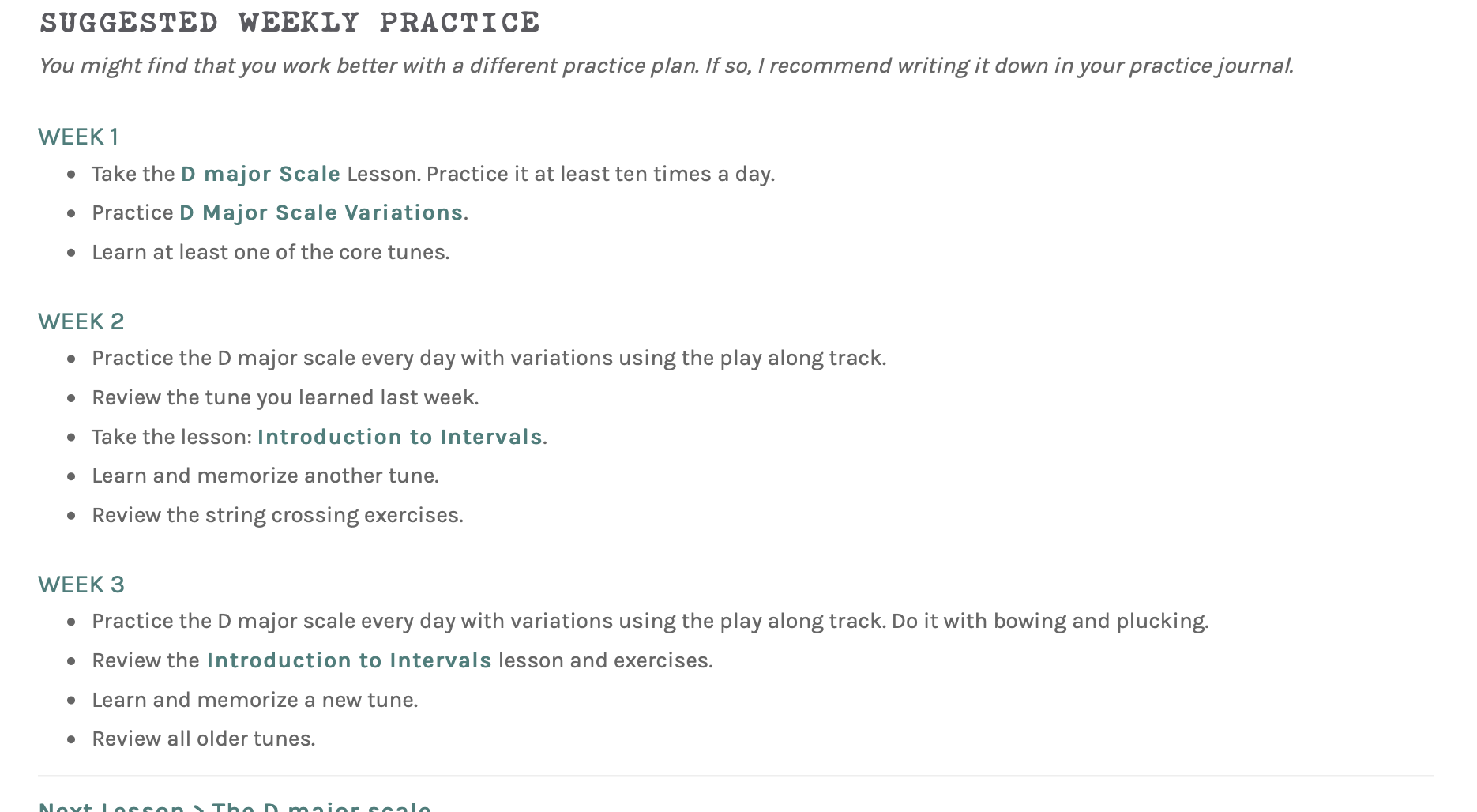 The idea is not to hold you back but to help you get established in good practice and the technique fundamentals. If you do this, then you ultimately will be able to learn more quickly and will enjoy your fiddle journey more.
Where should I begin in the course?
Good question!
If you're an absolute beginner, then just start with Start Fiddling Now (Module 1.1).
In this text, I'll give you a rough breakdown of the skills and techniques learned in each part of the course. If you've already started to learn, you may have to do a little trial-and-error to find the best starting point. As usual, I suggest erring on the side of starting with more "beginner" lessons. The word "beginner" is in quotes because you can always approach learning as a beginner.
Modules 1.1 through 1.5.
At each step of the way you'll learn tunes that help you practice the specific techniques you're working on:
The first, second and third left-hand finger positions for the G, D, A, and E strings.
How to play in tune using drones.
Ear training with call-and-response exercises
Tone-building exercises
Intervals
Transposing tunes to other strings
Pentatonic Scales
How to practice

Maybe the most important thing you'll learn from FiddleHed
---
Modules 1.6 through 1.10:
The slur

This is bowing more than one note per bow. You'll practice different slur patterns in each module: slur two, slur three, slur four, slur two-separate two.

Singing and playing
Pedal exercises

This is a progressive series of left-hand exercises.

Low second finger
D, E and A Dorian scales
The upper octave of the G Major scale and C Major scale
Transposing tunes to other octaves
Triads
---
Modules 2.1 through 2.4
Moving on to the Intermediate course. These are the big things you'll learn:
Fourth finger (pinky)
Advanced fingering and string crossing
Double stops (playing two strings at once)
Simple chords
Low first finger
F Major scale
---
Modules 2.5 through 2.9:
Low fourth finger
B flat Major, Upper Octave
Chord progressions and comping
Double stop scales
Minor triads
Raised Third Finger
A Major Scale, Lower Octave
Chromatic Scale
Syncopation
How to Build Chords
---
For a more detailed breakdown, view the Beginner and the Intermediate course pages. And for an even more detailed breakdown, view the individual module pages. For example, on the 1.2 Lingering with Fingering page, you'll see a listing of core lessons and practice. This can help you to figure out if you need to take these lessons.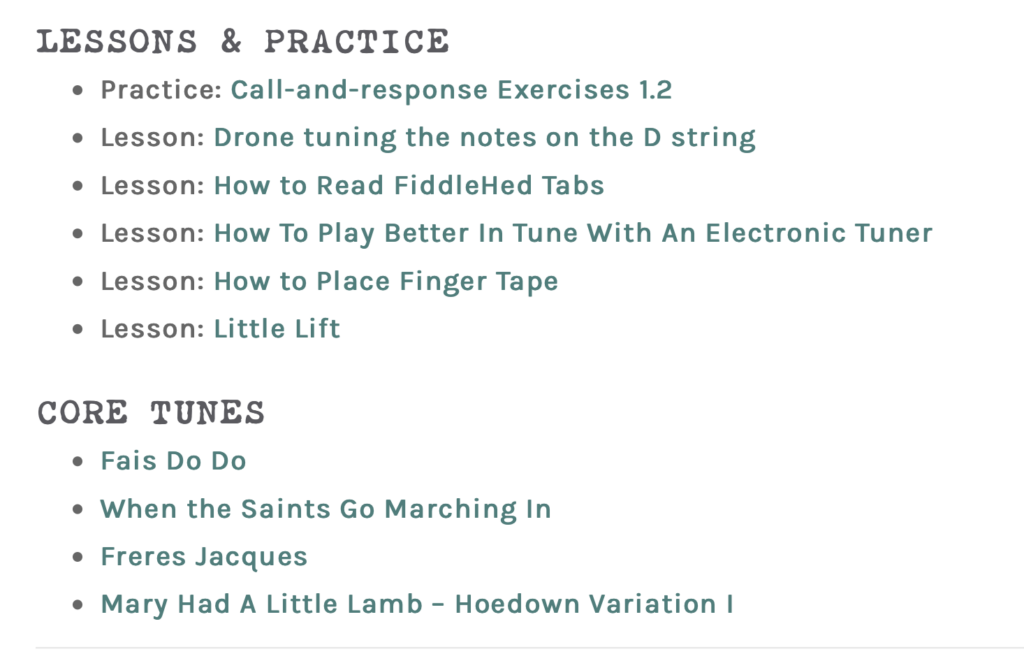 What are good tunes for an intermediate student to learn?
Here's some guidance for you to get rolling with FiddleHed as an intermediate(ish) student. Start by reviewing these tunes from the Beginner course:
If these are hard, then learn more tunes in modules 1.6-1.10 (or earlier). If they are easy, then explore these key tunes from the Intermediate course:
If you want to learn more advanced versions of these then check out these modules: 
In these courses, you'll learn how to add variation to these tunes, how to play them in alternate tunings and generally how to approach music in a creative way. 
Also, check out the Art of Fiddling lessons. These teach more advanced variations and techniques. There's a good series called How To Make Scales Fun which shows you how to deepen the practice of scales in an enjoyable way. 
Appalachian Fiddle, Irish Fiddle Journeys and the Art of Fiddling are included in the Ultimate subscription.
How do I download content?
You may want to download content if you are going to go somewhere without internet access. Or you might want to download audio to your phone so you can easily listen in the car.
Watch this instructional video and/or read text instructions below.
---
---
Download audio
To download audio, R
Right-click on the red arrow to the left of any audio track. It will turn green when the cursor hovers over it.
You should see a pop-up menu. Click on "Download linked file".
The audio will be found in your downloads folder.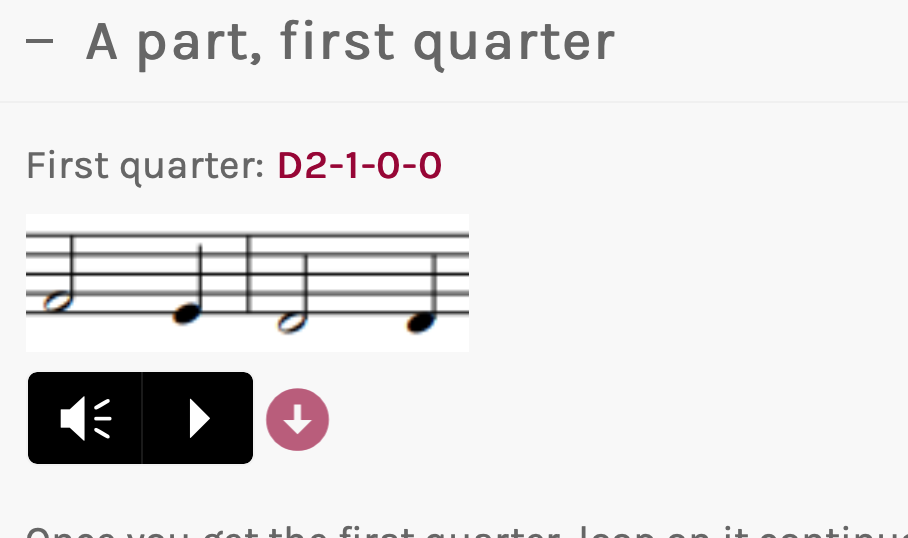 ---
Download sheet music
To download sheet music:
Scroll down the page until you see the full sheet music.
Click the PDF link below that.
Select the download button to the right.
Find the downloaded sheet music in your downloads folder.
Return to fiddling!
---
Download videos
Right now, only newer videos have a download link.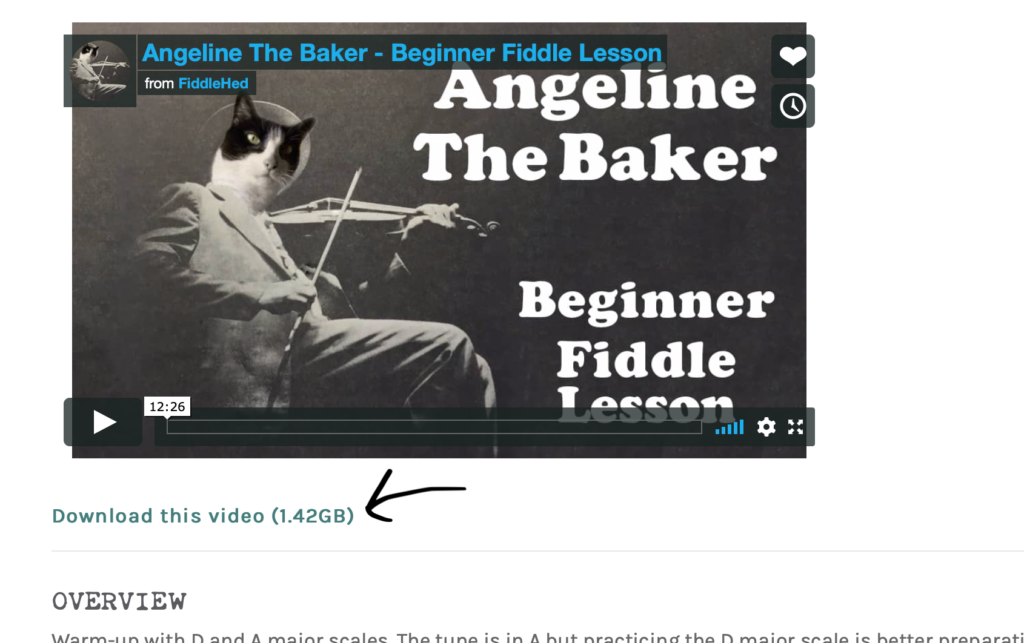 How can I upload a video to the site?
I'm going to show you how to upload video to the website. You'll be able to add video as a comment or to the forum. Here's the basic process:
Upload a video to your own Youtube channel.
Copy the link to a comment on any FiddleHed page.
Why do I want to do this?
Uploading video other people, including me, to support you in your fiddle journey. We can help each other by sharing challenges, asking questions and cheerleading. It's part of my efforts to create a community of fiddle students.
What are the main steps?
In order to upload video, you'll need to do the following main steps. I'll go into more specific detail for each step below.
Create a Youtube channel.
Upload video to Youtube.
Copy the link from Youtube, then paste it to a comment or forum on FiddleHed.
I will do my best to explain this with screen videos and text. But if something does not make sense or work, PLEASE LEAVE A COMMENT BELOW.
---
How to create a Youtube channel
Sign in to YouTube on a computer or using the mobile site.
Try any action that requires a channel, such as uploading a video, posting a comment, or creating a playlist.
If you don't yet have a channel, you'll see a prompt to create a channel.
Check the details (with your Google Account name and photo) and confirm to create your new channel.
---
How to upload a video to Youtube
Sign in to YouTube and your desired channel.
Tap the camera at the top of the home page.
Record a new video or select an existing one to upload.

To record a new video: Tap the video camera icon and begin recording.
To select an existing video: Use the gallery to select your video.

Apply optional enhancements to your video and tap Next.
Adjust your video's title, description, and privacy settings. You can have a title up to 100 characters and a description up to 5,000 characters.
I recommend setting the video to "Unlisted" under the description. If you set it to public than anyone can discover and watch it. Which is fine…just want you to know how it works.
Tap Upload.
---
How to post a YouTube video to FiddleHed
The essential steps:
Go to the video on your Youtube channel.
Click the "share" button, which is below the video on the right.
Click the "Copy link" button all the way to the left.
Paste this to a comment or forum post. This is what the link looks like when you first paste it: https://youtu.be/2kZASM8OX7s. After you hit the "Post comment button" it will look like this: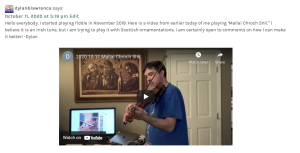 ---
If you get stuck at any point in the process, just email us. Thanks!