Fall Practice Challenge 2022
Thanks for signing up for the Fall Practice Challenge 2022!
From October 10-23, you and fiddle students around the world will make music a regular part of your life. How? Set an intention to play every day for 14 days in a row.
The primary goal is to establish the habit of daily practice, and have the time of your life doing it. If music is a daily part of your life, then you are a musician. If you want to do this, you can. Be a practicipant in the FPC 2022!
---
Sign up
If you clicked the link to this page in the newsletter, then you're already signed up. Wihoo!
If you missed that, or if someone shared this page with you, then you can sign up here.
After you officially sign up, I'll send emails with tips, encouragement and event reminders. You don't have to officially sign up; you can just play every day! But it will be more motivating to take part in this as a group.
---
---
Let's do it
I'm asking you to take yourself seriously as a musician. What does that mean? You are a musician if you play every day. I encourage you to approach the practice challenge with a sense of adventure and fun. What a great thing it is to play music, and you're going to do it every day!
Thanks for taking part, now go fiddle with it…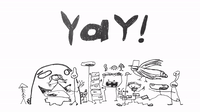 ---