Fall Practice Challenge 2020 – Home Page
Welcome to the Fall Practice Challenge 2020!
From October 5-18, you and fiddle students around the world will make music a regular part of your life. How? Set an intention to play every day for 14 days in a row.
The primary goal is to establish the habit of daily practice, and have the time of your life doing it! If music is a daily part of your life, then you are a musician. If you want to do this, you can. Simply do it every day.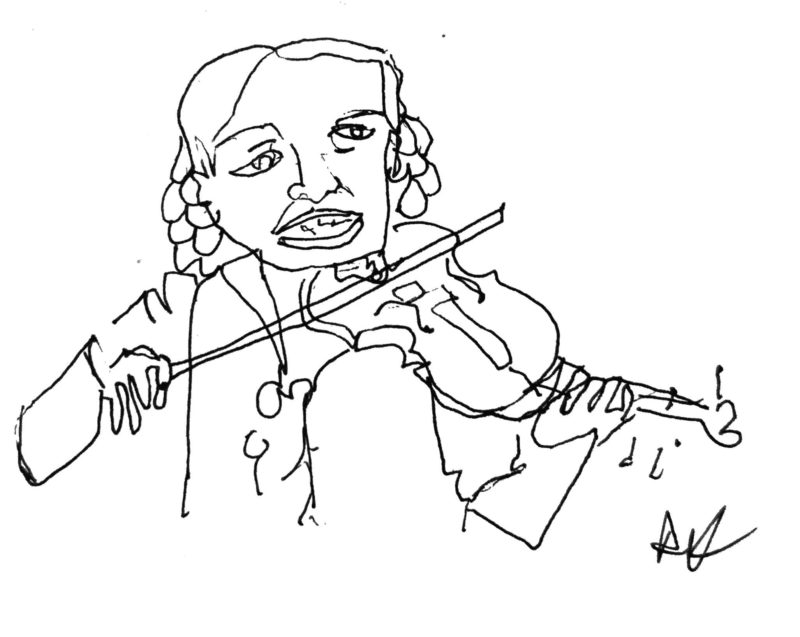 ---
Sign up!
Click the button to be an official practicipant in the FPC 2020. I'll coach and cheer you on with emails throughout the challenge.
---
FPC 2020 worksheet
I made this FPC 2020 worksheet to help you organize your practice.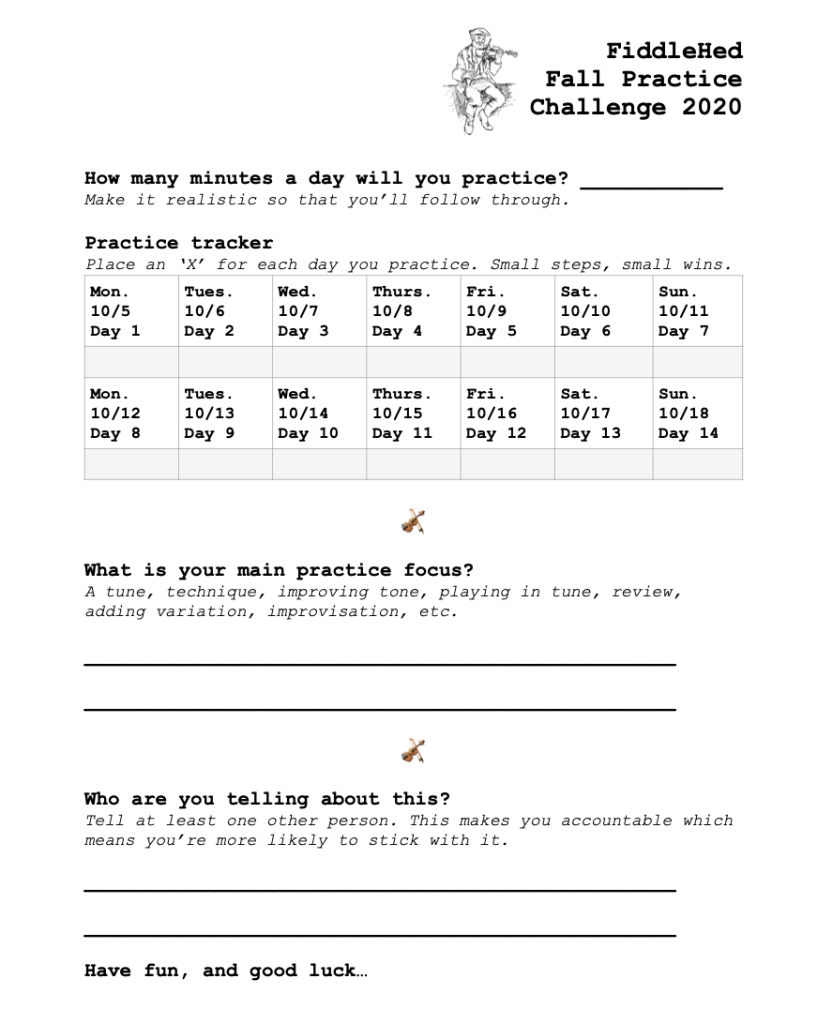 ---
Five action steps
Here are four suggested action steps. If you don't do any of these things, but still play every day for two weeks, then you successfully complete the challenge.
1. Decide on how much time you'll practice each day.
Pick a minimum amount of time that you know you can do.

I suggest at least 20 minutes a day.

If you know in advance that you have to miss practice on a specific day, write that in your calendar or practice tracker before the challenge begins.
2. Track your practice. 
Print the FPC worksheet and use the practice tracker. Each day that you practice becomes another link in the chain. As the chain grows, you'll get the emotional reward as you get closer to the goal.
Instead, you can also use a habit-tracking app (like Momentum) or a wall calendar to mark each day you practice. I like this old-school method!
3. What is your main practice focus?
Pick a primary aspect of playing you want to improve. Some ideas: bowing, playing in tune, old-time music, improvising, fingering & string crossing, etc.
Whatever you pick, work on something small and simple making an effort to improve the sound enough that you enjoy it.
4. Tell at least one other person what you are doing.
Start by saying hello to other practicipants in a comment below!
Telling friends, family and roommates is a public commitment that will encourage your practice. You also signal to everyone that music is important to you and to respect the time you take for it.
5. Monitor your performance through recording.
At the beginning of the practice challenge (October 5), make an audio recording or video of yourself playing the challenging new tune or technique.
Do the same thing at the end of the practice challenge (October 18). You'll then review these performances to help you understand what improved and what still needs work.
---
What if I miss a day or two of practice?
If you miss a day or two, just keep going with the challenge. Remember the point of doing the FPC is to establish a good regular practice habit that's fun and productive. It's not about completing the worksheet. That's just an aid. So if you get off track, just pick up the fiddle and play again today. Don't give up.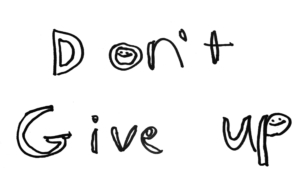 ---
Do you know someone else who might benefit from the FPC?
The FPC is open to anyone. So if you have a friend who is also learning an instrument, feel free to invite them to join in. It would help them and also help you.
---
Testimonials from previous challenges
I surveyed the 2019 practicipants after it was over. Over 93% of the people said they would do it again.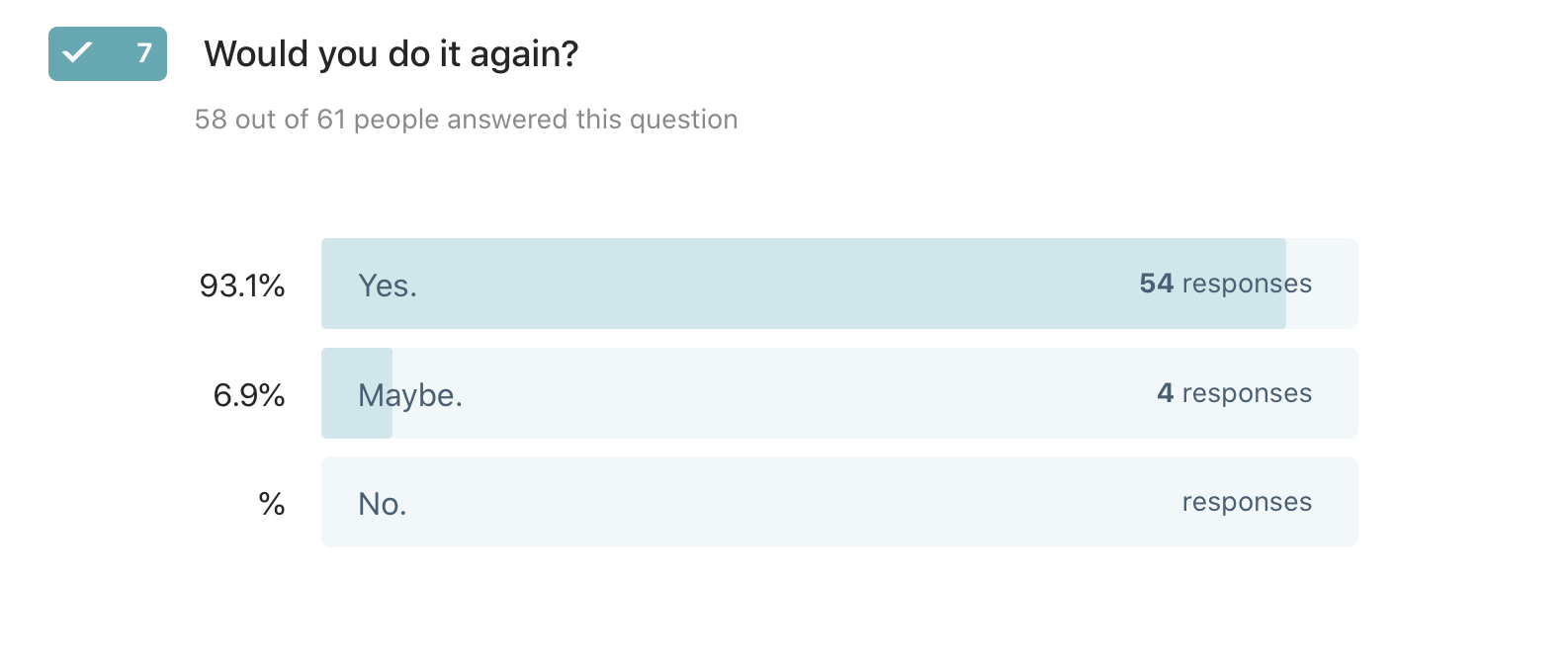 Here are some anonymously submitted comments from the survey:
"It was perfect for me because I finally nailed down HOW to practice. Each day was another very practical way of learning."
"It got me to practice every day for 20 minutes-a realistic goal."
"I established a connection with two other beginning fiddlers my age for continued exchange and support."
"I enjoyed the daily tips, but most surprisingly the participants page and the comments and shared struggles. The videos people posted helped tremendously."
"How much I improved with daily, focused practice….. you were right :)"
---
Further learning
If you want to learn more about practice read the following articles:
How To Improve Your Fiddling Through Recording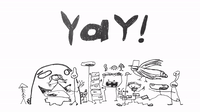 ---
Let's do it
I'm asking you to take yourself seriously as a musician. What does that mean? You are a musician if you play every day. I encourage you to approach the practice challenge with a sense of adventure and fun. What a great thing it is to play music, and you're going to do it every day!
Thanks for taking part, now go fiddle with it…
Jason