Fall Practice Challenge 2019 – Home Page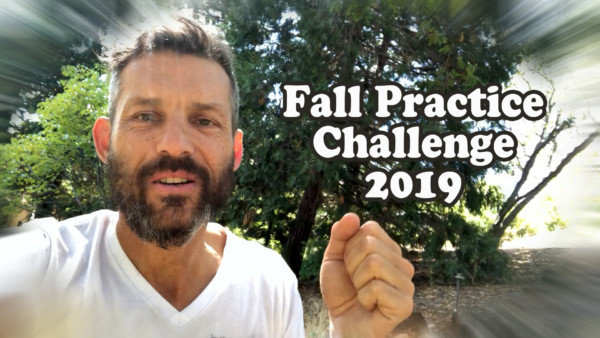 Welcome to the Fall Practice Challenge 2019!
Days you practiced so far:
Connect with other fiddlers on the the Practicipant Group Page.
If you forgot to mark a day, just go to the Practice Challenge Dashboard.
---
From October 7-20, you and fiddle students around the world will make music a regular part of your life. The primary goal is to establish the habit of daily practice, and have the time of your life doing it! If music is a daily part of your life, then you are a musician. If you want to do this, you can. Simply do it every day.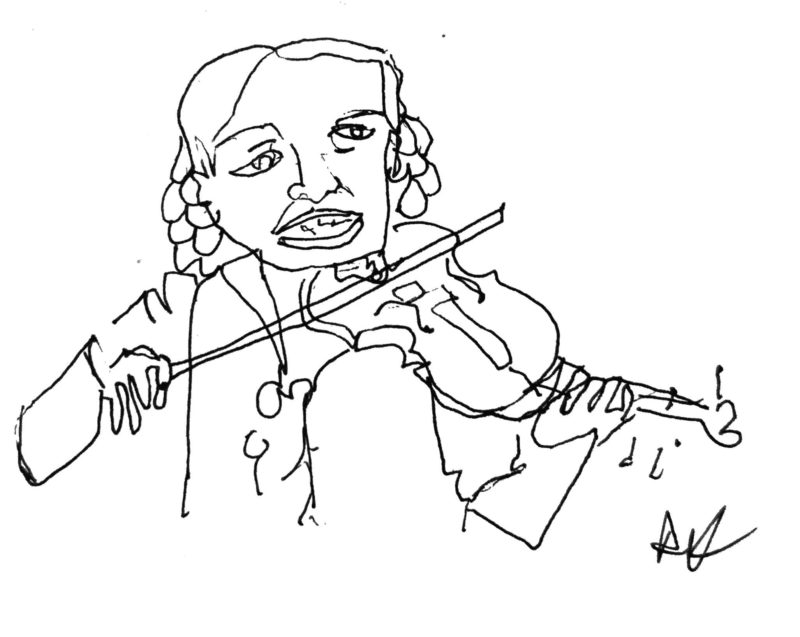 Each day, I will send an email to check in with you and cheer you on. I also made a way for you to easily track your practice online. You can click through the email to a daily practice page where you can mark off each day you practice: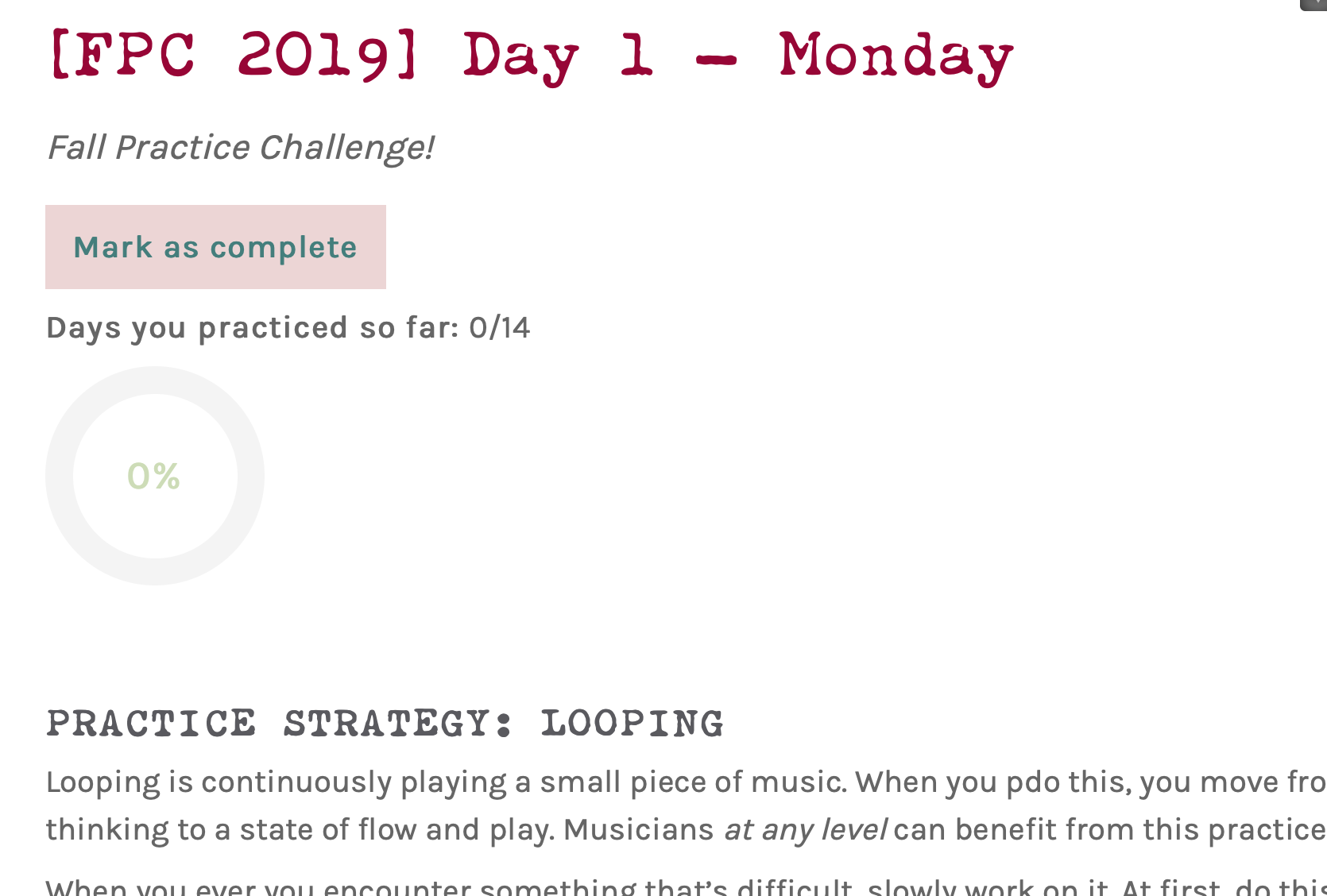 Do you want to take the challenge but not get emails from me? No worries. You're still welcome to do the practice challenge on your own using the materials on this page and the daily practice pages (accessible from the Practice Challenge Dashboard).
---
Sign up!
But if you haven't signed up yet and want to be an official practicipant, then do it below:
Sign up for the Fall Practice Challenge 2019
---
How it works

One simple goal: Play every day.
Pick a minimum amount of time that you know you can do.

I suggest at least 20 minutes a day.

If you know in advance that you have to miss practice on a specific day, write that in your calendar or practice tracker before the challenge begins.
---
Four action steps
And there are four suggested action steps. If you don't do any of these things, but still play every day for two weeks, then you complete the challenge. But, I think these action steps will be helpful and gratifying:
1. Pick at least one challenging tune or skill you want to improve. Some ideas:
Bowing, playing in tune, old-time music, improvising, fingering & string crossing, etc.
Whatever you pick, work on something small and simple making an effort to improve the sound enough that you enjoy it.
2. Track your practice.
Use the online practice tracking I set up for you on the Practice Challenge Dashboard.
Use a wall calendar to mark each day you practice. I like this old-school method!
Or a habit-tracking app like Momentum: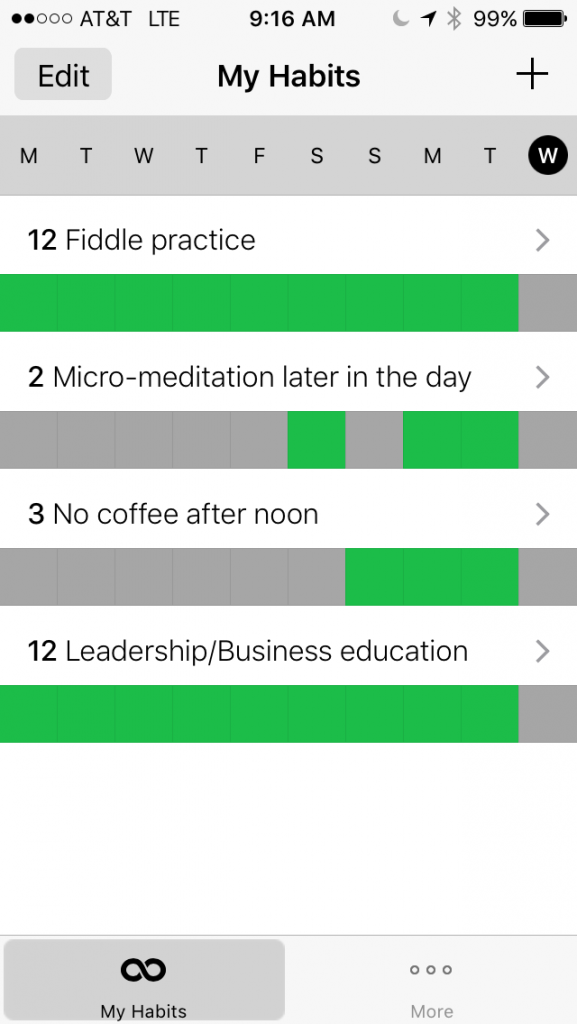 3. Monitor your performance through recording.
At the beginning of the practice challenge (October 7), make an audio recording or video of yourself playing the challenging new tune or technique.
Do the same thing at the end of the practice challenge (October 20). You'll then review these performances to help you understand what improved and what still needs work.
4. Tell at least one other person what you are doing.
Start by saying hello to other practicipants in a comment below!
Telling friends, family and roommates is a public commitment that will spur you on. You also signal to everyone that music is important to you and to respect the time you take for it.
I'm asking you to take yourself seriously as a musician. What does that mean? You are a musician if you play every day. I encourage you to approach the practice challenge with a sense of adventure and fun. What a great thing it is to play music, and you're going to do it every day!
---
That's it. If you want to learn more about practice read the following articles:
How To Improve Your Fiddling Through Recording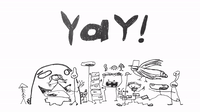 ---
Remember, taking yourself seriously as a musician doesn't mean that you don't have fun. I'm certain that if you find a way to play every day you will enjoy it a lot more.
Thanks for taking part, now go fiddle with it…
❤️  Jaso'n