A master practice list is simply a big list of everything you've learned. If you write down everything you've done, you'll be able to make better decisions about what to practice. The MPL acts as a practice partner. It offers suggestions to enrich the daily practice. Ultimately, your sessions will be more fun…
---
How to make a Master Practice List
I suggest organizing your practice items into three main categories:
Tunes
Technique
Strategies
Here's an example of a MPL. Below that I'll talk about each category.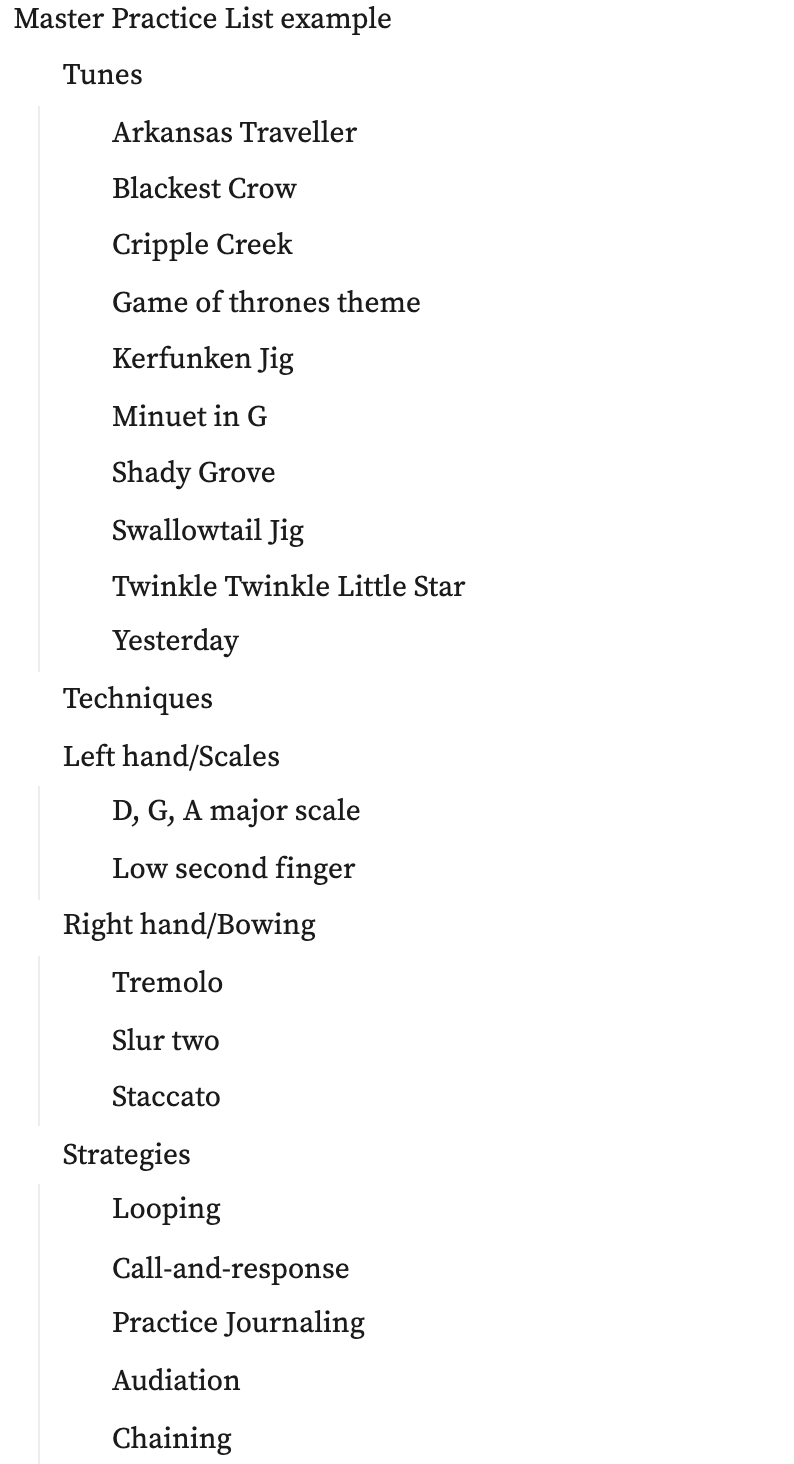 Tunes
List all tunes you've learned. I'm using the term "tune" loosely to include fiddle tunes, pop songs, tv sountracks, classical pieces, etc.
List EVERYTHING. Even those simple tunes you learned when you first started. Those simple tunes are old friends that teach new things. You can use [[Twinkle, Twinkle, Little Star]] to practice something challenging like vibrato, third position or double stops. I'm not just saying this, I do this myself.
You may want to break tunes into sub-categories
Old-time
Irish
Classical
Beginner tunes
Duets
Techniques
List all skills and techniques you've learned.
Left hand/Scales
Finger positions (low second, raised third, etc.)
Intervals (D3-A1)
Scales: Major, dorian, pentatonic, droning double stops, etc.
Melodic variation
Vibrato
Right hand/Bowing
basic rhythms: hoedown, triplets
slurs
double stops
textures: plucking, circular bowing, bouncing
Strategies
List all strategies you've learned. Think of these items as your "practice toolkit" 🔧
Looping
Call-and-response
Practice Journaling
Audiation
Chaining
Review
How to use it
Use the MPL to make practice decisions. Ask these questions about things on your list.
What do I want to learn next?
What needs work?
What do I need to review?
What sounds fun?
How can I practice this with that?
Test your recall of tunes. Go through the MPL to see what tunes you remember without having to look them up.
Make connections as you practice. You've been learning a tune like Kerfunken Jig. How can you practice this in a new way? How can you practice creatively?
The strategies list is useful because as you practice, you can quickly bring fresh insight and energy to what you're working on.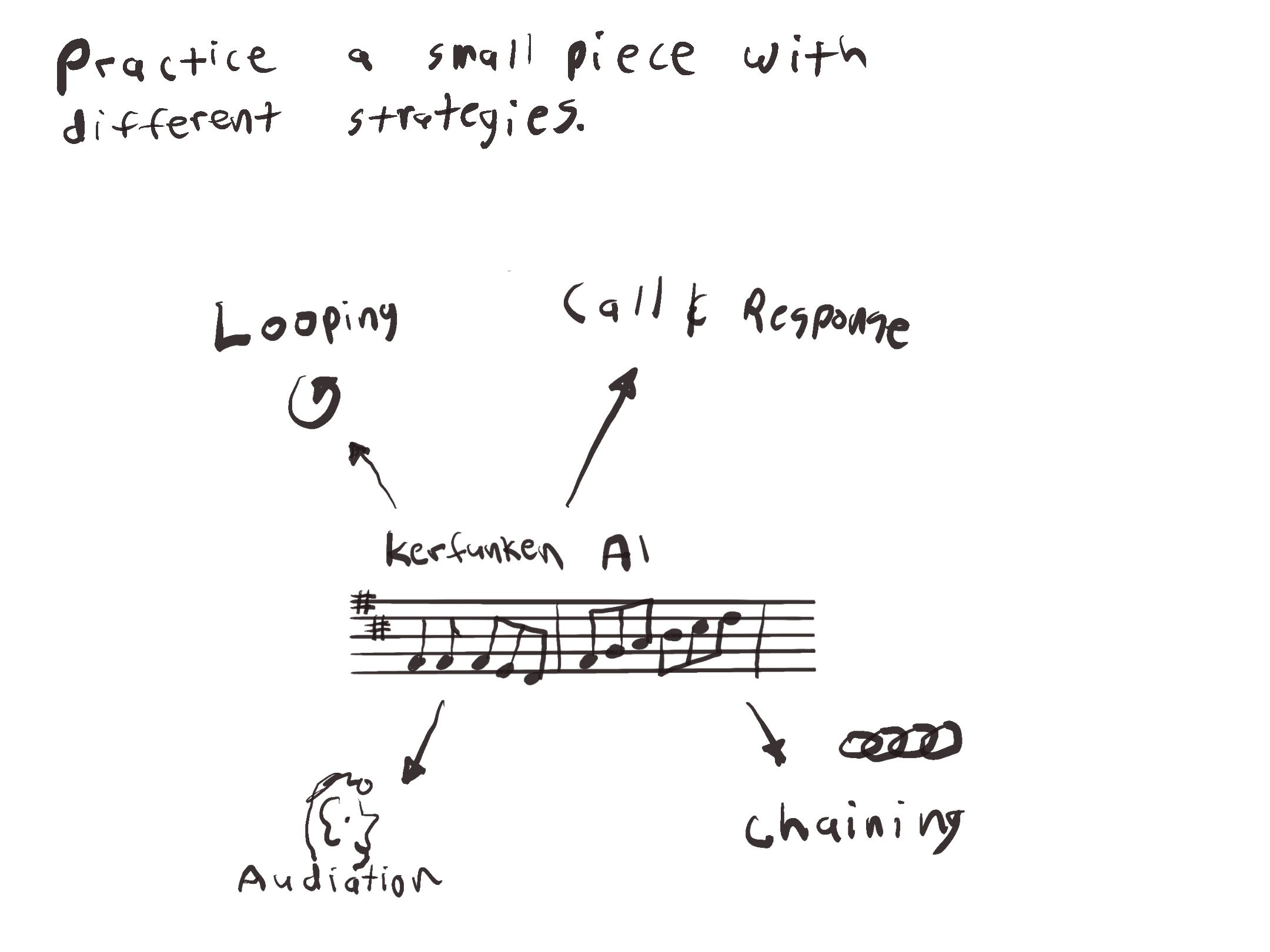 Refer to the MPL when you're at a crossroads, or when you're unsure what to do next.
---
What tool should I use for the Master Practice List?
Short answer: whatever works best for you.
I use a note-taking app called Roam. But you can use a sheet of paper. What matters is that you get it out of your head into an external system. In this way, you create a practice partner.
Analog Master Practice List ideas
Index cards are a fun way to to a MPL. They're portable, and can be easily organized and edited. Plus, there's possibilities for game play. I did a workshop on this: Group Lesson: Fiddling With Index Cards
A dry erase board might be a good option.
You could also use a journal or three-ring binder. The disadvantage to this is that your lists are harder to edit.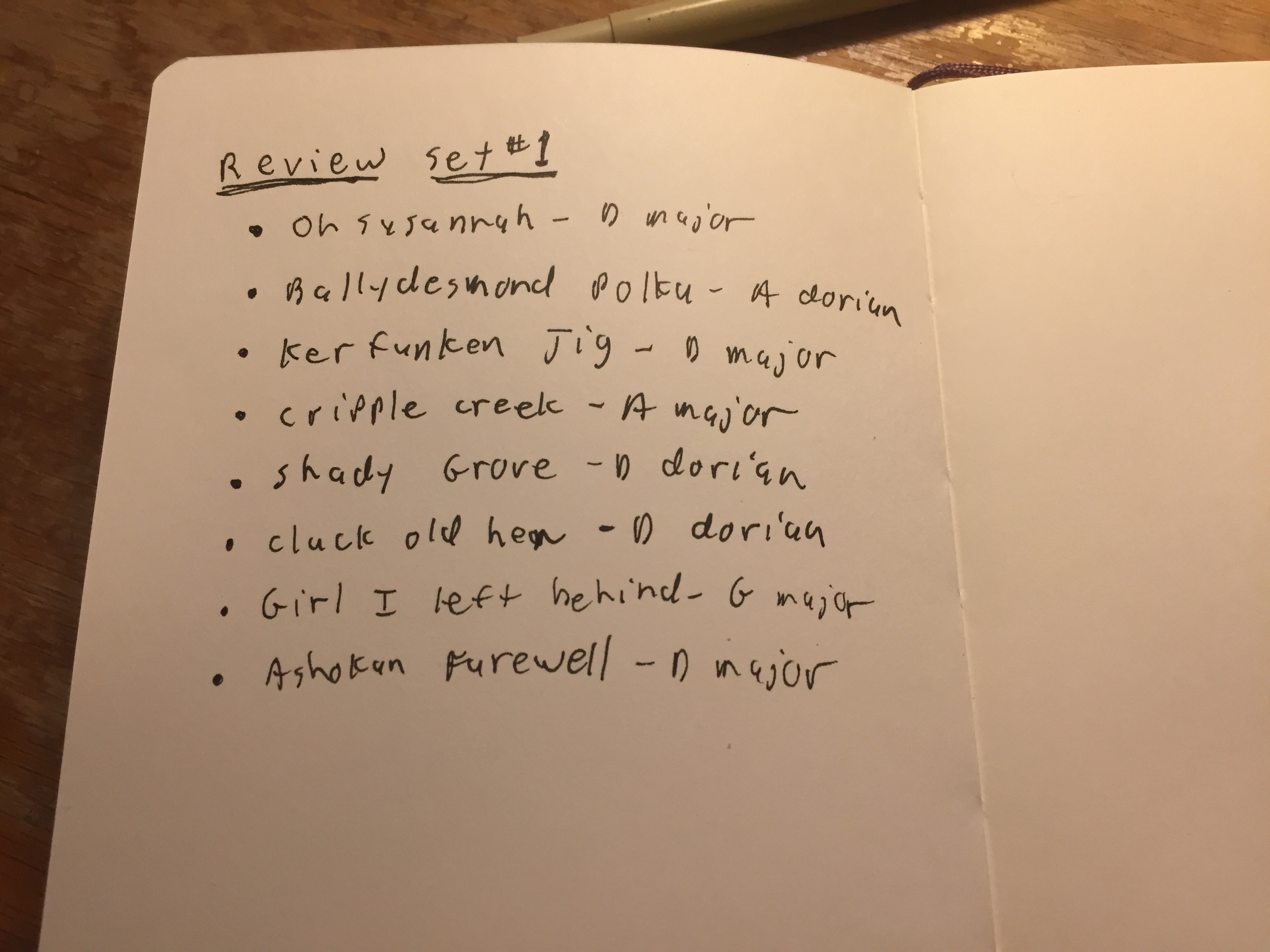 Digital Master Practice List
For most people, the best option is a note-taking or word processing app (Word, Apple Notes, Google Docs, etc.) I use an app called Roam. You can also use the journal system within this course: Your Practice Journal
You can also use a spreadsheet. My student Fiona is uses spreadsheets with her work so it made sense for her to use it as a practice tool: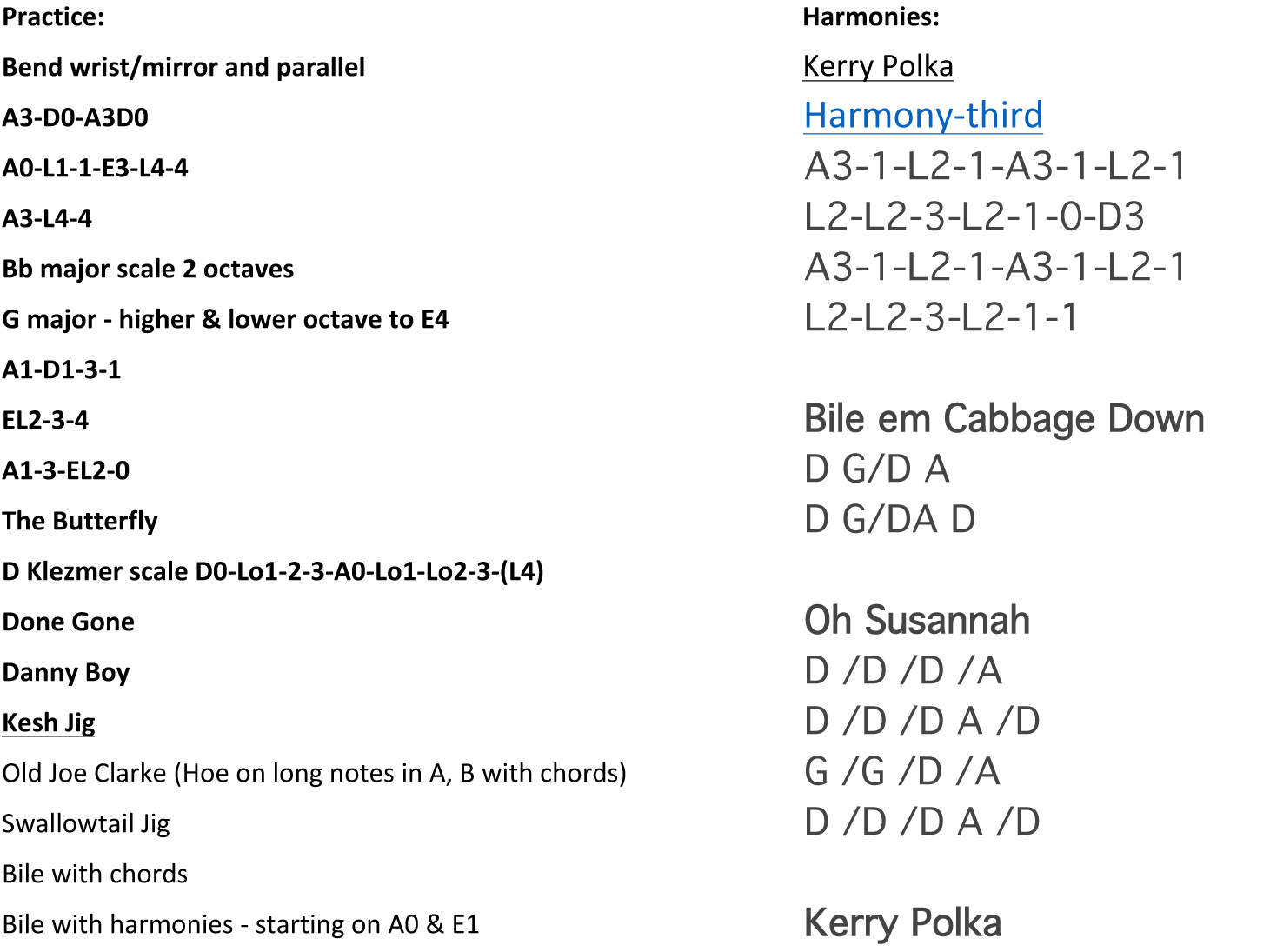 ---
OK, but why should I use a Master Practice List?
You'll gain greater awareness of where you're at and where you want to go. Which means you'll make progress building skills instead of treading water
Seeing everything you've done will encourage you in your practice. You'll feel a sense of accomplishment, which will motivate you to keep practicing. This helps you to overcome The Emotional Challenge of Fiddling.
Use the MPL to connect different areas of practice. This makes your session more engaging. Like the best video game ever. You'll have more fun when you play (always the ultimate goal!)
Remember: this list is in the service of having fun. If the list makes you anxious, then don't do it. Ideally, it helps you to improve as musician and have more fun when you practice. This improvement will make you happy and keep you motivated to continue.
---
Are you ready to begin your fiddle journey? Sign up for a free two-week trial and get full access to all courses and group lessons. Plus, I'll send you some free lessons tailored to your current skill level.
Click here to become a FiddleHed!
---
Further learning
I was interviewed on a YouTube show called Roam Sessions about how I use Roam to practice. It's a deep dive into note-taking and music practice.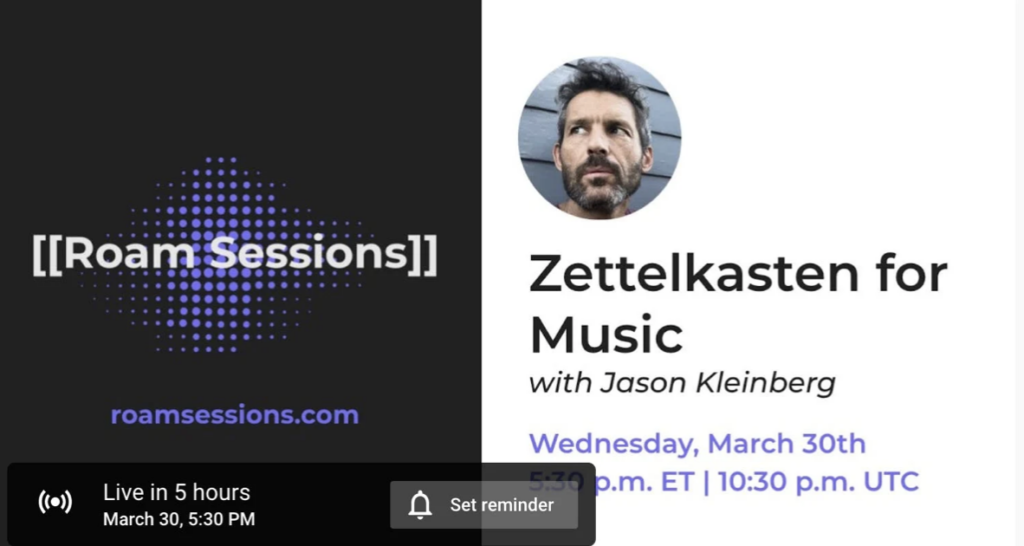 Here are some other resources on the site:
---