How To Use Your Practice Journal
Here's a tutorial on how to use Your Practice Journal. I'll start with basic instruction on how to create daily entries. Then I'll talk about how you can accelerate your learning and have more fun by taking notes on what you practice.
---
---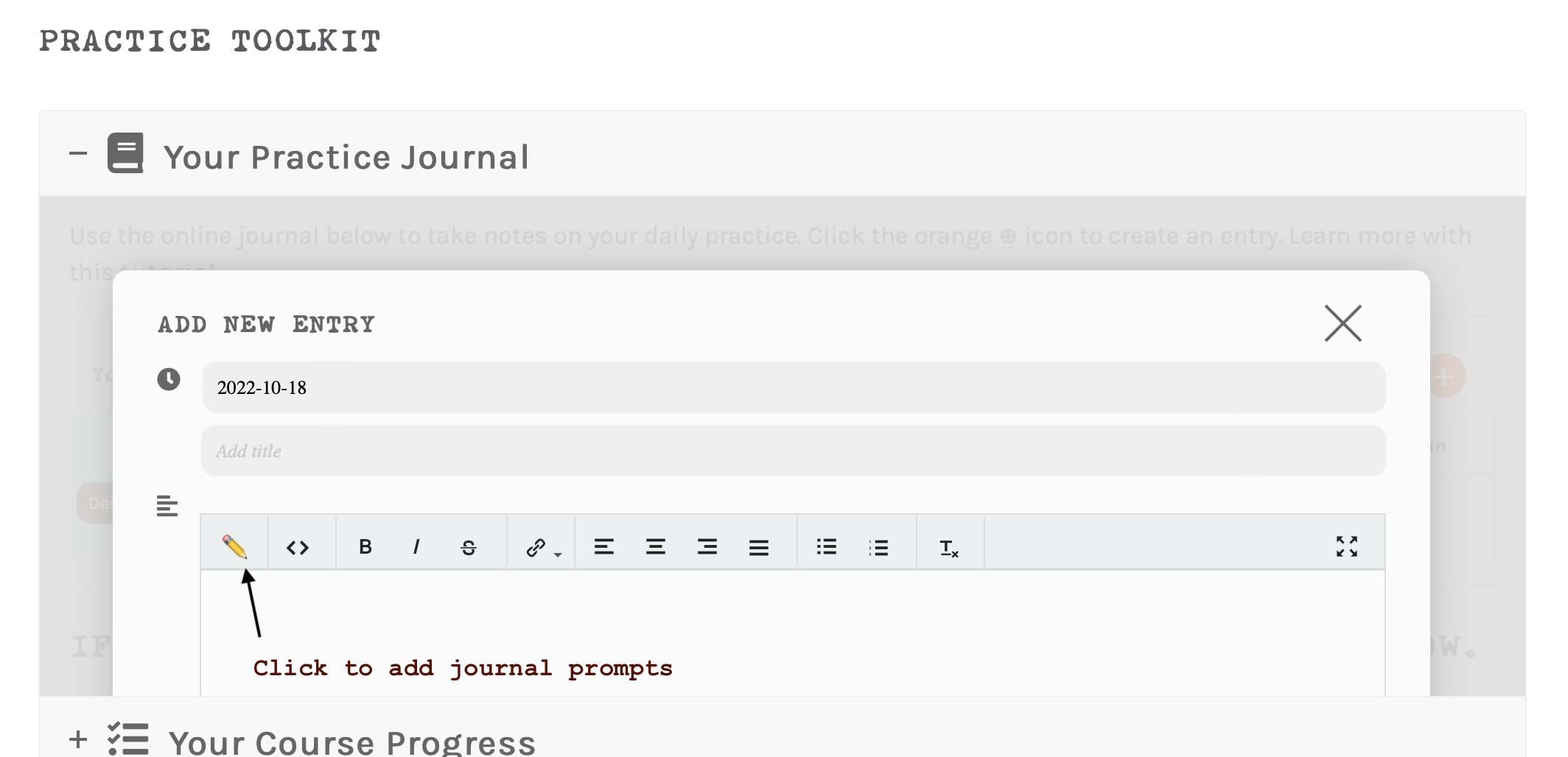 ---
Basic usage ⚙️
Find Your Practice Journal at the bottom of any lesson page (including this one), or the Home Page
Click the orange ⊕ icon to create an entry.
Click "Submit" to save the entry.
You can edit an entry at any time. To do that:

Click the entry
Click the three dots in the lower right-hand corner
After editing, click "Submit" again

Click the ✏️ icon to add journal prompts.
---
Practice Journaling for "Power Users"
Here are strategies to make the most of Your Practice Journal during your sessions.

---
🎶 Tunes
For each tune you practice, I suggest you keep a list of the hard parts below the title. This is the process of Deliberate Practice.
Arkansas Traveller
A Part, Fourth Quarter: 75 bpm – transposed to G major (starting D3) – skip tomorrow
B Part, First Quarter: 60 bpm (same as yesterday) – repeat tomorrow
B Part, Second Quarter: 63bpm – repeat tomorrow
That way you can start with those parts each time (until they're no longer hard 🏆).
Keep track of:
Tempos
Practice strategies used (like transposition)
Progress (do you need to do this tomorrow or take a day off?)
Learn more here:
Resources
---
🪜 Skills 
"Skills" includes scales, bowing, ear-training, note-reading etc. You can also mention practice strategies you learning, like Interleaving, Desirable Difficulty,  etc.. Document practice of skills in the same fine-grained way you would a tune (described above).
---
🧠 Review (Review & memory practice)
In this space, keep track of things you're reviewing.
Take tunes and skills you've already learned and put them back on the workbench. You'll be surprised at how you continue to improve anything.
The other reason to review is to strengthen mental retrieval of tunes. Create review sets of 4-6 tunes. For example:
Review set #3
Arkansas Traveller
Your Song
Swallowtail Jig
Game of Thrones Theme
Blackest Crow
I'll Fly Away
Once you can retrieve each piece, then switch to a different review set. Or build a new one.
---
📆 What you'll do next
In this space, take note of things you know you want to practice tomorrow. Or you can even create a practice entry for tomorrow at the end of today's session and list your "next" items there.
---
🤓 Make it your own
Each time you create an entry, you'll be working from a template. This is meant to guide you in your practice. But you can tailor this to how you practice. If you don't want to use the template, just erase it (or any part of it) and take notes as you like.
---
Tips 👍
Open Your Practice Journal in a separate browser tab. Use other browser tabs to take lessons on the site or use the practice materials.
You can add links (to FiddleHed pages, Youtube versions of tunes, online sheet music, etc.) using the link button.
Use the 🔎 icon (top right hand corner) to search for your previous entries. This is a great way to find out all the times you've practiced a tune.
Let the journaling process to be interesting and fun – don't see it as a chore. Journaling will actually enable you to be more creative. 🕺🏾
---
Add links to lessons
You can add links to lessons to your practice journal. FiddleHed Deb asked about this, so I made a quick tutorial.
---
Questions or comments? Just email me.