Did you know that everyone who has ever played the fiddle has felt doubt at one point or another? Every person who has tried to play an instrument (or to complete a challenging project) has thought, "I have so far to go. I don't think I'm going to make it." 
Why do some people make it and others don't? Why do some people continue to practice and play until it becomes a part of their life? And why do others throw in the towel? Ultimately, I don't really know. 
But there are some clues to the mystery. First of all, some people seem to be really enamored with the idea of playing an instrument. They see a famous fiddler and then picture themselves doing that same thing (Mark O'Connor ripping through the Orange Blossom Special in front of an audience of cheering fans). In fact, we all have probably done that.
But some people mysteriously move from imagining playing music to actually picking up an instrument. They get a little taste of actually doing it, and then it is this experience which they seek. They want to return to that feeling of actually doing it versus the imagined vision of doing it perfectly. 
Another thing I've noticed about people who are successful (that is, people who play regularly) is that they are able to let go of excessive seriousness, either through humility or humor. I'll hear people say, "I just want to be able to sit on the back porch and scratch out a tune in the evening." Instead of focusing on a lofty goal, they focus on an achievable process. Just make it a part of your life. This is a humble, realizable goal. Bring your life into music.
Other folks use humor to lighten things. This takes the edge off the self-critical voice which is constantly trying to derail your inner fiddler by saying, "You're so much SLOWER than everyone else. You just don't have it in you to do this." Use humor to turn this around. "I just set a Guinness World Record for the slowest rendition of a fiddle tune ever." I've heard multiple people say some variation of, "I just want to get to the point in which the dog doesn't leave the room!" I like this. You can say it, chuckle a bit and then "So what if I'm not Mark O'Connor. I'm having fun!" 
Of course, you could go overboard with self-dedeprecating humor (to the point at which it's no longer funny). But a little bit fun-poking can help you to let go of the idea of being perfect.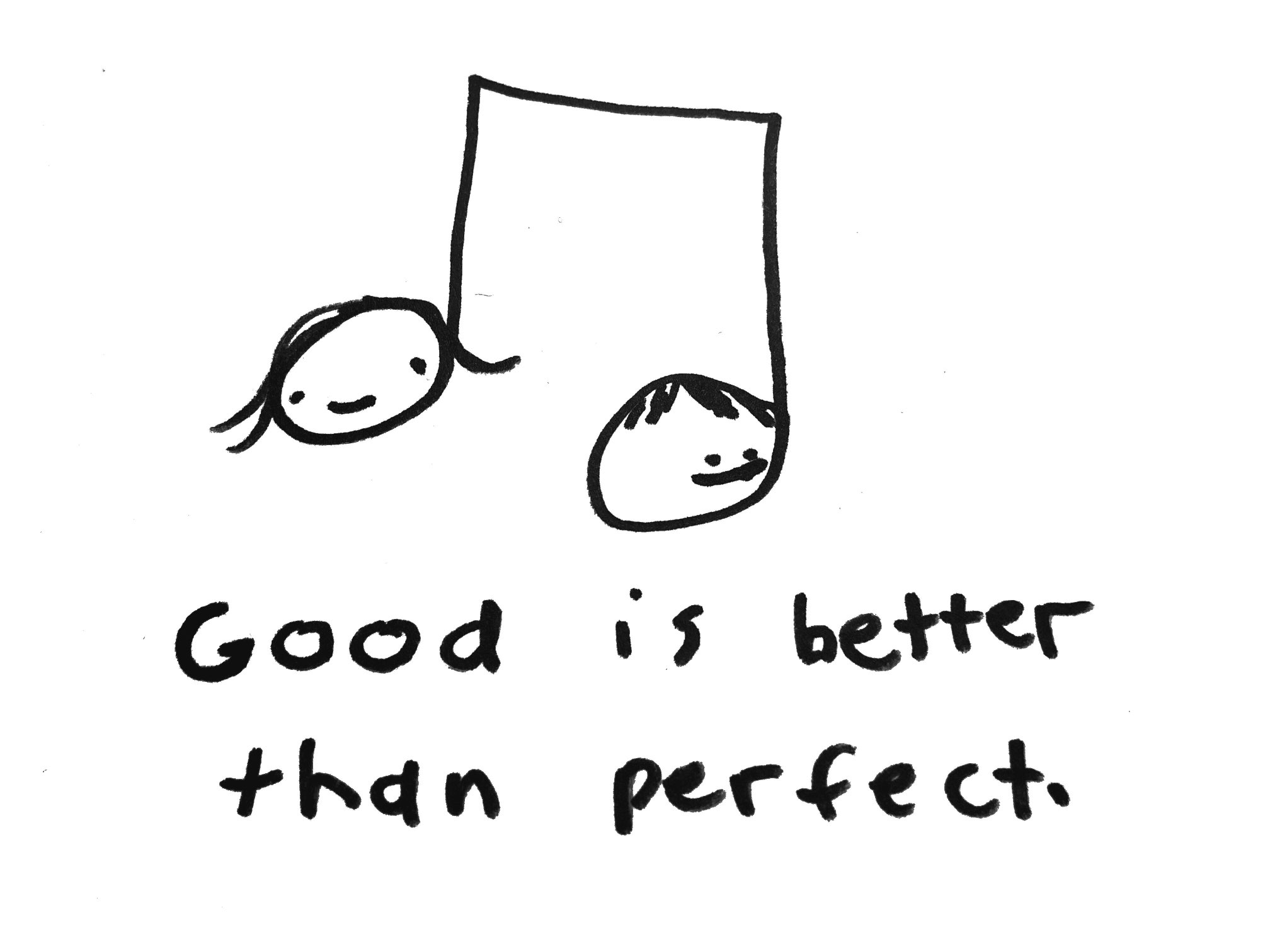 The successful fiddlers are able to focus on what's good about their playing, without allowing it to go to their head. And then celebrate this small win. Can you make an open string sound good? If so pat yourself on the back. Take yourself out to lunch as a reward for getting a good sound (or overcoming whatever challenge it is you are currently facing).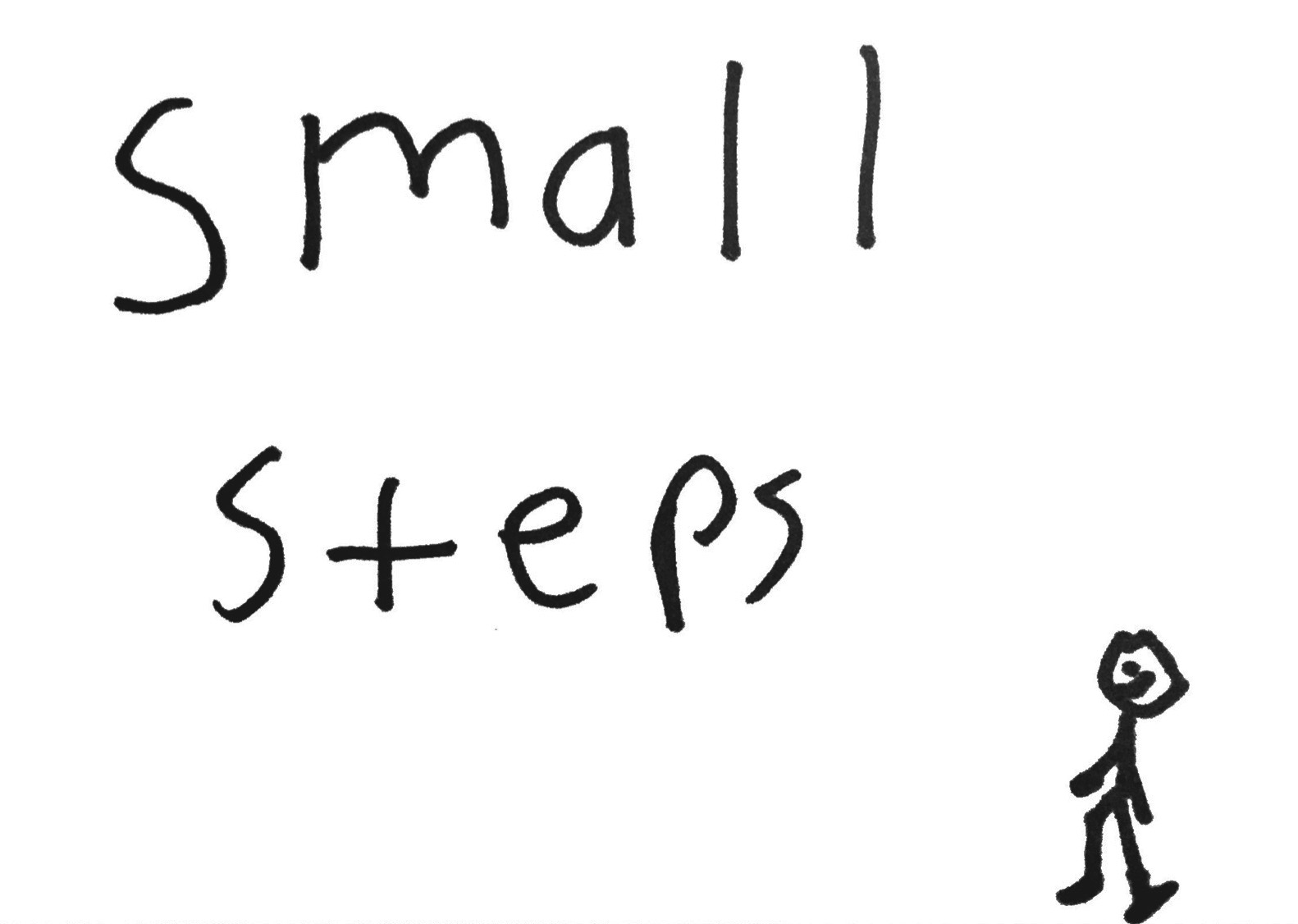 ---
Another thing that can help is to not rely on feelings. Not wait around for inspiration to strike before you practice. Feelings are fickle. They don't last. Instead, take the posture of a fiddler, take the posture of a musician. Music is just what you do with your life, rain or shine. You get up in the morning, eat breakfast, and then play fiddle for half an hour. That's just what you do, regardless of your feelings. 
As a kid, I didn't want to brush my teeth. I resisted it. At a certain point, the resistance seems like a waste of time, and then I just did it. And then much later in life, a strange thing happened. I came to enjoy brushing my teeth.
Here's some good news: playing music is a hell of a lot more fun than brushing your teeth!
If you continue to play or be an artist, you'll have to continually face this demon of negative self-talk. You learn to become intimate with it; like a weird relative. For example, I've been wanting to create a kind of alternative fiddle album for a few years now. The idea is to take fiddle tunes and re-invent them in a new way. I've put a lot of work into it and tried out lots of different approaches in writing and recording this. Some recordings seemed cheesy, others seemed uninteresting. None of it has seemed good enough to make for a complete album. 
But I haven't given up! In the last few days, I've had a change of heart. My new approach is to just share something every week. Keep sharing music, and then see what happens. Maybe an album is not the best medium. I don't know. But I have this optimistic feeling that if just start sharing music, that a path will present itself. And so with that in mind, I'd like to share a track with you right now:
I've been waxing philosophical a bit. Let's close with a bit of "wax on, wax off". That is, let's think of a practical strategy to move forward with. If you've recently started to learn the fiddle, or any other challenging endeavor, commit to doing it for three months. It may be that this is not the right time or the right thing for you to learn. But you won't really know unless you stay with it for some time. 
So please set this intention now: Don't give up for at least three months.
If you've been playing a while, you may find that you've hit a plateau. When this happens it feels like you're going nowhere, or that you're getting worse. You can use the same basic strategy, but re-frame it as, "Over the next three months, I re-commit myself to playing the fiddle."
I'll check in with you over the next three months to see how it's going.
It's the dawn of a new year and a new decade. There's a lot to worry about in the world. In spite of that, I'm deeply grateful to be doing what I'm doing. To be writing posts and creating fiddle lessons for people. Thanks to you (and I mean YOU) for reading this. And remember: Don't give up!
---
Two ways I can help you level up your fiddling
Sign up for the FiddleHed newsletter below.
Sign up for the Free Two-week Trial. You'll get full access to all courses and group lessons. Plus, I'll send you some free lessons tailored to your current skill level.
Thanks for being here 🙏
---