How to play faster on Ballydesmond Polka?
Tara asked, "Your Ballydesmond Polka lesson (Lower Octave) – 3rd quarter, 1st measure, there are 4 8th notes that you play so quickly (and make it look easy). You likely don't expect beginners to play at this speed since your play-along track is a lot slower, but one day I do want to play it the same speed as you. 
I think practice is the only solution here, and my question is, what/how should I practice so I get to the same speed as you? 
I am not concerned about how long it takes me, I just want to make sure I'm doing all the right things.  
Here are some things I think might work, what do you think: 
Stop and rock D3, A0, D3, D1, 1000 times 

I've tried slurring all those notes and I can do it fairly well, but it doesn't produce the same "fun " sound as yours (and please confirm you are *not* slurring, correct?) 

Play it slow, 1000 times or until it's burned into left-hand muscle memory that I start to play it fast Are these good methods? Do you have any other suggestions?"
What are the hard parts? 

Identify and practice those. This will allow you to speed up the whole tune.

Practice just the string crossing from D to A string for a bit.

Practice the hard parts with a metronome. 

If you have never used a metronome before, I suggest you start playing open string notes with it instead of jumping into it tune.

That's because it's actually quite different difficult to play with a metronome.

 It is a skill that needs to be built from the ground up in the same way that you learn to play the instrument.

Play it slower and faster with a metronome.

Keep track of your fastest time on the hard parts. These should determine what speed you can play the whole tune. 

Work at your edge

. What's the fastest speed you can play it at without breaking down?
---
Further learning
How to tap your foot while playing
Will a metronome help my playing?
How can I improve my fast playing?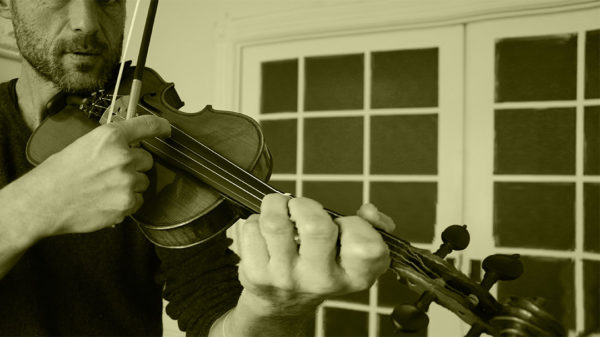 This micro-lesson is an excerpt from an office hours webinar I gave on December 16, 2020. View the entire live-stream with indexed questions here.
Are you ready to begin your fiddle journey? I'll send you some free lessons tailored to your current skill level.
---
Two ways I can help you level up your fiddling
Sign up for the FiddleHed newsletter below.
Sign up for the Free Two-week Trial. You'll get full access to all courses and group lessons. Plus, I'll send you some free lessons tailored to your current skill level.
Thanks for being here 🙏
---