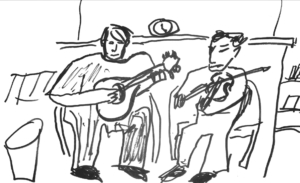 When I was college orchestra I sat in the last row of the viola section. I met with a student teacher who patiently helped me fumble through difficult music that I usually wasn't excited about. This patient graduate student taught me the principle of Chunking. It was something I'd probably done unconsciously here and there. In a nutshell…
Don't just run the the whole piece every time. Spend most of your time practicing the hard parts.
Mark up these parts on sheet music with a pencil ✏️. Or take note of them in your music journal 📓.
Slowly loop on those parts until it feels good in your body.
Years later, I still use this strategy on a daily basis.
---
What about you?
What single thing has helped you the most on your fiddle journey?
I'd love to hear what works for you in a comment below.
We learn better together 😍