Written by Jim Guinn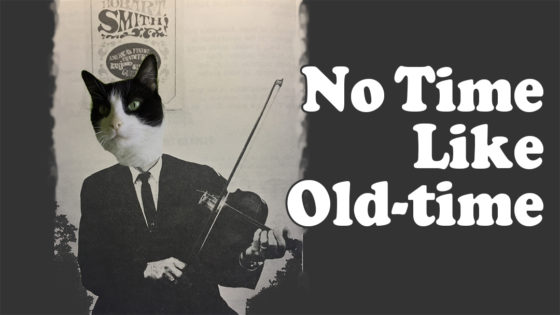 ---
A Brief Overview of Old-Time Music
Old-time music is a unique form of North American folk music with its roots tracing back to the traditional folk music of England, Scotland, Ireland, and Africa and to the immigrants that brought their tunes and rich cultures to America as far back as the early 1700s. In some regions of the country, French and German influences are also prominent in the music. Once in America, the folk music of these countries and cultures began mixing and melding along with various North American influences.
While the term "Old-time music" has only been used since 1923, it is perhaps the oldest form of North American traditional music other than Native American music. Previously referred to by such disparaging terms as "hillbilly music" and "race recording", "Old-time" was seen as a more euphemistic name and replaced less desirable titles when Okeh Records began making some of the first commercial recordings of traditional American music with Fiddlin' John Carson.  Old-time is sometimes referred to as "old-timey" or "mountain music" by long-time players.
Fiddlin' John Carson (March 23, 1868 – December 11, 1949: The Little Old Log Cabin in the Lane 1923

The heartland of Old-time music are the Appalachian Mountain states of Virginia, West Virginia, North Carolina, Kentucky, and Tennessee. This region was predominantly settled by the Scots Irish, a Northern Irish population previously settled in Scotland. They ventured into the Appalachian Mountains region in search of land, establishing many small farming communities. Isolated from larger cultural and economic areas of the United States by distance and rugged mountains, these communities saw little change over the decades. 
Once there, these mountain settlers began to encounter African and Native American musical cultures. African Americans, both free and slave, had brought with them from Africa the original, gourd-based banjo, as well as their melodies and traditions. Traditional Native American circle dances and community dancing mirrored, echoed and changed how the musical community gathered and interacted.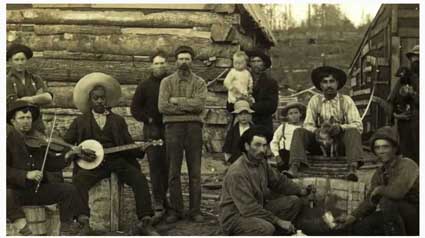 Life in the backwoods of the Appalachian Mountains was a world away from the rest of the developing United States. It was a grueling life of poverty and hard work was necessary just to survive. The fiddle, a small instrument that was easily transported by settlers, was the life and soul of their entertainment. Whether it was at the end of a long day's work, a community task like a barn raising, or a community gathering like a church event, fiddle music was at the center, usually accompanied by homemade food and a jug or two of moonshine.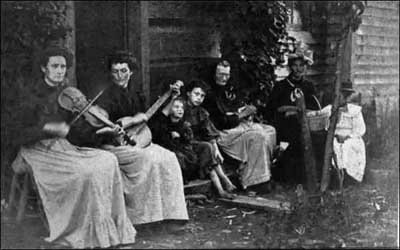 ---
Old-time instruments
Old-time can be played on a wide variety of stringed instruments, often determined solely by what instruments are available, as well as by tradition. However, historically the fiddle was nearly always the leading melodic instrument, and in many instances if no other instruments were available, dances were accompanied only by a single fiddler, who often also acted as dance caller. 
By the early nineteenth century, the banjo joined in with the fiddle. The banjo whose origin was West African was originally played only by people of African descent. Originally a fretless instrument and frequently made from a gourd, the banjo played the same melody as the fiddle in a lower register, while simultaneously providing a rhythmic accompaniment incorporating a high drone provided by the instrument's short "drone string."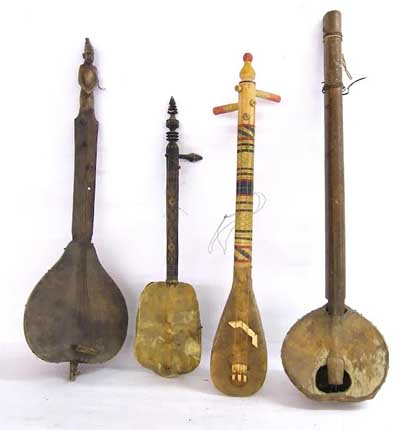 Early 20th Century Gourd Banjos
Cedric Watson on Gourd Banjo "Old Joe Clark"
In the late 19th century more stringed instruments began to be added in with the fiddle-banjo combination, most commonly the guitar, mandolin, and washtub base. Such an assemblage, of whatever instrumentation, became known simply as a "string band." Occasionally the cello, piano, hammered dulcimer, Appalachian dulcimer, tenor banjo, tenor guitar, mouth bow, or other instruments were used, as well as non-string instruments such as the jug, harmonica, Jew's Harp, concertina, accordion, washboard, spoons, and bones.
The fiddle is also sometimes played by two people at the same time, with one player using the bow and fingers, while another player stands to the side and taps out a rhythm on the fiddle strings using small sticks called fiddlesticks. This technique was sometimes called "beating the straws".
Tim Eriksen: Fiddlestix on Mt. Pollux
---
Social music
Because old-time music was often played for dances, it is often characterized as dance music, however there are also long-standing traditions of solo listening pieces as well as fiddle songs. In the old-time dance music, whether played by a solo fiddle, fiddle and banjo, or fiddle and string band, emphasis is placed on providing a strong beat. The music is very rhythmic and most notably the fiddle is played on two strings at once (also known as double stops), one string providing the melody, the other providing an accompanying drone. Various tunings are used and although lyrics exist to many of the songs, they are most often played as instrumentals. When lyrics are sung, vocal talent is not a prerequisite. Instrumental solos or "breaks" within a tune are rarely taken.
Some of the most well-known songs include, Arkansas Traveler, Billy in the Lowground, Cluck Old Hen, and Cripple Creek, but again, there are thousands. Old Time fiddlers' associations across the country keep the task of preserving this form of music, and fiddle contests are held all over the country throughout the year. Some well-known old-time fiddlers include "Fiddlin" Charlie Bowman from Tennessee, "Uncle Norm Edmonds" from Virginia, and Ahaz Augustus Grey from Georgia, but there have been hundreds, perhaps thousands of local legends who had a profound impact on their little corner of the world.
A Moonshiner and his Money – Charlie Bowman
---
Old-time vs. Bluegrass
Old-time music should not be confused with Bluegrass music, which sometimes is mistakenly grouped in with old-time, but is a different and distinct style. Bluegrass music arose from the same roots as old time, but incorporates broader influences, including country, gospel, folk, jazz, and blues. It became popular with the emergence of the radio and is geared more towards a concert setting rather than a dance setting. While old-time is known for its various tunings, bluegrass songs tend to be standardized on GDAE to allow more instruments to play along. Most of the songs use vocal harmonies extensively and within songs players will showcase their talent with instrumental solos or "breaks". Unlike old-time, bluegrass music is highly improvisational, similar to jazz, with the melody being played once or twice followed by a virtuosic solo that has almost no hint of the melody. 
Many of the traditional tunes are played by bluegrass musicians, but in much faster tempos. These style differences make them unique to the genre. Some of the famous songs include, Wildwood Flower, Orange Blossom Special, and I'll Fly Away. Three of the most famous contributors to the bluegrass scene are Bill Monroe, Lester Flatt, and Earl Scruggs.
Foggy Mountain Breakdown – Lester Flatt and Earl Scruggs and the Foggy Mountain Boys
---
Old-time music is embedded in community
At its heart, Old-time music is mainly made by people in their communities, either to entertain themselves or their friends and family. It is music that can be played by anyone on acoustic instruments that they can learn to use by themselves or from another player, and that is shared through an aural tradition. Old-time is really much more about participation than performance. This makes it easier to learn, and easier to pass on.
It is important to understand that old-time music did not start with one group and use techniques from another. Instead, each addition to the music radically changed the tunes, style, and approach to the music. Scots Irish musicians who picked up the African American banjo worked in the African American strumming and thumping styles and, with African Americans, developed the unique clawhammer banjo technique. Paired dancing from Europe melded with Native American circle dances to become the square dances we know in old-time today. It truly is a melding of the folk tunes, traditions and cultures of Europe, Africa, and Native America., what has become a unique form of North American folk music.
While the Appalachian Mountain region is the heartland of old-time, there are numerous regional styles of old-time music, each with its own repertoire and playing style. Nevertheless, some tunes, such as Soldier's Joy are found in nearly every regional style, though played somewhat differently in each.
Even within Appalachian old-time music is there are regional traditions. Some of the most prominent traditions include Surrey County/Mount Airy, NC, commonly called the Round Peak style of which Tommy Jarrell and Fred Cockerham are most noted for, the Grayson County/Galax, VA style played by such notables as Wade Ward and Albert Hash, the West Virginia style of the Hammons Family, the East Kentucky style of J. P. Fraley and Lee Sexton, and the East Tennessee style played by the Roan Mountain Hilltoppers. Other regional styles include New England, Midwest, the non-Appalachian South, Texas and the West, and Canada.
---
Going beyond: other fiddle styles
Much too expansive to go into each old-time style, here is a taste of thirty fiddle styles, some old-time, some not, but an excellent video none-the-less. Included: Scottish, Irish, French Canadian, Canadian Old-time, American Old-time, Métis, Cape-Breton, Texas style, Bluegrass, Western Swing, English, Gypsy Jazz, Cajun, Country, Swedish, Klezmer, Prairie Canadian Old-time (Calvin Vollrath), West Coast, Contemporary, Ukrainian, New England, Breton, Blues, Shetland, Mariachi, Jazz, Maritimes, Choro, Folk (fiddle backup), Czech.
Examples from all Major Fiddle Styles
And here is a video of my favorite style, the highly rhythmic Round Peak style of Surrey County, NC
1Round Peak Style of Surrey County, NC
---
Tommy Jarrel and Fred Cockerman 1971
---
Old-time for new times
By the mid-20th century, the commercialization of Bluegrass and Country music on the radio, and the advent of Rock and Roll in the 1950s, old-time music began to fade, and this profoundly American music with deep roots was on the verge of dying. A small group of musicians strove to keep old-time alive. The most notable was Mike Seeger, younger brother of American folk singer and social activist, Pete Seeger. Mike sought out the old masters Appalachia and made many field recordings. Seeger wrote, "Music from the true vine grows out of hundreds of years of British traditions that blended in our country with equally ancient African traditions to produce songs and sounds unique to the United States."
Seeger set out on a mission to keep old-time alive and to regrow its audience.  "For the peoples of the rural South, their great variety of music, song and story provided their Shakespeare, their dance music, their news and the fabric of their daily lives," said Seeger. "This music in time became the roots of today's country, bluegrass and popular music and remains, as ever, enduring and refreshing listening." Mike Seeger and other revivalists brought traditional styles to larger audiences and created a renewed interest in old-time music.
Banjo Tales (Trailer) – Mike Seeger's Last Journeys through Appalachia
---
Preserving the tradition
Mike Seeger died in 2009, but because him and others like John Hartford and David Grisman, old-time music seems alive and well with thriving communities of players and dancers, in addition to countless old-time festivals throughout the United States, even one named for Mike Seeger. Today, fiddlers like Bruce Molsky, Brad Leftwich, Rhys Jones, Dirk Powell, and Rayna Gellert, along with banjo players like Paul Brown and Riley Baugus continue the old-time traditions. Other even younger musicians include Stephanie Coleman, Greg Burgular and Matt Brown who are at the vanguard of a new generation of talented old-time musicians currently on the performing circuit.
Old-time music is a living tradition. It is as much about the community as it is about the music. It is still evolving and will continue to evolve far into the future. That is why there is no time like old-time.
In this article I attempted to synthesize the long, rich, and vast history of Old-time music into a simple and coherent article. One could write a full-length article or book chapter on what is mentioned in each paragraph. Perhaps future articles will expand on some of the points covered here, and I welcome your input and suggestions for future articles. Videos and links included in the article are intended not only to give the reader a taste of old-time music but also the culture of the people who developed it. I hope you enjoyed this brief overview of Old-time music.
I will leave you with one last video by well-known filmmaker, David Hoffman, about a great Appalachian Mountain North Carolina folk musician/historian/wonderful character, Bascom Lamar Lunsford
---
Notes
Just a few Old-time Music Videos (in no particular order):
For a deeper understanding into the life and culture of the Appalachian people, you can watch some videos from Donnie Laws East Tennessee Outdoors, a YouTube channel exploring the Beauty, History, Places and the People of Appalachia.
Sources:
---
Author
This great article was written by Jim Guinn. Here are some other articles he wrote for FiddleHed: