---
It's no wonder I flunked out of that life coaching course 🙂
There are lots of ways to think of goals. But ask yourself, what are they for? If you reach the goal you have some gratification. But that doesn't last too long. Then it's time for a new goal. Always working towards a point in the future. It can start to seem like a treadmill. It becomes clear that if you over-emphasize the achievement of goals, you miss out on the very life you're living in the present moment.
Yet, having no goals at all can be unsatisfying as well.
The way I see it, there are two types of goals: internal and external. The internal goal is about process, the way in which you live and the habits you establish. The external goal is an actionable and measurable target; a well-defined result you achieve within a certain time-frame.
The two types of goals can be complementary. External goals give structure and energy to your daily process and they can push you to grow and stretch. And a good daily process makes it much easier to attain your goals.
I think the goal of good process should be your main goal. With a good daily process you will be moving forward and enjoying the ride. I suggest four process goals for your music practice: consistency, joy, focus and awareness.
Consistency
"Write a little every day, without hope or despair."
– Isak Dineson
The simplest and most important goal is to just play every day. But it's hard to do it consistently; sometimes life gets in the way. Try to set up a system so that you practice every day. Try to reduce the friction where possible. Approach it as an interesting problem in need of a creative solution.
Problem: How can I remain motivated to play every day?
Solution: Use a practice calendar. Decide on a length of time to practice each day. Make it a realistic goal. Each day you achieve your practice goal put an X in the box. You'll start to feel good as the Xs line up, and then this will encourage your practice.
Problem: How can I set up my life to play every day?
Solution: Make it a habit that happens at the same time and place each day. Take away as much resistance to practice as possible. For example, store your instrument outside of the case so you can just pick it up, tighten the bow, tune it up and start. Put fine tuners on the fiddle so it's easier to tune.
Problem: How can I practice when I don't even have my fiddle with me?
Solution: Practice active listening for ear training, reviewing old tunes or learning new ones. You can do this whenever and wherever you have free time: breaks at work, plane rides, or waiting at the DMV (but you may need some good comedy to get you through that experience).
Problem: What deals can I strike with the people in my life to create the time I need for this?
Solution: Maybe you don't even have to strike a deal. Maybe you just need to clearly communicate your intention to family/roommates. But if you do have to strike a deal, I recommend taking over the chore of cleaning the cats box. It's a horrible job, but it won't kill you, and your family members will feel obligated to give you all the time you need to play music.
Play with joy
Playing with joy should be a goal. The beautiful thing about this is that the reward is not so much about achieving something, but the ongoing good experience of making a sound.
Please don't tell yourself that you will feel joy in two years after you've learned how to play Tam Lin. It's important to find the joy NOW. And that can happen by just making a good sound bowing on an open string. Most people can to do this after a month or two of practice. Do not underestimate how great of an achievement this is.
When you learn something new, accept that it will not sound so good at first. As you struggle to practice new tunes and techniques, take breaks to return the sound of a simple open string. This helps you to remember that you are able to make a good sound, and that eventually the thing you are struggling with will sound better. But I also encourage you to just experience the joy of good sound for its own sake. Learn to enjoy the sound of one note played well. See it as a way to relax, a form of meditation. And then let it be a goal that you play everything else with good sound.
Focus
When you learn an instrument, you learn great skills that help you with the rest of your life. Focus is one of these things. So stay focused right now. For the next two minutes, see if you can read these words with your full attention!
It can be difficult to keep your mind from wandering as you practice (it's taken me years to be able to fully concentrate). I suggest the One Tune, One Scale, Ten Minutes practice link as a way to develop focus. For ten minutes, alternate between a tune and it's scale. Or just focus on a scale or a tune. You can also focus on a bowing technique such as double stops for ten minutes, perhaps starting with open string notes and then progressing to scales and tunes with double stops.
Not only is this a way to improve your ability to concentrate, but it's also an efficient way to practice. You'll actually be able to improve something if you stay with it.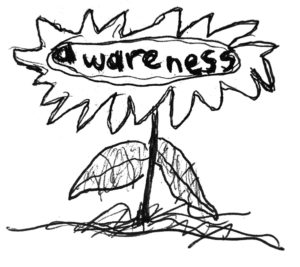 There are some simple things you can do to improve your practice experience and productivity through awareness.
Pay attention to your body and mind. Take breaks to stretch, take a deep breath and move around. Then play an open string with good sound and see if you can do it with a relaxed body and even breathing.
Record yourself at least once a week. You will learn what you really need to work on. Then in a year, if you're still playing, you can listen back to the recording and feel rewarded by your progress.
Keep a practice journal. Keep track of how much time you play each day and what you work on. That way you can build on what you did yesterday when you practice today. Also take note of your practice process. What is working well with your practice process? What is the one big thing you need to improve right now? When are you talking negatively about your playing and being unkind? Write down these things in your journal so you can avoid the same pitfalls next time.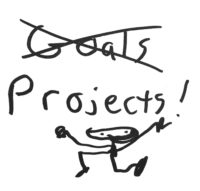 OK, sure, let's set some external goals, but let's call them projects
There's also value in setting external goals. You will discover things about yourself and what you want. Working toward a goals can help you to fine-tune your process for working and living (which I still think is the ultimate goal.)
But let's not think of them as goals, let's think of fun projects that you are going to absolutely love working on in the new year:
Play with people/Form a band
Learn a new style
Learn to play twenty tunes this year
Record a mini-album to make as a holiday present for next year
Learn a new skill or technique

Vibrato
Double stops
Improvisation
Adding variation to tunes
In addition to helping you learn the fiddle, these process goals will positively impact other habits and parts of your life: diet, fitness, well-being, work, relationships, etc. This is the practice of practice.