Getting A Good Sound With The Bow
Tone-building
---
How does it sound when you use the bow? Is it scratchy, bouncy or weak-sounding?
In this lesson, you'll learn and practice some exercises that will help to improve the sound (aka 'tone'). If you have a nice sound, you'll be more motivated to keep practicing and playing.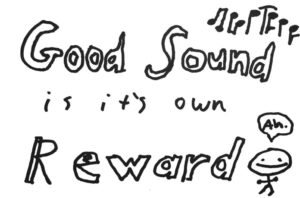 ---
Throw-away bow
There is a great exercise to help work on this that I call "throw-away bow". This is a powerful exercise that will help you attain a bigger, more wholesome sound.
Starting downbow (to the right) move the bow across the strings, and then dramatically release your arm into the air. Imagine you've just played the final note of a concert, you end with a dramatic throw-away bow and, you know what comes next, "the crowd goes wild".
Throw-away bow on G 
Throw-away bow on D
Throw-away bow on A 
Throw-away bow on E 
This is a magical practice. I'm not totally sure why it's so helpful improving tone but it is. Maybe because when you release the bow you also release a lot of tension that beginning students hold in their bodies.
---
Saw Bow

The saw bow is another way to improve your tone and to open up the sound. Play short digging strokes in the middle of the bow. It doesn't have to be pretty. Start with longer strokes and then do shorter, faster strokes.
Practice it on your own, eight bows per string, starting with the G string:
After practicing the saw bow for a while, try the paintbrush; lighter more delicate strokes in the upper third. Notice how the volume changes.
---
Tremolo
To do tremolo, place the upper third of the bow on the strings and lightly play quick notes. Try to relax the wrist and create a shimmering sound, like a gentle rain falling on the roof. Whereas the goal of the throw-away bow is to get a BIG sound, tremolo is a good way to loosen and relax your bow sound.
Tremolo on the G string
Tremolo on the D string
Tremolo on the A  string
Tremolo on the E string
---
Soft-Loud-Soft
Now we'll practice volume control. Start by playing short quiet "paintbrush" strokes. Gradually increase the length and pressure until you're playing loud "saw" strokes. When you hit the peak, gradually get quieter. Start over on the same string, and then try it on the other strings.
Soft-loud-soft on D string
---
The most direct path to making fiddle music is just getting a good sound on an open string. So don't rush this step! The better you sound, the more confidence you'll have as you move through the course. And with good sound, you'll be excited to play every day.
Question for you: What's the hardest part of bowing so far? Let me know in a comment below. 
---