A lot of you have told me that you're frustrated because your current level of playing is nowhere near where you want to be.
You want to be ripping mind-crunching solos like Mark O'Connor. But it seems like you'll never get there.
In this Fiddlosophy post, I'm going to suggest six ways to overcome fiddle frustration. I want you to be happily learning and playing the fiddle every day. Here are the main points:
Return to a good sound
Break down hard parts with micro-practice
Balance effort and acceptance
Focus on the daily process instead of goals
Keep a good attitude
End on a high note
If you prefer to listen to this instead of read, I made a podcast version. This is a new thing, so please let me know if you like it and want me to do more posts in a podcast form.
---
1. Return to a good sound
You're thinking, "Easier said than done. How do I do that?" 
Start by making a single open-string note sound good. And then constantly return to this throughout a practice session. Play D0 along with a drone:
Enjoy the sound. Pay attention to body, breath, and mind.  How are you feeling? Are you thinking about something else? Try to let go of thinking and just listen to this one note.
Feel good that you can this good sound. And by good sound, I don't mean a perfect sound. I mean do your best.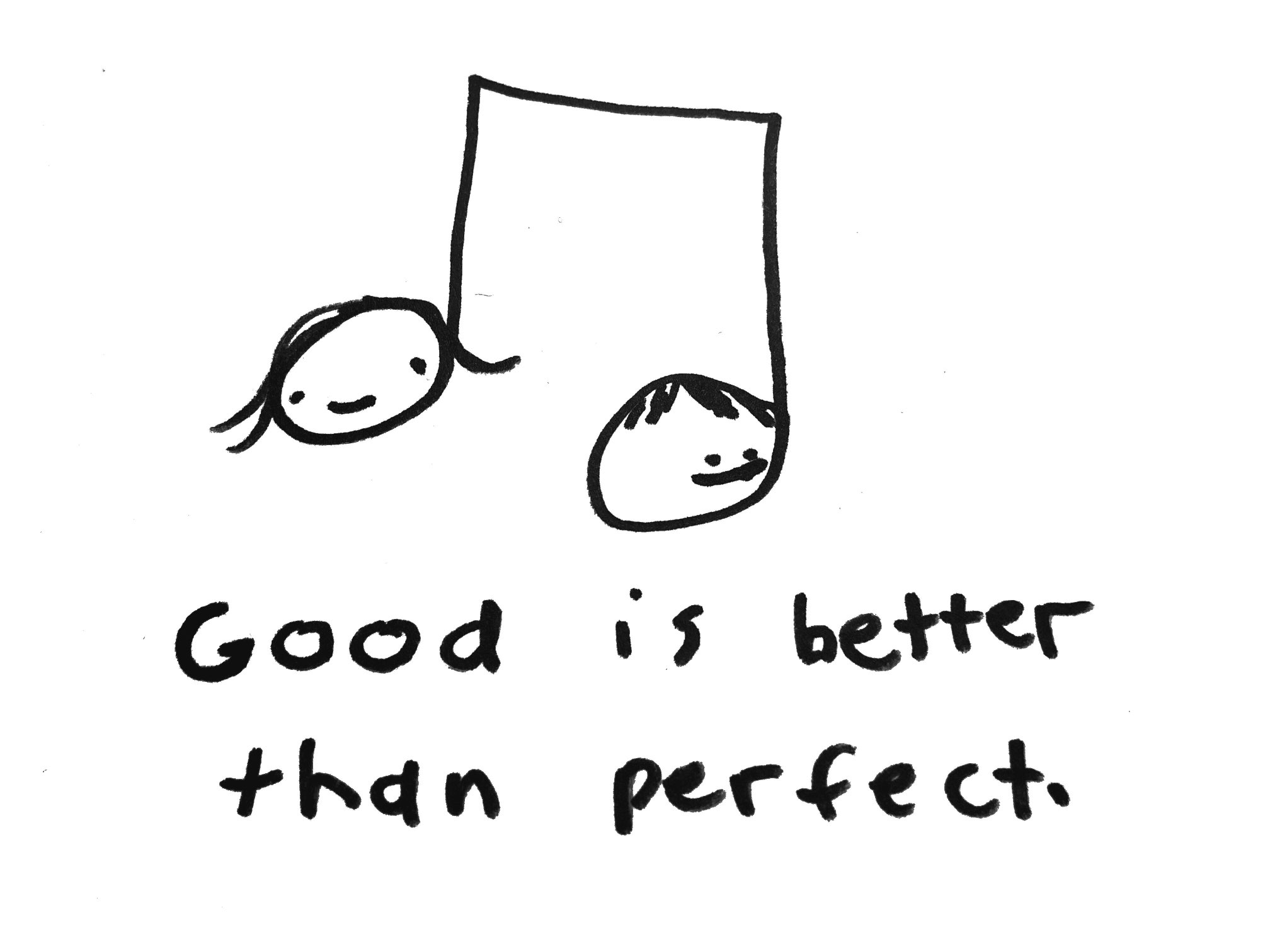 You can always stop what you're doing and just return to a good sound. When you get frustrated, this simple sound will be like an old friend.
So now that you've connected body, mind, and soul to the instrument, you can move on to more challenging things. 
---
2. Micro-practice
When you get stuck on something, don't just keep pounding away. Break it down into small, manageable pieces. This process of incremental learning is what I call micro-practice. 
Say you're learning Arkansas Traveller and feeling frustrated. What is the hard part? Maybe for you it's in the fourth quarter:
A3-2-3-0-1-3-0-D3-2-0-1-2-0

But then, what is the hardest part of that? Maybe it's these four notes:
A1-3-0-D3

And maybe what's really hard in that little piece is going from A0-D3.

So practice that with looping, adding rhythmic variations, call-and-response, etc. After doing that, work your way backwards until you can do the whole tune.
Remember, if you're still frustrated, take a step back and just get the best possible sound on an open string. Then try to tackle the challenge again.
---
3. Balance effort and acceptance
It's important to learn new things. To give yourself the perfect level of challenge. Otherwise fiddling would get boring. The trick is to practice things that are the right amount of challenge for your current skill level. 
You want to balance effort and acceptance. 
Start a session b warming up. Then practice something challenging. Work at your edge. After doing that a bit, return to a simple good sound. 
Try to do this before you get frustrated. Then return to whatever challenging thing you're currently learning.
Keep alternating in this way throughout a practice session.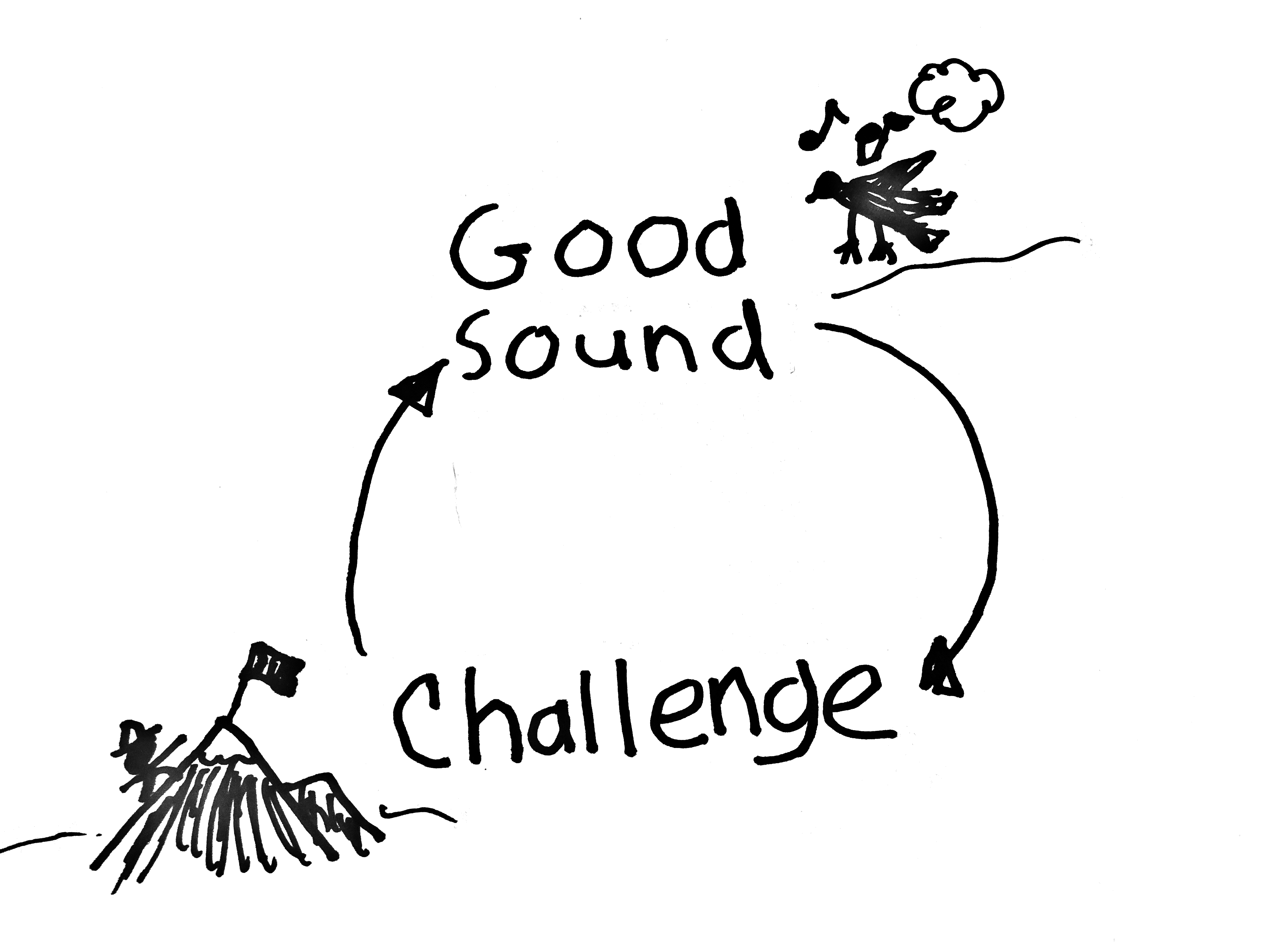 ---
4. Focus on the daily process instead of lofty goals
Instead of a lofty goal (like wanting to play as good as Mark O'Connor), focus on a good daily process.
Practice consistently. I suggest at least 20 minutes a day, six days a week.
Practice well. Once you establish a daily practice habit, work on how you practice. How can you make it fun and productive? Here are some of the practice tools I teach:
Just think: this is something you CAN actually accomplish!
You CAN play a little bit every day.

You CAN learn to practice small parts of a tune rather than the whole thing.

You CAN learn to alternate between challenges and a simple good sound on an open string.
Instead of focusing on goals, simply pay attention to what you are doing right here, right now.
---
5. Keep a good attitude
Nurture a good attitude and your frustration may be transformed into joy. Instead of feeling like, "I'll never get there," you might start to think, "I'll never run out of things to learn!" Here are some specific things you can do to transform your attitude:
Be kind to yourself.

Learning the fiddle is hard. It takes time.

Celebrate small wins.

What can you do now that you couldn't do before? Celebrate this. Even just picking up the fiddle and practicing is a small win.

Give thanks!

You have this wonderful time to make music. It may be hard to forcefully change your attitude. I get it. I suggest you fake it until you make it. Write down or say things you're grateful for even if you don't feel totally feel it.

I'm grateful to have a fiddle and be playing music.

I'm grateful that my cat is healthy and happy.

I'm grateful to be learning something new.
Doing this, you'll naturally and spontaneously start to feel more gratitude.
---
6. End on a high note
Try to end with something fun. This could be a favorite tune or improvisation. Make the last thing you do sound good. You could end where you start: playing a good sound on an open string with a drone note. Doing it with gratitude and a feeling of peace. Just listening without thinking or judging.
If you do this, then you'll end your practice session with a good feeling rather than negative feelings of frustration and doubt. As you might know, those negative feelings might keep you from practicing the next day.
Ending with a good feeling will build confidence, and you'll naturally want to pick up the fiddle and play tomorrow. Does that make sense? 
---
Summing up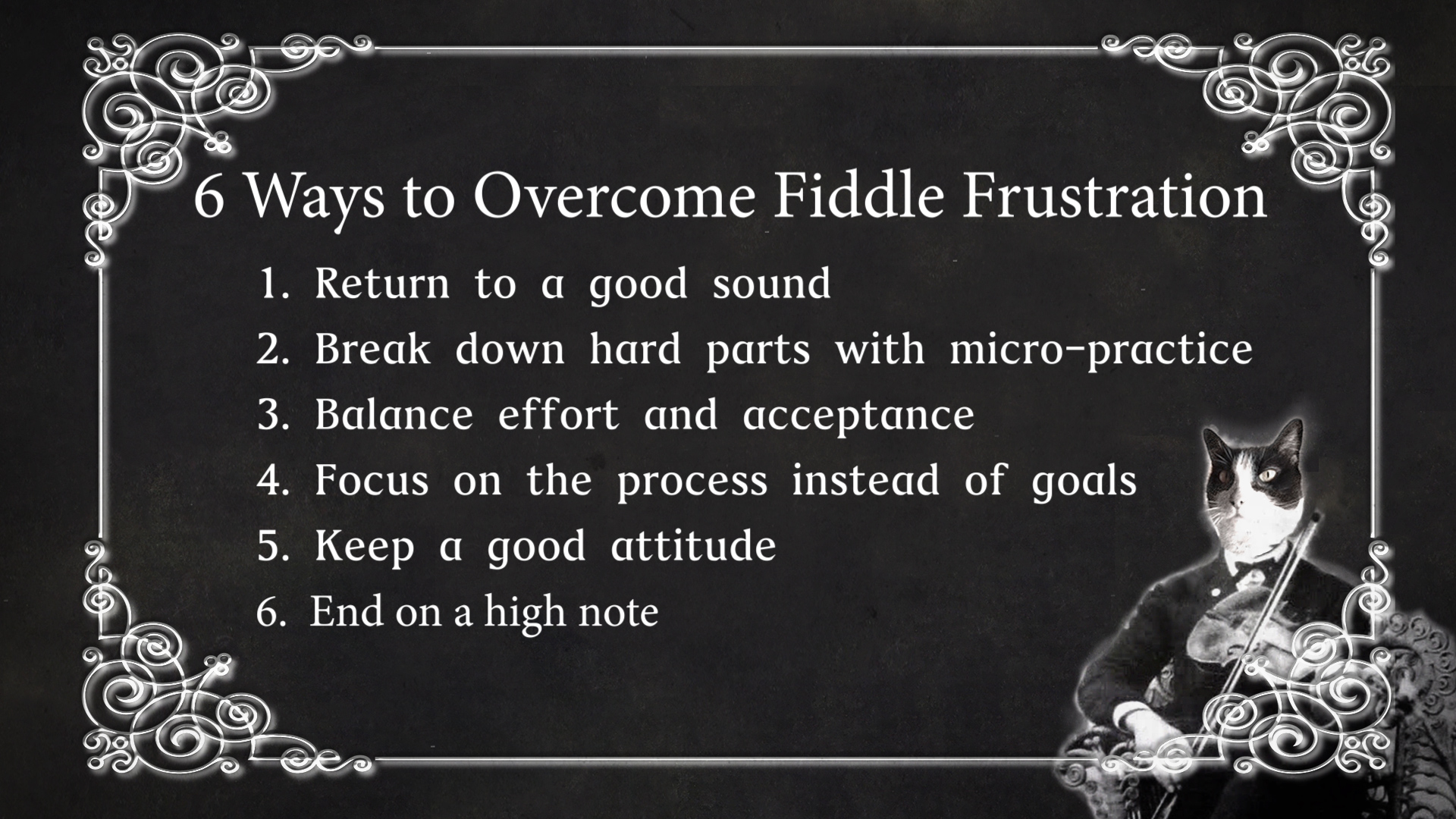 OK, let me know if any of this is helpful. Use the comment section to ask questions or to share any cool practice tricks you have discovered.
Now go fiddle with it…