Learning how to practice is the heart of the FiddleHed method. There are two complementary ways of working on music: micro-practice and macro-practice.
Micro-practice is focusing, figuring things out and training your body what to do. Macro-practice is putting things together, letting go and just playing.
---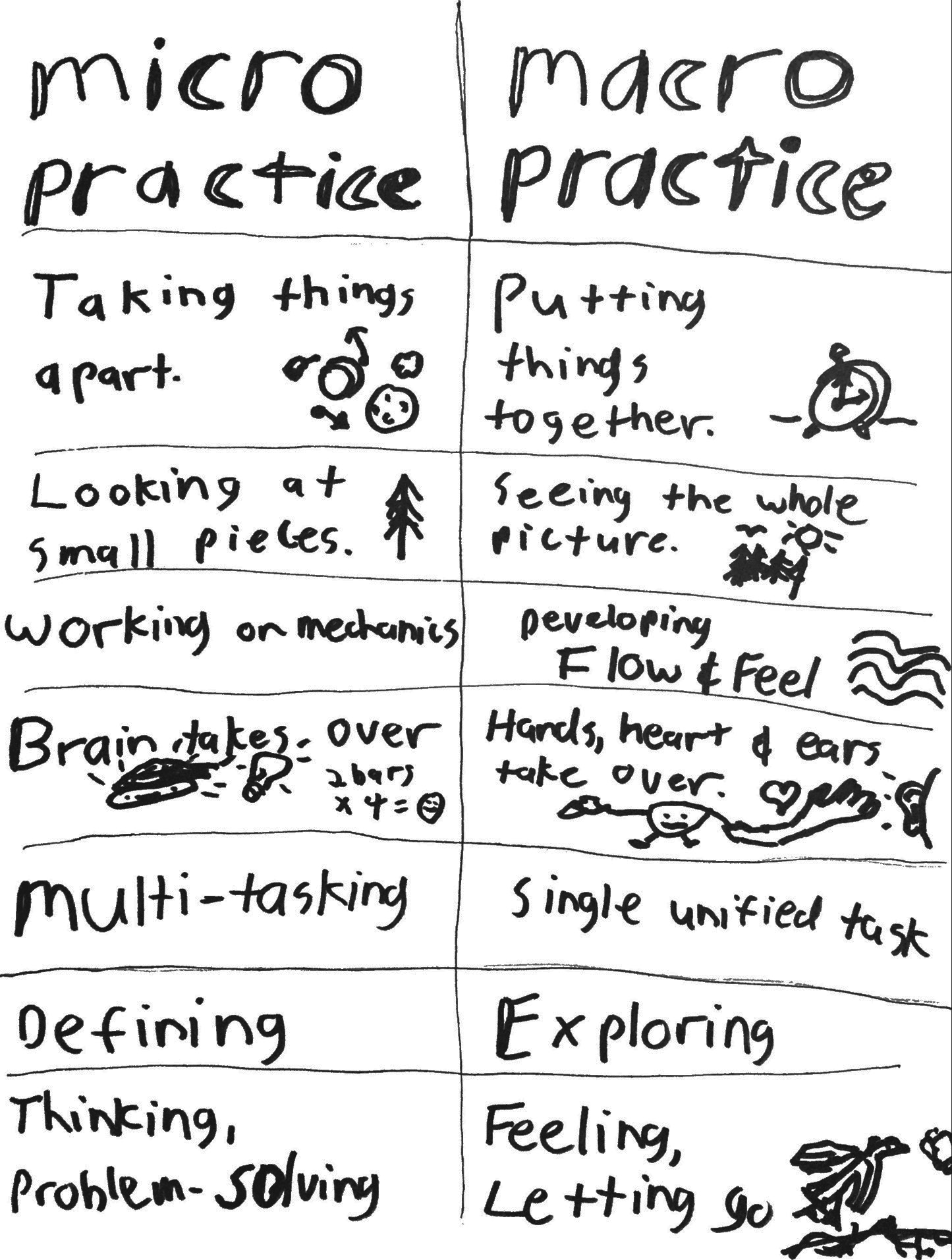 ---
In micro-practice we focus on the motion of our hands, trying to understand and map out what we have to do. We try do a certain part with different fingerings, or different bowings. We are tinkering and fiddling with it.
Looping small parts is the bridge between micro and macro-practice. If you take a hard part and loop it, you make a transition from thinking to playing.
---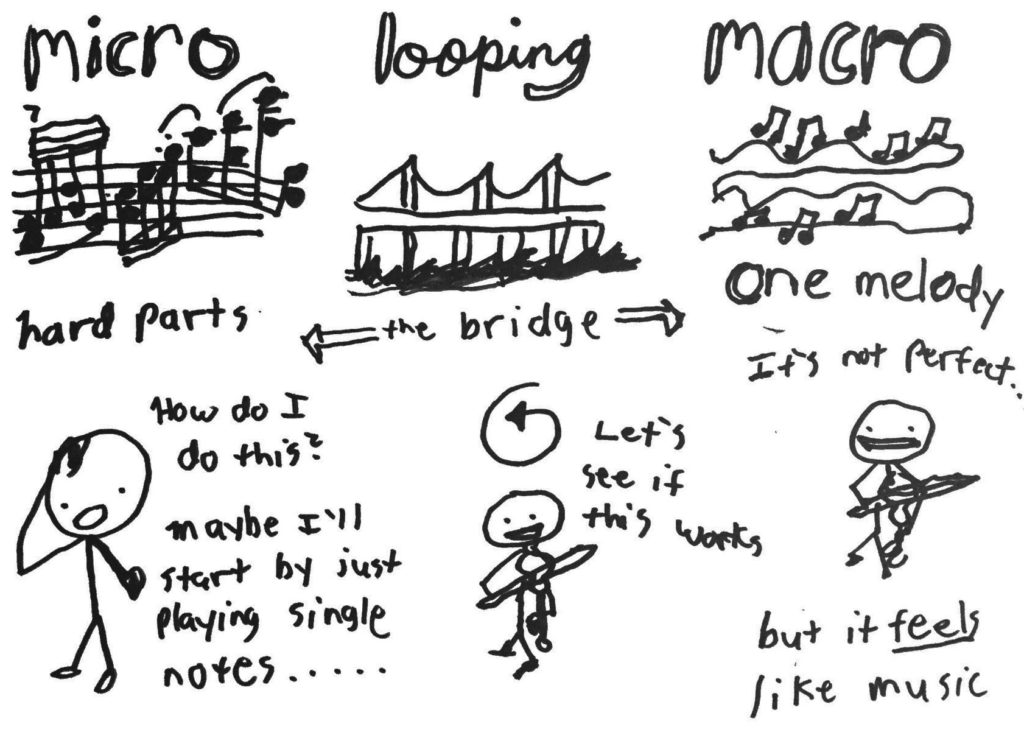 Micro-practice Strategies
Find out what's really hard and practice that. It might just be one or two notes that you need to practice. Systematically take apart hard parts until you get to a very small difficult thing.
Create exercises from difficult parts. In this way, fiddle tunes will teach you everything you need to know about playing.
Slow practice with focus on mechanics.
Practice awareness of body, breath and movement while playing.
Macro-practice Strategies
Make it through the whole tune

. Even if you have to start and stop, even if it doesn't sound that good, JUST KEEP GOING.

Accept mistakes.

When in macro-practice mode, let go of the desire to fix your mistakes. Just keep playing.

Record yourself.

When you've played the tune a few times in a row, use the recording to find out what's hard, what you need to practice. Try not to worry about your performance. Assume you will get better (if your practice)!

Listen to the tune

. Try to hear it in your head, or whistle, sing or hum it.  

Play along track

practice. Use backing tracks as a fun way to play the whole tune. In order to do this, you have to know the tune well. A fun alternative to play-along tracks: play with a friend.
Here is a systematic approach:
Play through the tune and record yourself. (macro-practice)
Listen back and ask yourself, "What was hard for me?" Write down the specific hard parts (micro-practice).
Breakdown hard parts further to find out what's really hard. Create exercises by adding rhythms, transposing and/or changing note order.
Play the whole hard part a few times. Loop it.
 Re-integrate into tune.
Here is a worksheet you can print and use to help you learn and utilize this practice strategy: Micro/macro practice worksheet
Here is an example of how to use the worksheet: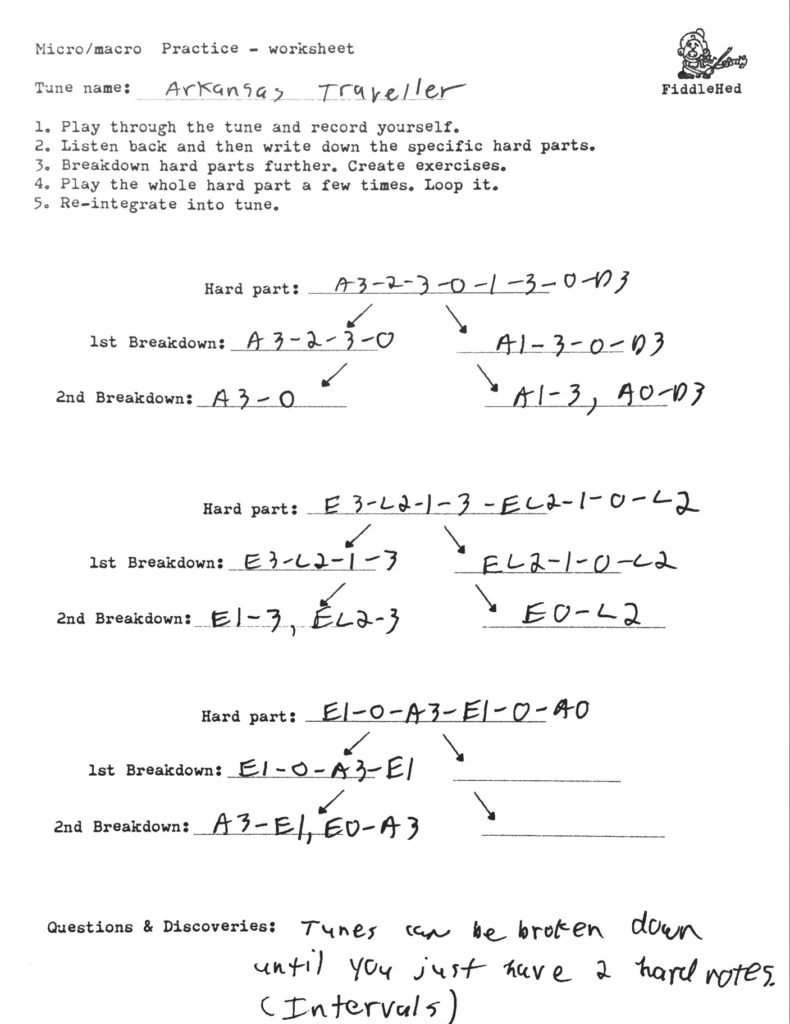 If you're interested in seeing micro and practice in action, take these video lessons:


Both modes are necessary and complementary. Try to practice both ways every time you play.
Learn more about micro-practice and macro-practice in these lessons:
Micro And Macro Practice Strategies
How to Learn And Practice A Fiddle Tune.
---
Two ways I can help you level up your fiddling
Sign up for the FiddleHed newsletter below.
Sign up for the Free Two-week Trial. You'll get full access to all courses and group lessons. Plus, I'll send you some free lessons tailored to your current skill level.
Thanks for being here 🙏