Forgive me if this title and post sounds like a phD thesis in mathematics! Don't be put off. This is just a simple, systematic way for you to practice that will help you to work through hard parts of tunes. Here is a worksheet you can print and use to help you learn and utilize this practice strategy:
Micro-practice Strategies
Find out what's really hard and practice that. It might just be one or two notes that you need to practice. Systematically take apart hard parts until you get to a very small difficult thing.
Create exercises from difficult parts. In this way, fiddle tunes will teach you everything you need to know about playing.
Slow practice with focus on mechanics.
Practice awareness of body, breath and movement while playing.
Macro-practice Strategies
Make it through the whole tune. Even if you have to start and stop, even if it doesn't sound that good, JUST KEEP GOING.
Accept mistakes. When in macro-practice mode, let go of the desire to fix your mistakes. Just keep playing.
Record yourself. When you've played the tune a few times in a row, use the recording to find out what's hard, what you need to practice. Try not to worry about your performance. Assume you will get better (if your practice)!
Listen to the tune. Try to hear it in your head, or whistle, sing or hum it.
Play along track practice. Use backing tracks as a fun way to play the whole tune. In order to do this, you have to know the tune well. A fun alternative to play-along tracks: play with a friend.
Here is a systematic approach. Use the worksheet to help you.
Play through the tune and record yourself. (macro-practice)
Listen back and ask yourself, "What was hard for me?" Write down the specific hard parts (micro-practice).
Breakdown hard parts further to find out what's really hard. Create exercises by adding rhythms, transposing and/or changing note order.
Play the whole hard part a few times. Loop it.
 Re-integrate into tune.
Here is an example of how to use the worksheet: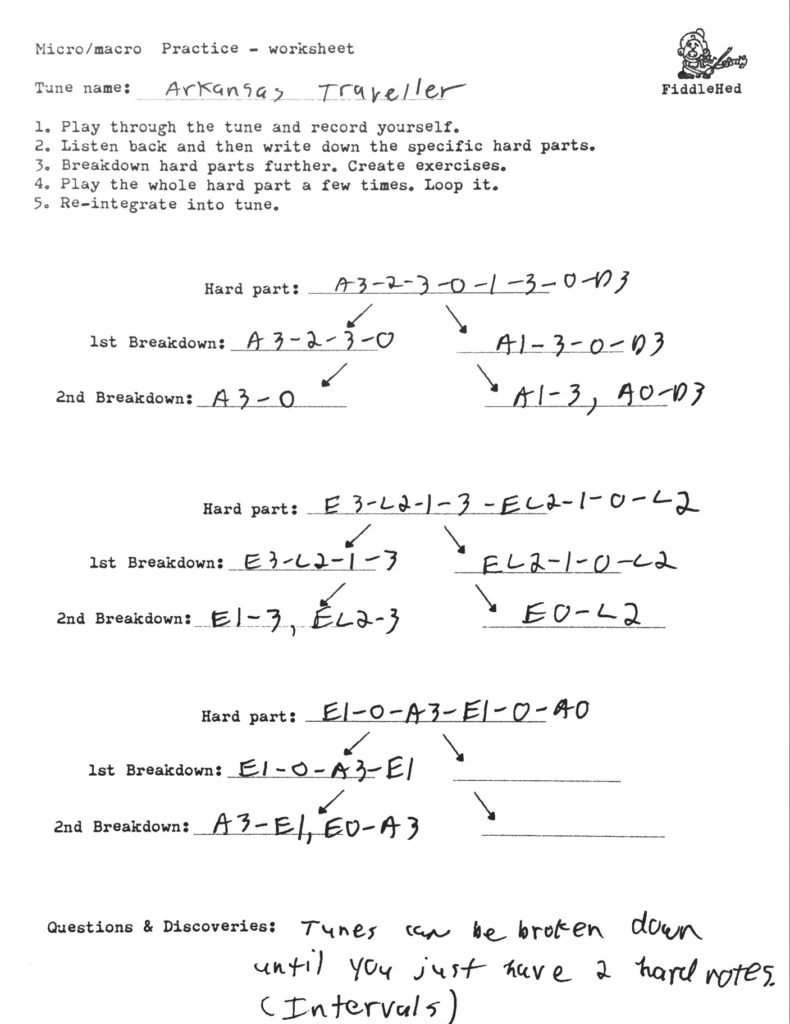 What did you discover? What new questions do you have?