Try to end your practice sessions on a high note instead of in a state of frustration. At the end of the session, I want you to be saying, "Yes!!" instead of "Rats!!"
Say you're learning something hard like a fingered double stops scale. You spent half an hour practicing this, your time's almost up, and it still sounds horrible. Rats!!
Just let it rest for the time being. Your brain will subconsciously work on the problem even though you are paying attention to something else. Switch gears. Work on a different challenge. Or perhaps just play a few easy tunes and scales. Find your sound again. Ahhh. Yes!!
Then go back to that challenging thing you're learning: chordal scales, vibrato, low second finger…whatever obstacle you're facing on your fiddle journey.
---
The good practice project
This process of alternating between difficult and easier tasks is known as interleaving. It's a way to be kind to yourself.
This process of interleaving is part of a much larger project: practicing well. Good practice includes things like looping, micro-practice (incremental learning), using drones, and slowing down (such a typical music-teacher thing to suggest 🤓 ).
Ultimately, the most important things about being a musician are things that are within your ability.
Play every day.
Practice well.
---
Action step
So let's take action. We'll use journaling to become aware of our practice. What hard things are you practicing? What easier things are you reviewing? Here's a brief snapshot of where I'm at in my fiddle practice: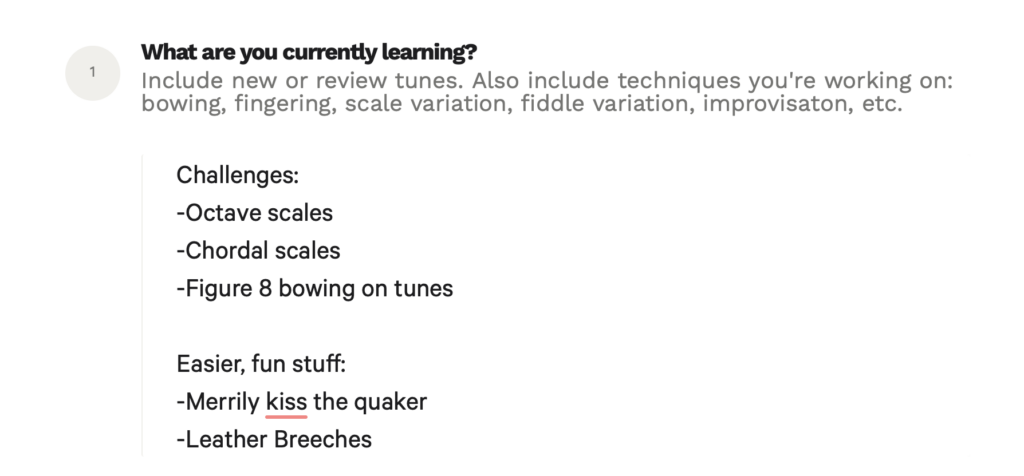 Take note of 1-3 things that are currently challenging you. Use the journal in the practice toolkit below, a paper journal or even an index card. Then take note of a few things that are easier for you. Then, over the next few weeks, alternate between what's easy and what is hard. Use whatever journal system works best for you.
---
End on a high note
When your practice time is almost up, be sure to end your session with a song or tune that you can play easily with good sound. Choose something you enjoy playing. After that, just play a single note, like an open D string.
Play that one note with a drone. Enjoy the good sound you're making. Close your eyes as you bow. Breathe evenly. Pay attention to this all sounds and feels. Stop playing and reflect with gratitude on the fact that you have the opportunity to make music. Then loosen the bow hairs and set down your fiddle until the next session…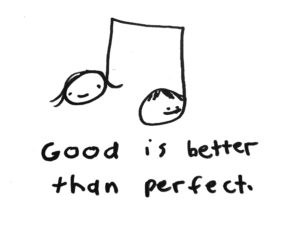 This will nurture positive emotions about the fiddle and your ability to learn. Instead of feeling bad about your progress, you might start seeing that challenging thing as a fun puzzle. Or maybe you'll view it as a new adventure you're having as you continue your fiddle journey.
I want you to walk away with a good feeling about your session so you'll be more likely to practice again tomorrow.
Thanks for reading. Now go fiddle with it…
---
Further learning