The Fiddler's Journey
---

Preparing for the journey
The fact that you are reading this means that you've taken a tiny step towards something that interests you: playing music. Instead of just thinking about and then saying "Nah, I'm not musical," you are on your way to becoming a fiddler. 
---
Challenges on the journey
You're going to face three major challenges on the journey:
Practice challenge 
Physical challenge
Emotional challenge
Later on, I'll go into more detail on these challenges and how to overcome them. But for now, let's take a bird's eye view of how to successfully learn and practice music.
---
A simple model for successful learning
Establishing smart and consistent practice habits is really the central challenge of learning an instrument. Fiddlehed is designed to get you into a virtuous cycle of daily practice, incremental learning, and enjoying each step of the journey.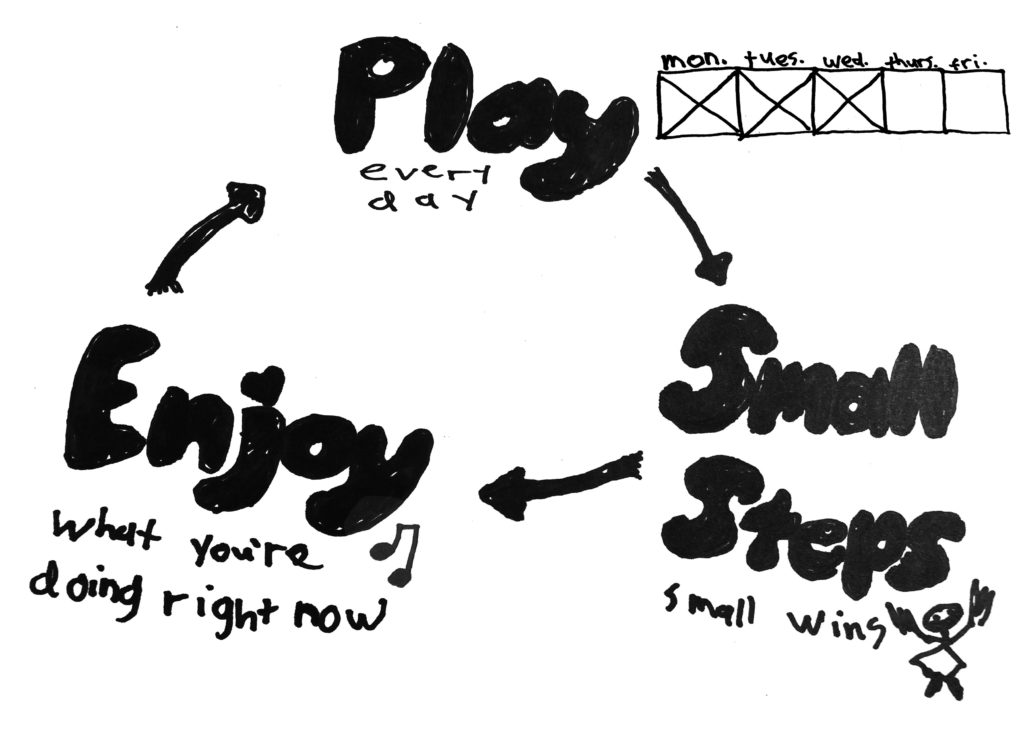 Each fiddlosophy counters each challenge:
Play every day

Do this to overcome the challenge of consistent practice.
Learn to make daily practice a healthy habit, like brushing your teeth. That way you don't waste energy thinking about whether you should do it or not.
The goal of FiddleHed is to make learning fun so that you' naturally want to play every day.
Here's a great strategy to help you establish consistent practice: The Two-Minute Rule.

Small steps, small wins

Incremental "micro-practice" is the way to overcome physical challenges such as fingering, bowing, playing in tune.
Learn to break down complex problems into small things you can actually do.

Enjoy what you're doing

Each time you take a small step, it's a small win, and that little win brings joy.
Nurture joy to overcome the emotional challenge.
Learn to enjoy the sound.
You can benefit from any one of these practices. But notice how they work as a process. If you play every day, then you'll actually see progress from the small steps. If you have small wins you'll enjoy the experience. And if you enjoy the experience, you'll want to do it again tomorrow.
---
I can't wait to practice today!
Learning music is not about inflicting torture on yourself now so that you can have a payoff later. I want you to learn how to enjoy music right now. And I want you to learn how to learn so you can continue on your own with whatever you do with music.
If you learn to make the practice fun, then you don't have to force yourself to do it. Instead of saying, "I really should practice today," you'll find yourself saying, "I can't wait to practice today!"
If a good process is your goal, then you will deal with each challenge, seeing it all as something interesting and fun. In fact, if your intention is to simply practice well, then every time you play, you reach your goal immediately. To be a musician, you just have to play every day. 
---
Now go fiddle with it…
OK, now that you understand a little of my "fiddlosophy," let's make a deal: I'll do my best to make learning the fiddle fun and you do your best to play every day. And let's not feel bad about ourselves if we seem to fall short along the way.