Old Joe Clark – Basic Version
Old-time Reel in D Major
Beginner > Module 1.8
---
Here's a classic old-time American tune. Learn it well and then we'll soon add some melodic variations to it. 
---
Learning chunks 
I've made some "Learning Chunks" to help you learn more easily. These focused exercises contain sheet music, tabs and mp3 snippets to guide you on your fiddle journey. The idea is to start with small musical bits, get good at those, and then put them together into bigger pieces until you have the whole tune. I call it Micro-practice.
Preparation
Warm up with the D major scale and phrases from the tune (once you've learned it) using a D drone: 
For those of you who read (or want to read), all snippets use this key and time signature:

A part, first quarter
Intervals
E1-L2
E0-0-A3-3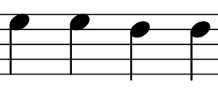 ↓
A part, first bar: E0-1-L2-1
A part, second bar: E0-A3-2
↓
A part, first quarter: E0-1-L2-1-0-A3-2

Interlude
Let's pause for a moment and pay attention to how we practice.
Micropractice 
When something is challenging, see if you can simplify the problem. Practice things in small increments.
You may find there is just a single note which is causing the struggle. If you can find that and practice it, then you systematically eliminate all hard parts. Once you get better at a small piece, test yourself by playing a bigger piece that includes it. 
If you take this approach to heart and actually do it, then you can eventually learn anything.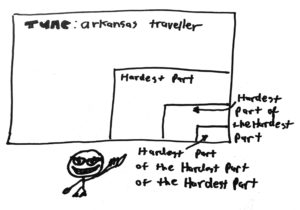 Other versions on Youtube
Old Joe Clark, the preacher's son
Preached all over the pain
The only text he ever knew
Was High, low, Jack and the game
Fare ye well, Old Joe Clark
Fare ye well, I say
Fare ye well, Old Joe Clark
I'm a going away
Play Along Track – Full Tune
---
Drone in A – No Beat
---
Full tabs and sheet music

Full tabs and sheet music are available to paying members. Thanks for your support.
---
Sheet music video
Learn to intuitively read sheet music with this animated video. If you're an absolute beginner, then I suggest you don't worry about fo it for the moment.
This is here for continuing students who want to learn about sheet music. It's part of the Note-Reading For Fiddlers course.
---