(Most) Everything You Need To Know About Fiddle Lessons With Jason
Hey there future fiddler,
Here's a lot of information on how my fiddle lessons work.
Don't worry about previous experience. I'll give you the most important music lesson for free right here and now: 
Play every day.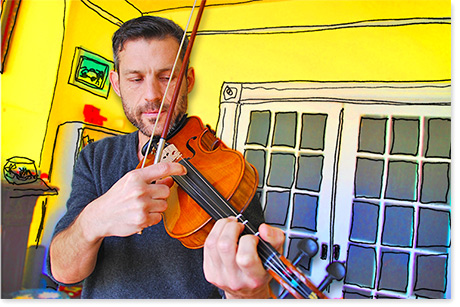 ---
I try to make music with students from day one. Here is what some of them have said on my 
Yelp page
.
---
WHERE
During the quarantine period, I am teaching exclusively through zoom.
Once things return to "normal", I'll resume teaching in-person lesson on a limited basis from my studio in San Francisco:
Cross street is 25th.
The door will be open. If you get here early and I'm teaching, feel free to wait in the living room which will be to your left when you get to the top of the stairs. If you are a parent with another child, I have games and kids books in there.
---
WHEN
I currently teach every other week, 
Monday-Friday 4-8 pm
. In the off week I work exclusively on this website, creating content, maintaining it and communicating with online students.
---
ABOUT THE LESSONS
I write up a lesson plan that can be viewed from an online lesson portal which you will be invited to. Each lesson includes links to video, audio and sheet music files of tunes we are working on:
I teach all beginners to play by ear. Later, if you are interested in reading music, we can learn that. I teach most fiddle styles (Irish, old-time, bluegrass, Cajun, klezmer, tango, ragtime) as well as improvisation and playing backup.
---
For beginning students, I have a
course of tunes
I like to run through. For intermediate to advanced students, I try to tailor the lessons to whatever particular style of music they are interested in.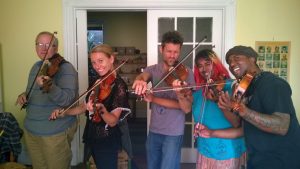 ---
How often should a student come?
For beginning students, I recommend once a week. This helps to establish the good habit of practice and it helps to correct any bad habits that develop (posture, tuning, etc.)
---
ONLINE
This FiddleHed website is designed to help people learn the fiddle on their own. It features video lessons, color-coded tabs, play-along tracks, and downloadable sheet music. I use this heavily with my one-on-one students.
It's a good thing because, in addition to having everything they need to practice in one place, students can easily learn new tunes and techniques on their own (if they are motivated and practicing a lot).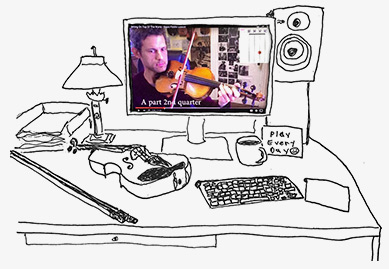 ---
$$$$
I charge
$90 for 55 minutes of private instruction
. I use the extra five minutes to write your online lesson plan for the week.
—
Venmo is preferred, though I also can accept PayPal. Please pay for lessons in advance. Thanks much 🙏
---
INSTRUMENT
The only thing you really need to bring to the lesson is your fiddle.
I keep an extra fiddle in the studio
. You are always welcome to use this if you don't have time to go home to get your own (or if you haven't bought one yet).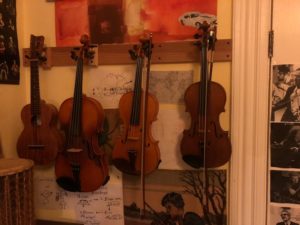 I recommend you rent a decent instrument rather than buying a crappy fiddle on eBay.
If you know you want to buy a violin, I recommend
Roland Feller
in San Francisco.
You can buy this
Cremona violin
on Amazon. A student bought it and I thought it sounded great for a factory-made instrument.
—
I recommend you buy a shoulder rest. I use one by
Bonnmusica
, which is amazing, though more expensive then others. The
Mach One
is also good. But this is not absolutely essential. Some students prefer not to use a shoulder rest.
If you have roommates or close neighbors I recommend you buy a
practice mute
.
---
PRACTICE
Because this is so important, I ask that while you are studying with me, you agree to 
practice at least twenty minutes a day, six days of week
.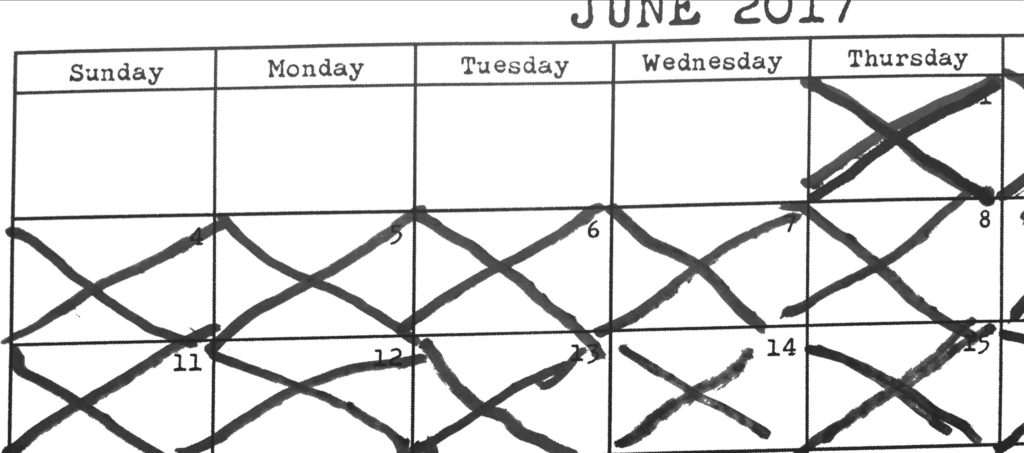 —
This policy may seem draconian, but I feel it's a win-win for everyone:
You'll have a lot more fun if you do it regularly.
You will get more value from each lesson if you practice.
If you commit to this minimum weekly practice, I guarantee you will succeed at learning the fiddle.
I have very limited time, and only want to work with dedicated students.
Though you are paying me for this service, I think of each lesson as a collaboration in which we create something together. And so we both have to rehearse and prepare to make this happen.
Thanks for your understanding with this.
---
SETTING UP A LESSON
If you'd like to book one lesson at a time, please book through Calendly.
If you think you'd like to have repeating lessons (bi-weekly) at a regular time, email me directly at [email protected] to check availability.
Currently, I give lessons every other week. Why not every week? On the off weeks, I work on the FiddleHed site: developing new lessons and courses as well as maintaining the existing course.
This is part of why I try to get students to agree to daily practice before signing up. However, the main reason for daily practice is that it will ultimately be more fun for you to do so.
---
COMMUNICATION
If you need to cancel a lesson, please let me know by text 24 hours in advance. Otherwise, I ask you to pay for the lesson. And if by mistake I miss a lesson or double-book two people for the same time, I give you a free lesson to make up for the time you wasted in getting here.
—
Exceptions made at any time for any health issue or life emergency. Thanks for your understanding with this.
—
Please give me your cell phone number and email address.
Reach me here:
415-308-6803
If you have pressing questions, please text me. I'm pretty backed up with email these days.
---
Alright, now that we have all that out of the way, let's start making music and having fun! Email or call if you have more questions…