How To Simplify Fiddle Sheet Music
I want to help you learn note-reading so you can more easily play tunes you love.
A lot of sheet music includes embellishment and slight melodic variations which make the basic melody more complex. In this lesson, I'll show you how to remove complexity to make reading more easy.
How do you simplify sheet music?
---
First, strip away all embellishments
If you've looked at sheet music, you might have noticed that different versions often include embellishment. When first learning a tune, I suggest you ignore all grace notes, double stops, slurs, volume markings, accents, slides, etc. Let's use Swallowtail Jig Variation as an example.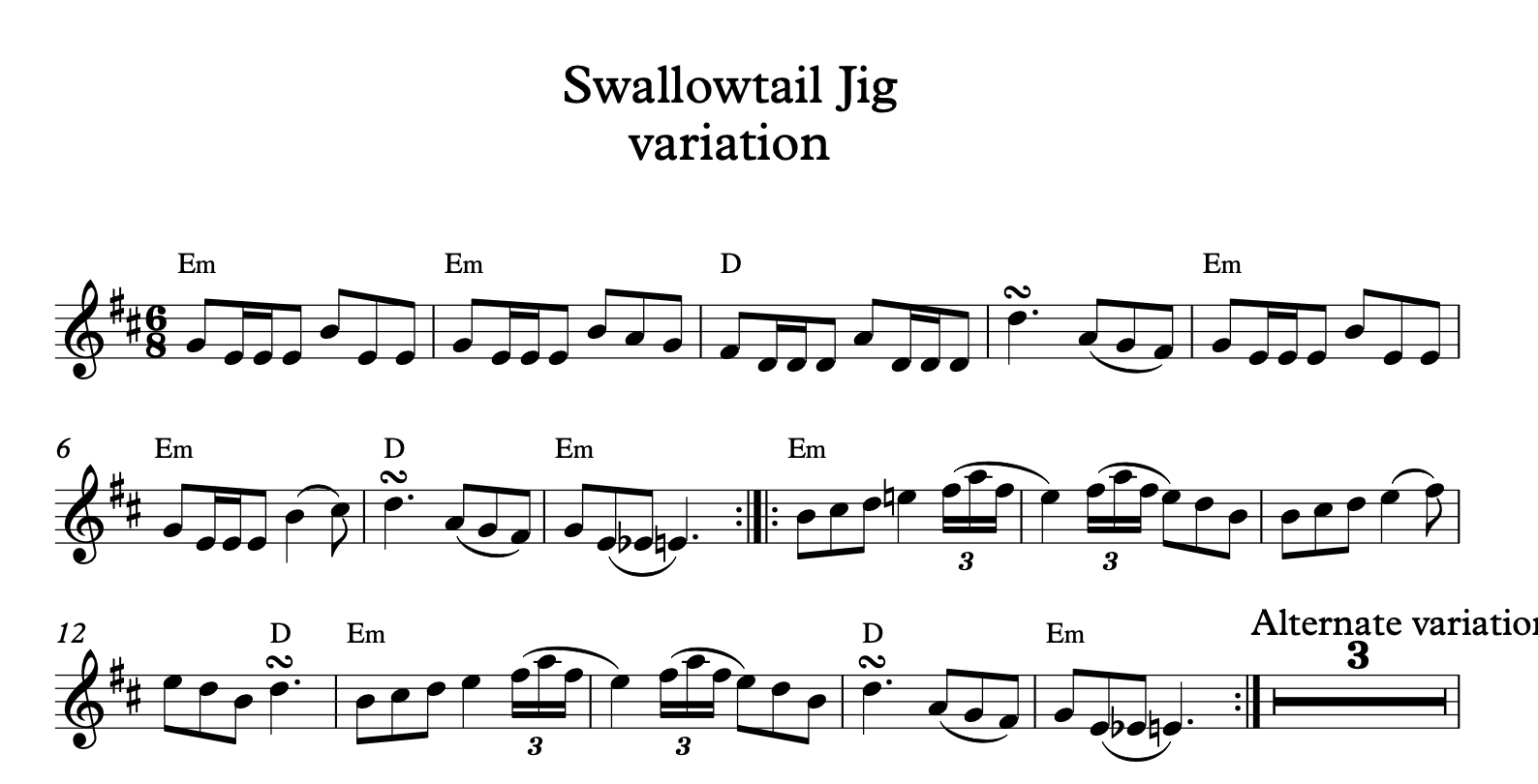 I crossed out sixteenth notes, rolls, slurs and slides.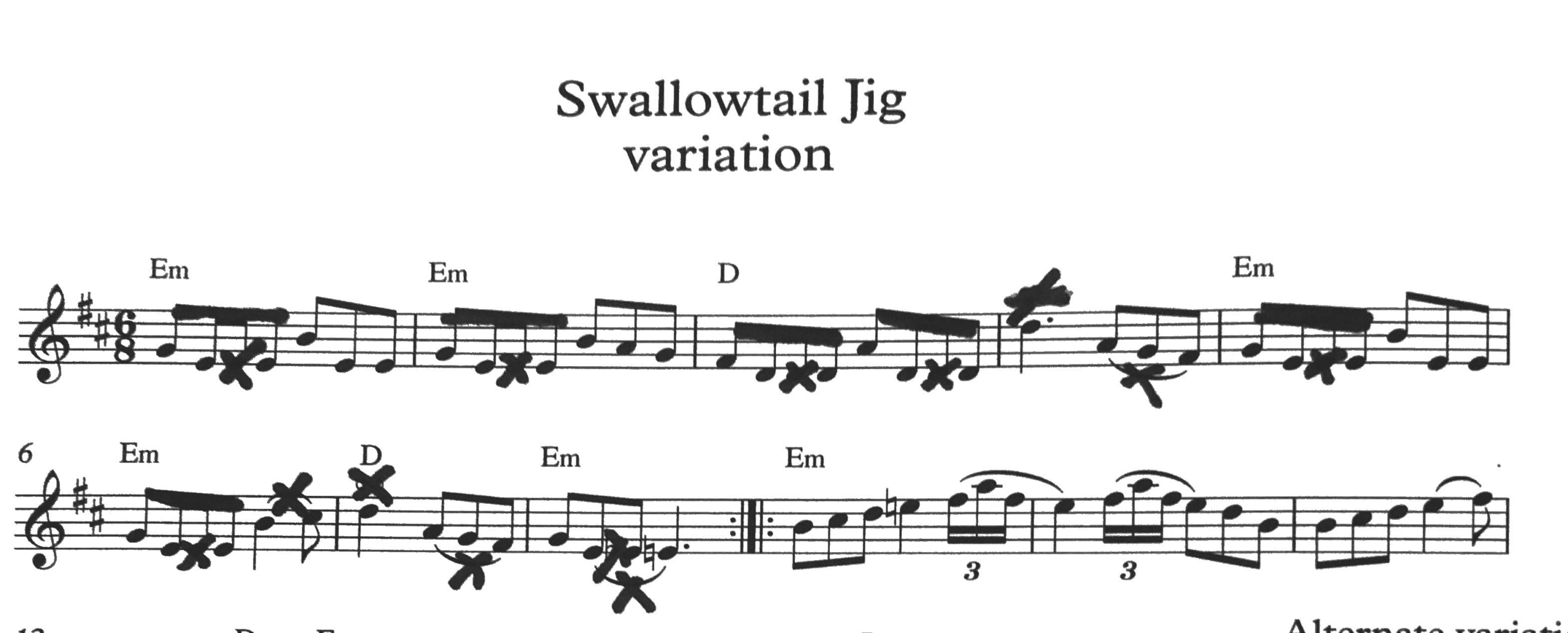 Which leaves me with a more basic version of the tune.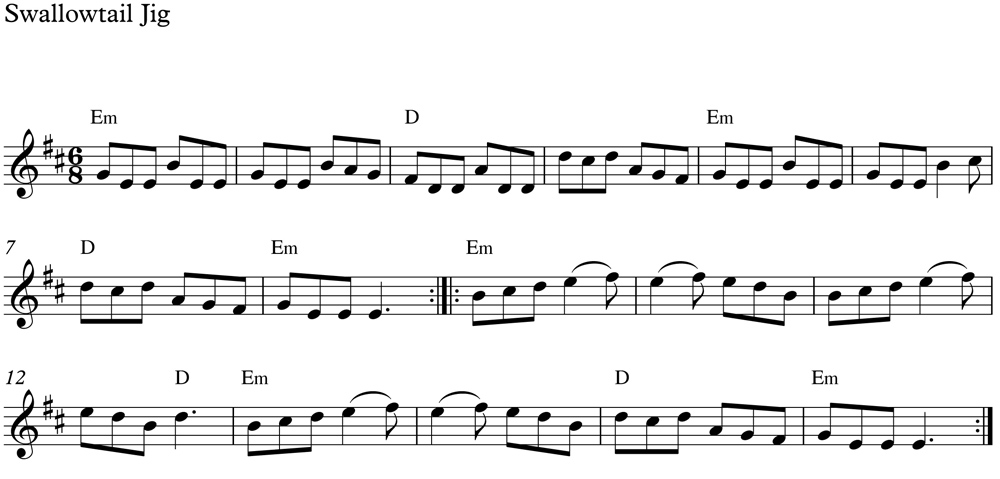 ---
Next notice if there are repeating parts
There are three super-common patterns to watch out for.
1st quarter = 3rd quarter (A and B parts)
A part 4th quarter = B part 4th quarter
A part second half = B part second half
Here's Kerry Polka. I've circled the first and third quarters.

Make a mental note of repetition you find. Mark up the sheet music with a pencil, maybe even a colored pencil for identical parts. Or take note of repetition in your practice journal.
I talk more about this here: Finding Patterns In Sheet Music.
---
Look for hidden repetition
A lot of fiddle tunes have what I call "hidden repetition". There are parts that are very similar. These are often interchangeable. Take a look at the same parts to find hidden repetition:
1st quarter = 3rd quarter (A and B parts)

A part 4th quarter = B part 4th quarter

A part second half = B part second half
For example, compare the first and third quarters of a tune. Are they similar?
Let's look at Chilly Winds as an example. If you look at the bars 1-2 and the bars 9-10, you can see that there is only one note difference.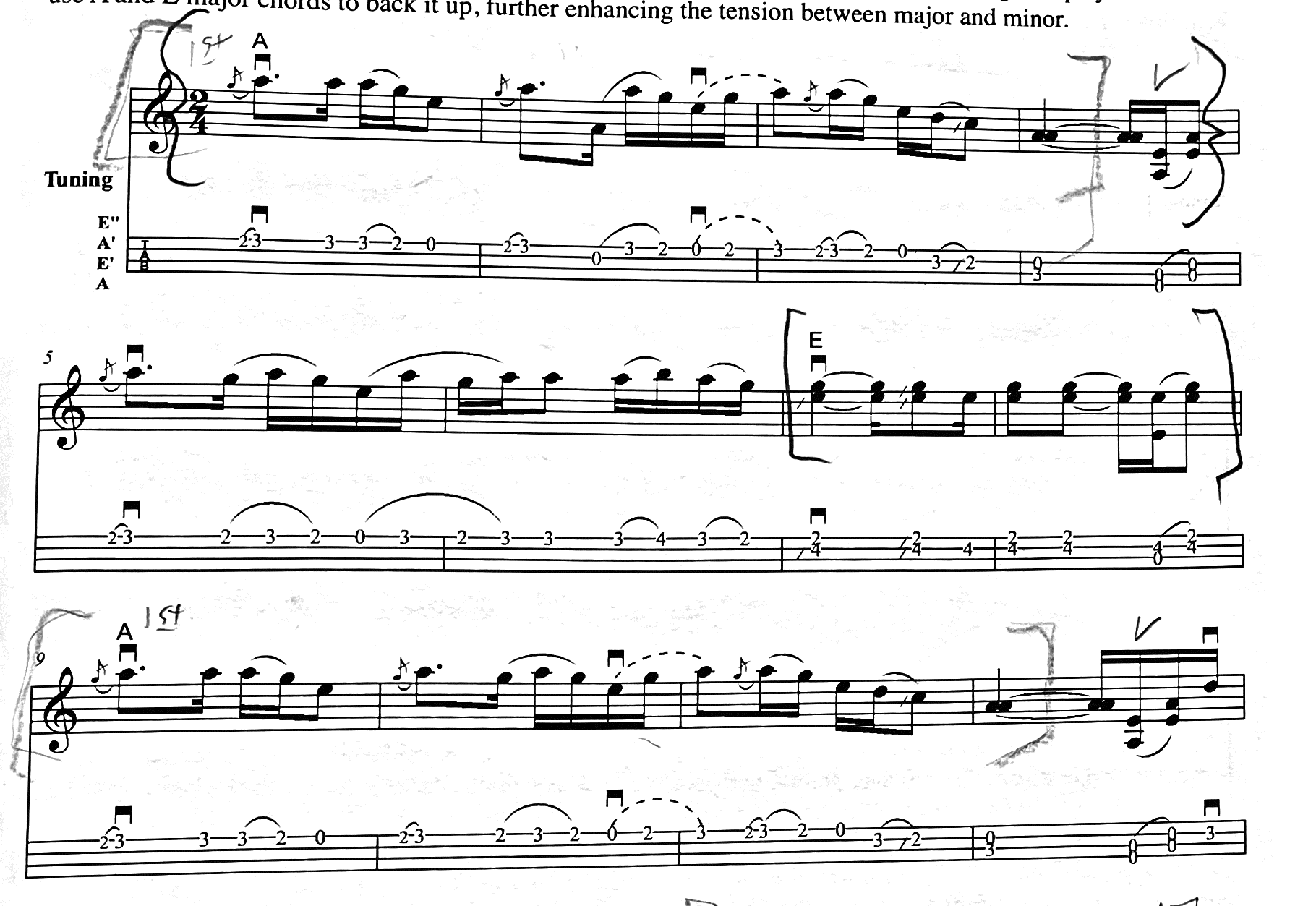 When I learned it, I just substituted bars 1-2 for bars 9-10, and it totally works. This made it much easier for me to learn and memorize the tune.
This kind of substitution won't always work. You have to listen for musical flow. If you're unsure, just listen to recordings of the tune.
---
Simplification Leads to Creativity
It may seem like this makes the music more boring. But I think this subtraction process actually nurtures your creativity. And remember: You probably won't play this simplified version forever. The way you play the tune will evolve over time.
Once you master the tune, you can gradually add back the complexity you removed before learning it. This way you can be more intentional about how you add variation. You can even add variations you pick up in other versions.
Learning tunes in this way can also make you a more flexible player in group settings. You won't be as attached to a particular version. You'll be able to better adapt to what others are doing.
---
Practice tracking
---