Here are some notes on my current fiddle practice as of December 22, 2018.
In general, I'm practicing the "sawmill tuning" which is AEAE. So the G string is tuned up to A, the D string tuned up to E, the A and E strings stay the same. This makes the fiddle resonate much more strongly.
I learned something similar in India from Kala Ramnath in which the fiddle is strung with viola strings and is DADA.
The main style I'm focusing on is old-time music in the tradition of Tommy Jarrell.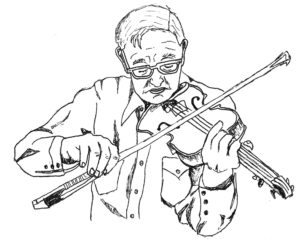 I go back and forth with how I take practice notes. Sometimes I use a paper h=journal, sometimes I use a digital journal. Lately, I've enjoyed using a program called Evernote because I can record things I'm working on and embed them directly to the page of notes: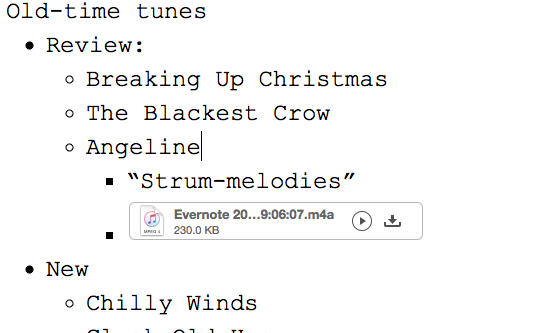 Remove all obstacles but one
It's funny. I say the same things over and over again when I teach, yet I don't always do those things myself. Slow down. Just enjoy the sound. Focus on one thing.
The old-timey tunes I'm learning have challenging double stops as well as tricky syncopated rhythms. I struggled to play the whole tune with flow. But then I remembered to just simplify tune to practice one thing at a time.
First, just practice that double stops on its own: A4E0-E0. Then play parts of the tune without any double stops until they flow. And the whole thing without double stops until it flows. Then a small part with double stops until it flows. Etc. And at a certain point, this experimental approach to practice starts to feel like fun…
---
AEAE and DADA tunings
Pentatonic scales
1-2-3
1-3
Transitions

D0-1-A0-1-2 | D0-1-3-A1-2
---
Old-time tunes
---
Pedal exercise and tune idea
This is played with AEAE tuning. The basic idea:
A0-D0-A2-D0-A1-D0-A3-D0-A2-0-E0-A0-3-0-E1-A0
---
Wassail fiddle raga
Just enjoying this great melody by playing it in free time, what I call a "fiddle raga".
Take lessons on this tune:
---
Kesh jig old-timey
String crossing double stops exercise
---
Cool, thanks for reading. Leave a comment if this was useful or if you have a question.