A few years ago I had this crazy idea: go to a new place every year and learn about the local music. The word "fiddle" in the title is both a noun and a verb, depending on how you look at it. As a noun, I'm going around the world to study and share the different types of fiddling and music in the places I visit. As a verb, I will actually be playing the fiddle around the world. I'm not sure which I'd rather be, a noun or a verb. Maybe I'll just be wierd and be an adverb: around. I'll be around, be round, be a round. Darn, I became a noun again.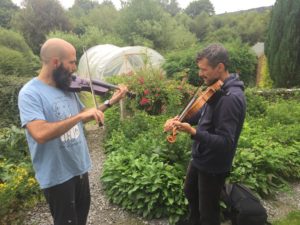 The idea of Fiddle Around the World co-evolved with FiddleHed, a youtube channel for online fiddle lessons I started three and a half years ago. After working on the new site for a solid year and posting videos on YouTube for three and a half years, it seems appropriate that the launch happens while I'm here in Ireland. That was never the plan, but with fiddling and life, things don't always go as planned.
The guiding principle of this trip is to be playing traditional Irish music every night in pubs. I've also taken lessons with some great fiddlers: MacDara O Raghallaigh, Pat O'Connor and Siobhan Peoples.

It's raining today in Doolin, Ireland, and so I'm hunkered down in a hostel, drinking tea, writing, uploading files and answering messages from FiddleHeds. Part of the concept of FiddleHed is to work as I travel. I'm shooting for around three hours of work a day in the morning and late afternoon. during the day get outside and see something, go for walk. And then playing music from nine until 1 in the morning.
Learning and playing. Fiddling with the tunes, the website and this life. Trying something a little different. Refining an old melody, adding a little something to reinvent so that it's reborn in the present moment. 
But you don't have to go halfway around the world to fiddle in and fiddle with your life (I tend to do things the hard way). Just play every day, experiment and most important of all: listen.