Here's a short video of my student Fiona playing, Uisce Faoi Thalamh, a tune she wrote while playing around with triads.

Fiona started learning fiddle as an adult. Now, she plays regularly in beginner Irish sessions and with a group of some of my other students.
I learn a lot from good students. At the beginning of her practice sessions, Fiona plays a few easy tunes as a warm-up. She says, "This makes me feel like I'm a fiddler." Then she moves on to her current set of tunes and technique that she's practicing. She organizes her practice with a spreadsheet: Fiona's Fiddle Spread Sheet.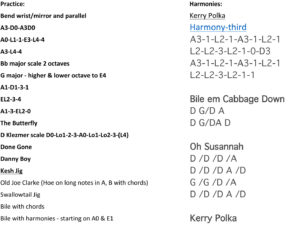 Fiona is a good example of someone who has found her own way in music. And though she is on her own path, she knows the secret that all musicians know: you have to practice.