Tennessee Waltz Duet
---
Here is a lesson on how to play an easy fiddle part which can be played along with the main melody. If you are following the course, then get excited: we'll learn the melody in the next module (1.5).
My friend and student Lauren helped me make this. She plays the main melody and I play the easy fiddle part. Actually, it's easier technically, but harder in a way because it's not a melody.
Even if you already know the main melody, I suggest learning the easy fiddle part. It's BASSically a bass line, so practicing it will help you to hear the chordal movement of the song and play better in tune. There's a lesson on this called Play Bass Lines On The Fiddle.
If you're a beginner and haven't done the main melody, then this is a great introduction to that. If you learn this easy part then you'll be able to hit the ground running when you learn the main melody.
Another reason to learn easy fiddle bass lines is that they will help you learn how to come up with simple parts for songs.
Practice suggestion #1: Get together with another fiddler and play fiddle duets. You can trade off parts.
Practice suggestion #2: Alternate between playing each part on your own.
---
A PART:
First quarter: D0-0-G1-1-D0-0-G0-0
Second quarter: D0-0-G1-1-D1-1-G1-1
Third quarter: D0-0-G1-1-D0-0-G0-0
Fourth quarter: D0-0-G1-1-D1-D0-0-G1-1
B PART
First quarter: D0-0-G1-1-G0-0-D0-0
Second quarter: D0-0-G1-1-D1-1-G1-1
Third quarter: D0-0-G1-1-D0-0-G0-0
Fourth quarter: D0-0-G1-1-D1-D0-0-G1-1
---
Warm ups:
D major scale
Tennessee Waltz – just easy part
Tennessee Waltz – just melody
Tennessee Waltz duet
---
Sheet music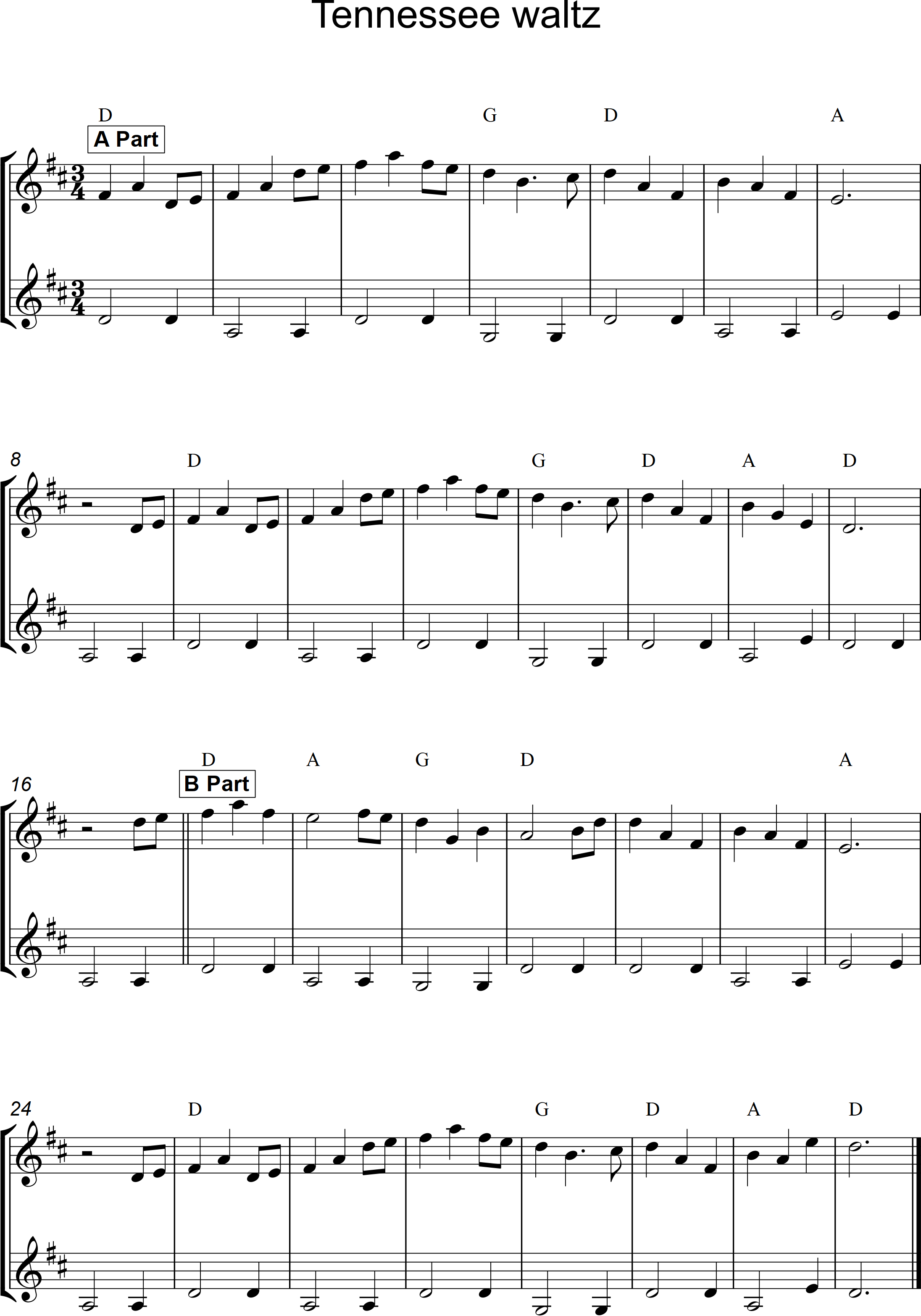 ---