Wagon Wheel – 1st break
Here's a lesson on how to play the first break from Wagon Wheel by Old Crow Medicine show. The song was based off a fragment that Bob Dylan (who's credited as a co-author) performed in the movie Pat Garrett And Billy The Kid.
This is a lesson for intermediate fiddlers; you need to know raised third finger for this tune.
---
Learning Chunks
I've made some "Learning Chunks" to help you learn more easily. These focused exercises contain sheet music, tabs and mp3 snippets to guide you on your fiddle journey. The idea is to start with small musical bits, get good at those, and then put them together into bigger pieces until you have the whole tune. I call it Micro-practice.
For those of you who read (or want to read), all snippets use this key and time signature: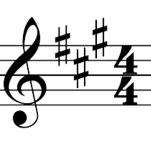 Full Content
Wagon Wheel Fullmix – 60bpm
Wagon Wheel Fullmix – 70bpm
Wagon Wheel Fullmix – 80bpm
Wagon Wheel Fullmix – 90bpm
---
Warm-up exercises
Intervals
D2-H3
DH3-A0
GH3-D0
---
G1-H3
---
A major scale (2 octaves): G1-2-H3-D0-1-2-H3-A0-1-2-3-E0-1-2-3
D0-GH3-2-1
---
Wagon Wheel – Full Tabs & Sheet Music
First phrase: D1-2-A0-1-1-2-2-3-[2-3-2]-2-1-[1-2-1]-[0-1-0]
Second phrase: D1-2-2-1-2-H3-A0-0-1-2-3
Third phrase: E0-A2-E0-1-0-A2-1-0-1-0-1-0-E0-A0-3-0
Fourth phrase: A2-3-2-1-0-DH3-2-1-2-A0-D2-GH3-D0-GH3-2-1
Fifth phrase: G2-H3-H3-[H3-4-H3]-H3-2-2-[2-H3-2]-2-1-1-H3-2-2-1-1
---
Sheet music
Wagon Wheel PDF
---
Sheet music video
Learn to intuitively read sheet music with this animated video. If you're an absolute beginner, then I suggest you don't worry about fo it for the moment.
This is here for continuing students who want to learn about sheet music. It's part of the Note-Reading For Fiddlers course.
---
Lesson tracking
Lessons complete in Module 2.8:
Workbook
Don't forget to add Wagon Wheel under "List the things you practice" in your workbook
Other versions on Youtube