How to Use FiddleHed
Hey Good People, I'm going to show you how to use FiddleHed. You can watch the instructional video which includes screencasts of how the site works. You can also read the text on this page which summarizes the points from the video.

Tunes, techniques and concepts are presented in a progressive, step-by-step manner. Though it's a highly structured course, you have always have the option to choose which tunes you work on as you learn new techniques. FiddleHed will encourage you to approach fiddling with focused, deliberate practice so that you can successfully make music and have fun doing it.
---
A Modular Progressive Course
The course is organized into three levels: Beginner, Intermediate and Art of Fiddling.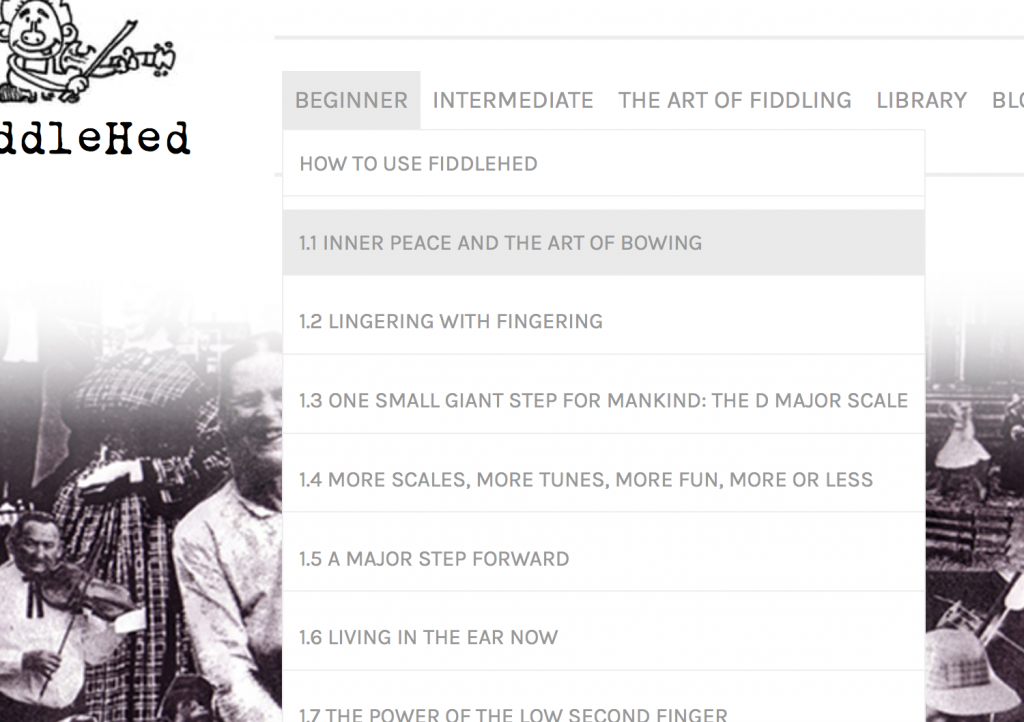 Within each level there are modules that contain lessons. And the lessons contain videos, tabs, play-along tracks, practice notes and sheet music.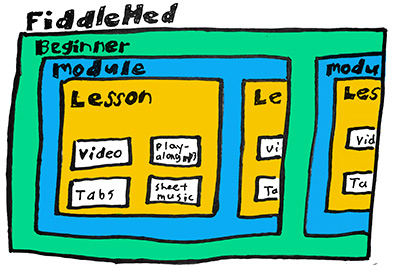 In each module, we will define some goals:

There's a weekly practice plan to help you stay focused: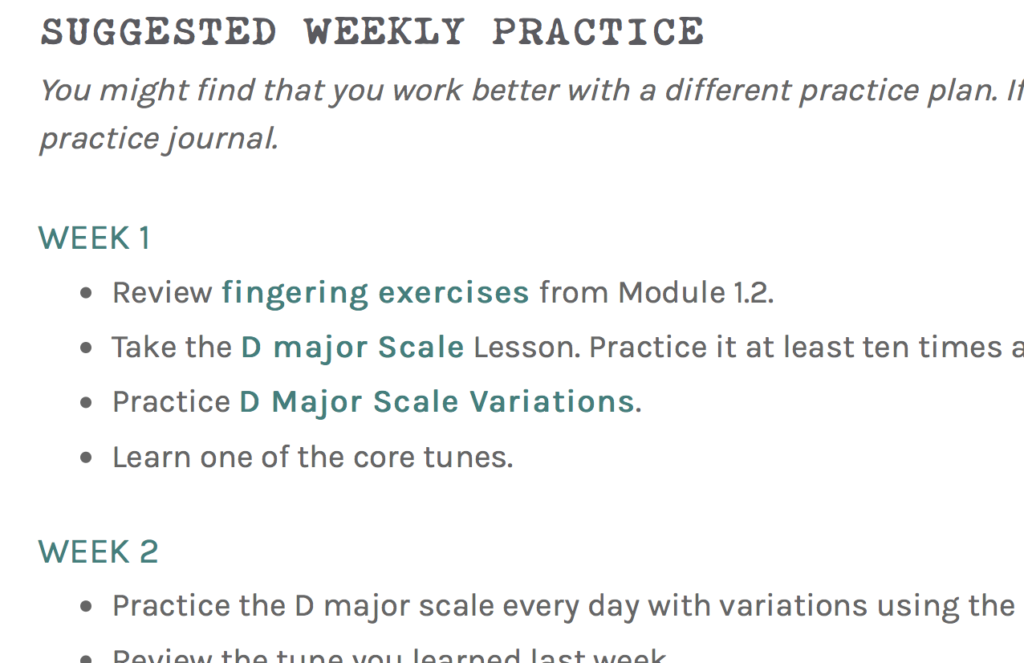 The technique lessons are closely integrated with the tunes lessons. For example, in Module 1.3, the main technique learned is the D major scale. And so the tunes in this module, like Oh Susannah and Wildwood Flower, are picked because they are great practice for learning the D major scale.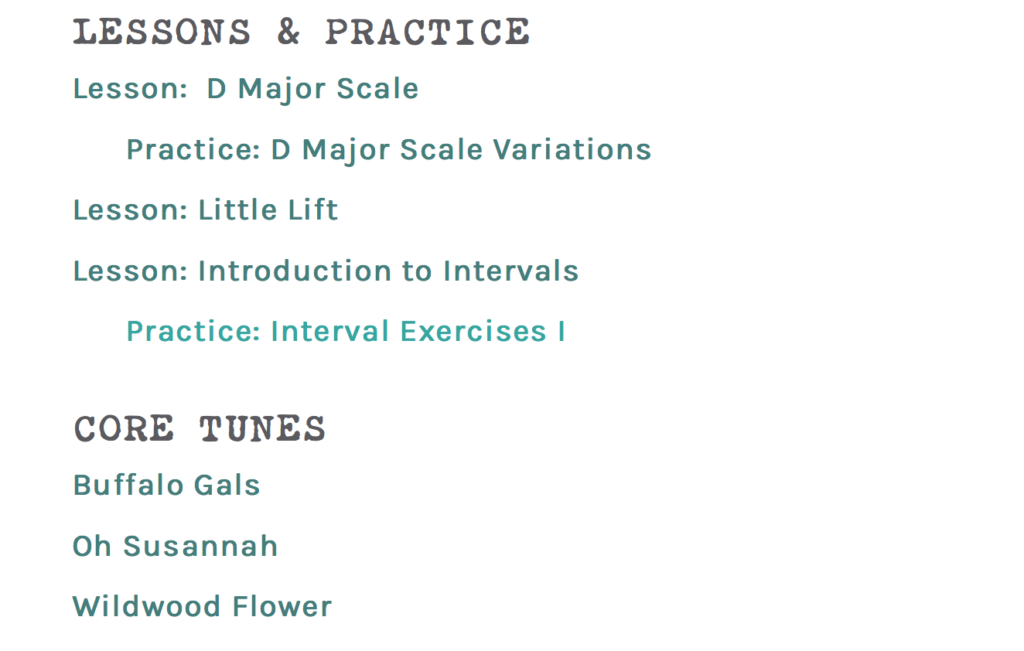 Within each module you will learn core tunes which will be used throughout the course, as well as bonus tunes.
For example, Oh Susannah is a core tune because it is re-visited in a later intermediate lesson on how to add double stops to the song.
I recommend you work within one module for 2-3 weeks. Even if you think you've mastered all the material, you can probably make the tunes sound even better with more practice.
When you are done with a lesson, you'll mark it as complete. You'll then be able to see your progress in the module: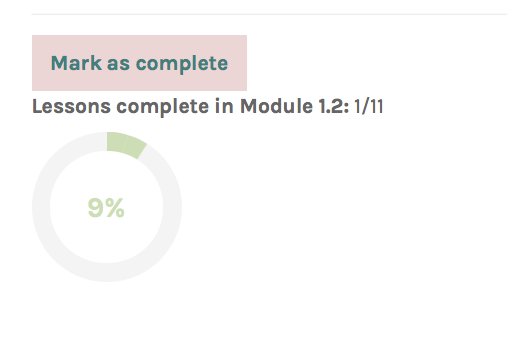 And on the main module page you'll see completed lessons are checked off: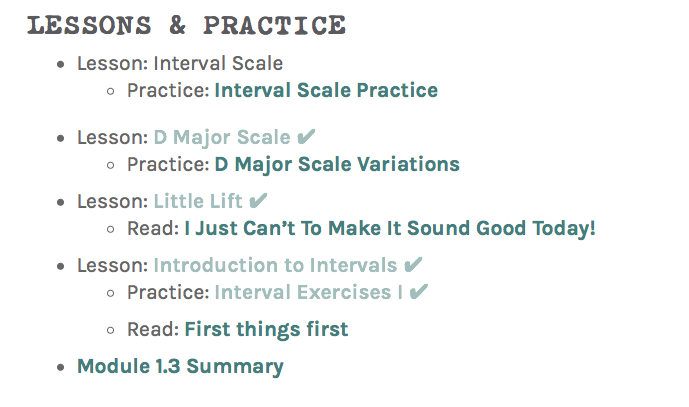 ---
Tune Lessons
Tune lessons start with an easy-to-follow video lesson. Most of these have handy diagrams to help you learn the left hand fingering: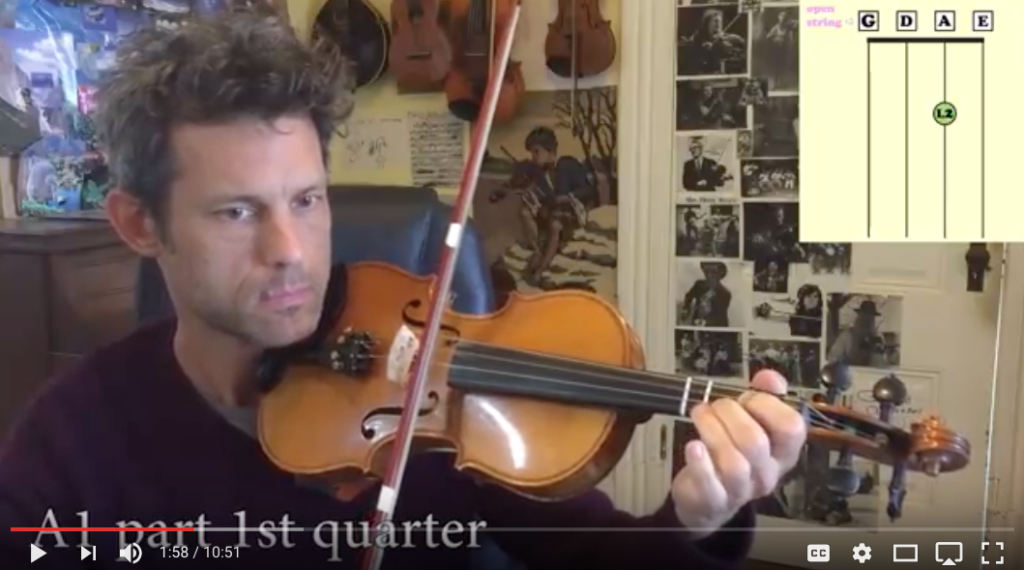 Below that are tabs and play-along tracks for you to practice with.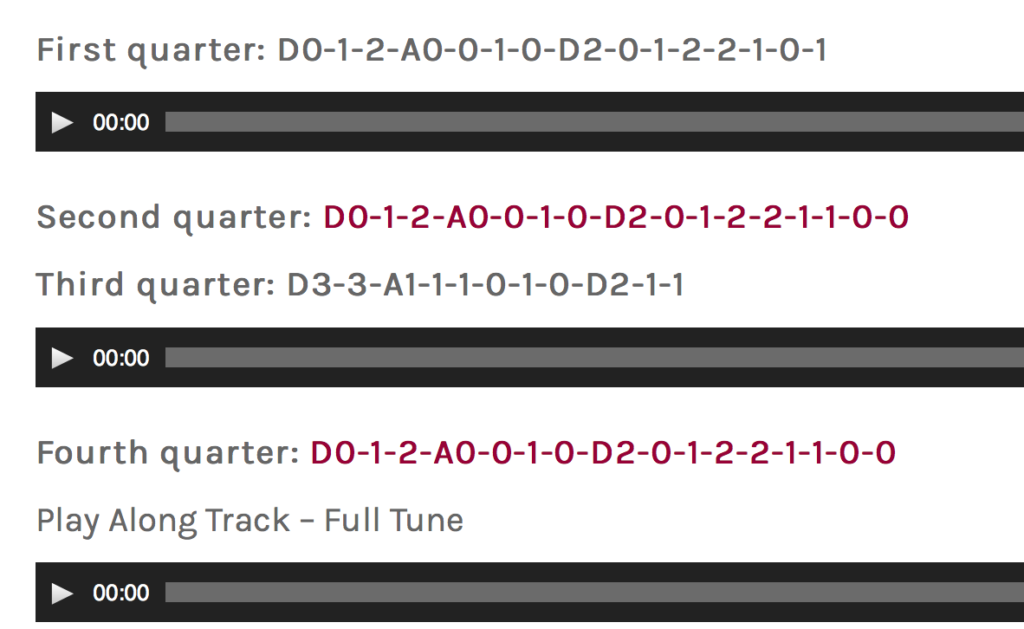 ---
Color-coded tabs
You'll notice that some of the tabs are colored. Parts that are repeated are the same color. This makes it easier for you to understand the "road map" of a tune and memorize it more easily. The goal is to get you playing and enjoying music as soon as possible. Learn more about this in the lesson Repeating Patterns in Fiddle Tunes.
---
Play-along Tracks
Highly extensive play-along tracks are the core feature of FiddleHed. There are three types: exercise loops, full play-along tracks and drone tracks.
Exercise loops are used to continuously practice key parts of a tune at different speeds. This is an amazing way for you to practice and get to the point where you can play with musical flow. The exercise loops also train you how to practice, because they get you in the habit of focusing on small parts until you can play them with confidence. And learning how to practice is perhaps the most valuable teaching I have to offer, because with that you can continue to learn on your own.
First quarter: D2-2-2-1-0-2-3-A0-1-2-3
There are full-length play along tracks in which you'll play the entire tune at five different speeds.
There are drone tracks on all tune pages. A drone is a repeating reference tone. You can use this to practice scales, tunes and exercises at any speed you wish. 
Another great use of the drone tracks is to practice new fingerings and notes you've learned. For example, say you are learning low second finger on the D string (which is an F note). Playing along with the F drone track will help you to play better in tune. Learn more here:
How To Play In Tune With Drone Notes
Warm-up Exercises
In the tune lessons, you will find warm-up exercises to prepare you for the challenges of the tune.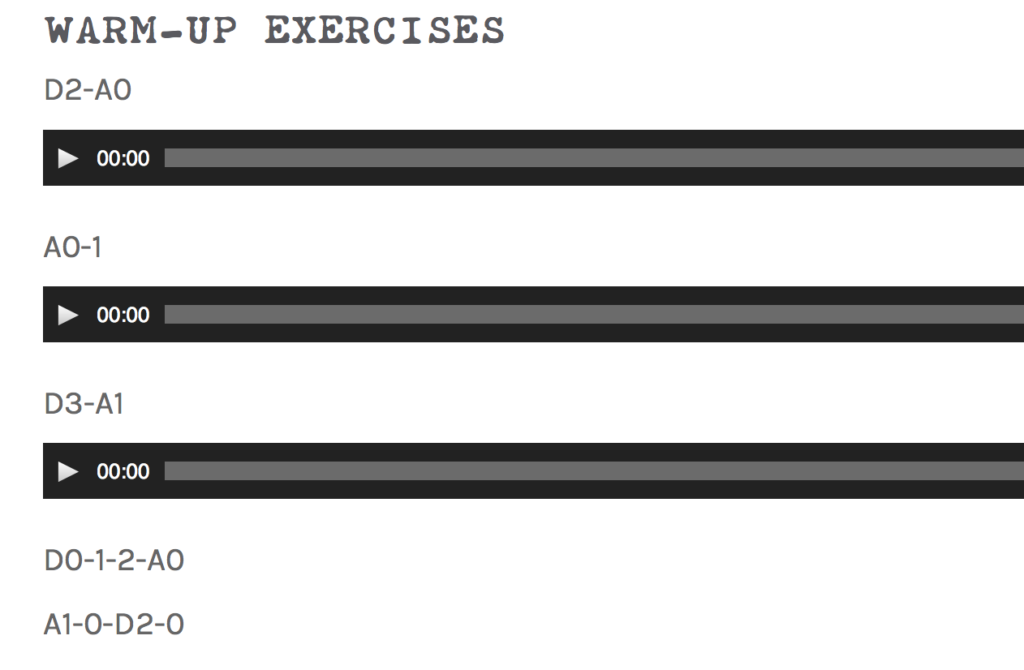 ---
Sheet Music
Near the bottom of each tune page is sheet music for those who know how to read, or for those who are learning to read. You can either read right off the page, or download and print a pdf file.

---
Technique Lessons
Technique lessons will teach you the basic tools you need to play the fiddle: bowing, fingering and the combinations of the two. Each technique lesson is followed by a page of exercise loops which will focus your practice in a way that's fun and immediate.
A major scale variations, 80 bpm
You can practice these exercises with the play along tracks. Once you get the idea, you can practice the same exercises with drone tracks at your pace and add variations of your own.
---
Library
In the main top menu you'll find the Library dropdown sub-menu. Here you'll find pages of tunes organized by genre. Browsing through the tune lessons will help you to determine what tunes you need to review as well as what tunes you want to learn.
In addition to the genre pages, there are useful libraries of  play-along tracks for scales, beats and drones. Scale Central is an easy way for you to find scales you are learning or reviewing. Beat Central is a collection of cool beats that are fun to play along with. And Drone Central is a collection of practice drones in all twelve keys, with and without a beat.
---
FiddleHed emphasizes deliberate practice
It's key to make the best use of your time when you play. FiddleHed is an incremental approach which teaches the powerful practice tools of drone practice, looping and self-recording. Want to transform your practice sessions so that they're fun and productive?
Sign up for the free course on How To Practice Fiddling
Each week you'll receive a link to a lesson on practice. The course is "dripped out" so you can absorb and use each practice principle for a week before moving on. Alternatively, just take it at your own pace here: How To Practice Fiddling.
---
I encourage you to move through the course slowly, focusing on making simple things sound good. You'll find that having a really good sound is it's own reward. It will give you confidence and encourage you to keep on keeping on, day in and day out.
Remember, the most important thing is to have fun. Fun is not overrated! Also, remember that you are a musician if you play every day.
Now, go fiddle with it…