1.1 Inner Peace and the Art of Bowing
One thing I like about music is the way it sounds.
In this first module, we'll learn some FUNdamentals: Posture, tuning and bowing on open strings.  However, when we practice our goal is simply to make a nice sound. This can be a very enjoyable part of your fiddle journey. Just try to enjoy making a good (not perfect) sound.
Even if you have been playing for a few months (or longer), you may benefit from watching some of these fundamental lessons. Sometimes certain techniques and skills get skipped or are not covered as thoroughly as they should be especially if you're learning online.
Goals
Play every day for at least twenty minutes. Ten if you're extremely busy.
Be able to play a nice sound with simple back and forth bowing.
Be able to play rhythms and string changing patterns.
Practice exercise loops and at least two duets with play along tracks for timing and feel.
Lessons & Practice
Core Tunes
---
Workbook 1.1
Use this to keep track of your practice. The workbook is also visible at the bottom of all core technique and tune lessons.
Master Practice List
---
Suggested Weekly Practice
WEEK 1
WEEK 2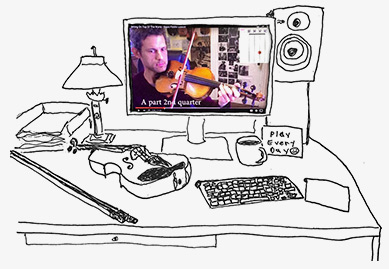 Lessons complete in Module 1.1: